On this day, March 28, 1942, Japanese-American lawyer Minoru Yasui (1916-1986) violated a military curfew in Portland, Oregon, and demanded to be arrested after he was refused enlistment to fight for the US. He was one of the few Japanese Americans who fought laws that directly targeted Japanese Americans or Japanese immigrants following the bombing of Pearl Harbor. In 2015 he was among 17 people awarded the presidential Medal of Freedom.
Also on this day March 28, 1939, the front page of the Eugene Register-Guard blared the headline: "Mighty Oregon Scramble Ohio State to Take Hoop Title of All America," right under a declaration that the Spanish War had ended, of course.
Governor Kate Brown will appoint replacements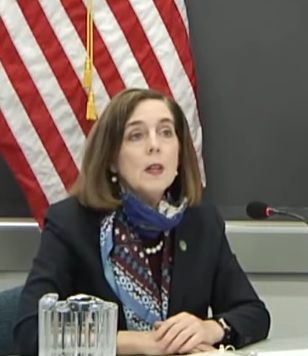 Governor Kate Brown has
announced
that she intends to fill two judicial vacancies created by the planned retirement of Judge Ilisa Rooke-Ley from the Lane County Circuit Court, and the planned retirement of Judge Claudia Burton from the Marion County Circuit Court. Both retirements will take effect December 31, 2020.
The Governor's Office currently is conducting an appointments process for Marion County to fill the vacancy created by the previously announced retirement of Judge Mary Jame. Applicants that applied for that position also will be considered for the vacancy created by Judge Burton's retirement. Governor Brown will fill both Marion County vacancies from the same applicant pool. That list of candidates is available on the Oregon State Bar's
website
.
All judges on Oregon who retire in the middle of their terms, are replaced by gubernatorial appointment. Ordinarily, they are elected. There is a ballot measure proposed for the 2022 general election
which proposes to replace judges at the next election
by a vote of the people. This measure is still seeking enough signatures to get an official ballot title.
A D V E R T I S E M E N T
A D V E R T I S E M E N T
Last summer, there was a prior judicial vacancy on the Lane County Circuit Court for which candidates were interviewed and vetted by the Governor's Office and the local bar association. Governor Brown will make an appointment for the current Lane County vacancy from the list of candidates who applied and were interviewed previously. That list of candidates also is available on the Oregon State Bar's website .
Comments on any of the candidates can be
submitted online
to Dustin Buehler, General Counsel, Office of the Governor, or by phone at 503-378-6246
--Ben Fisher
| | |
| --- | --- |
| Post Date: 2020-11-23 19:43:05 | Last Update: 2020-11-23 21:26:12 |