The word "emergency" has become degraded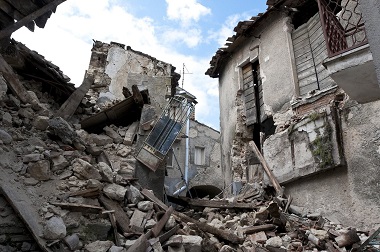 Oregon voters have been inundated with messaging about cataclysmic events, often right before they've been asked to grant the State more power. In 2011
Oregon voters were told that a seismic event was inevitable
, tsunamis like the one that hit
Fukushima
, were a certainty. Advertisements ran on radio and television warning Oregonians to have at least a month of food and water rations on hand. Many were also convinced that 2012 was the end of the world, due to a
Mayan calendar end of time
. Not long after, voters were asked to pass Measure 77, a constitutional amendment that would set the stage for today's lockdowns.
Measure 77 left many things undefined
, or partially defined. In the 2012 voter pamphlet, voters were given one statement in favor of the constitutional amendment, rather than full disclosure, regarding the potential for abuse of power. "The Oregon State Constitution does not provide state government the flexibility to respond quickly and appropriately to aid Oregon's citizens should catastrophic disasters strike. We are at risk of severe natural disasters like volcanic eruptions, major flooding, earthquakes or tsunamis. Man-made catastrophes like wars and terrorism are also possible. Currently our state government lacks the constitutional authority to efficiently and effectively meet the critical needs after such an event", reads the argument supporting the measure.
"Measure 77 assures that the Governor and the Legislature will be able to work as a team to meet the urgent needs of Oregonians who have been subjected to a catastrophic disaster. We urge your "YES" vote on Measure 77."
Hysterical arguments were made in the press, to justify the alterations to Oregon's social compact and quorum requirements. "While devastation from the earthquake and tsunami was immediate in Japan, problems arrived in slow motion in Oregon. If a major earthquake or tsunami hit here, the state constitution inadvertently would limit the governor's immediate options for response", claims the
Oregonian
. Arguments circulated far and wide in support of the measure, concerns regarding travel due to floods, earthquakes and tsunamis ran rampant in the press, all justifying complete control be granted to the state, without ever considering the overreach.
Time and again, fear has been used to hoodwink voters into handing over more control. Policy decisions are being made hastily, with far reaching implications, and immediate effect. This is particularly concerning as fighting bad policy takes years, has to go through the courts, or requires a referendum from voters, assuming an emergency clause isn't attached to the bill.
After nine months, somehow, we still don't have an FDA approved viral load test, antibody test, or treatment for COVID-19. Critics are skeptical and beginning to ask questions. Dr. Henry Ealy a Portland based Doctor and professor has been working towards answers, and seeks the healing of our nation through transparency. "Why are the same people being counted multiple times as a new case?" Asks Dr. Ealy, "Why are we using PCR tests, which detect the virus's genetic material, to make public policy when the CDC and the inventor of the test have disclaimers stating the test shouldn't be used for diagnostic purposes?"
Abusing emergency power is nothing new in Oregon, as of the 2012 legislative session over 71% of bills passed with an emergency clause attached, bypassing the voters' ability to fight back via the referendum process. "It's one thing to scare voters into handing over control during an emergency, it's quite another to perpetuate, or fabricate an emergency to suppress voters, or silence political opposition, like we've seen done with the emergency clause", says Representative Mike Nearman (R-Independence).
With Thanksgiving canceled due to case counts, not loss of life, perhaps it's time Oregonians redefine time limits, and what actually constitutes an Emergency.
--Breeauna Sagdal
| | |
| --- | --- |
| Post Date: 2020-11-21 15:51:42 | |