Oregon State Treasurer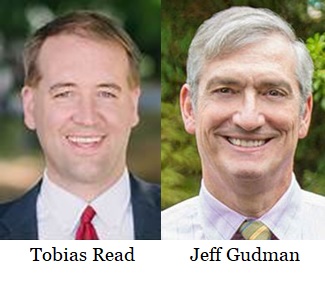 Editor's note: Oregon Abigail Adams Voter Education Project equips voters with information on how candidates stand on issues through a questionnaire process featured in comparison guides.
The Oregon State Treasurer is an elected constitutional officer within the executive branch of the Oregon state government. Incumbent Tobias Read (D, WF) is challenged by Jeff Gudman (R), Chris Henry (P, PG, I), and Michael P. Marsh (C).
The Office of the State Treasurer is the state's financial services hub and oversees a range of financial responsibilities, including managing the investment of state funds, issuing state bonds, serving as the central bank for state agencies and administering the Oregon 529 Savings Network and Oregon Retirement Savings Plan. More than any other state position, background and training are important to competency for handling billions of our dollars.
Read received a Master's degree from University of Washington in Business Administration. He says his priority has been to help employees save for retirement by sponsoring the OregonSaves bill. It provides every worker the option of saving for retirement in a state invested account instead of an individual 401(k). Fourth on his list is a strong financial plan. "Our roads, bridges, and schools need critical investment." Read led the creation of the Oregon Sustainable Bond Program, which will help fund affordable housing development. He also worked to reduce Oregon's reliance on expensive out-of-state investment bankers, saving millions in unnecessary costs for state and local governments.
Gudman received a Master's degree from Wharton School at University of Pennsylvania in Finance and Management. He works as an investor and prior financial analyst. His time on the Lake Oswego City Council he claims is the kind of leadership the state needs. "We dramatically reduced our unfunded liability for road maintenance, rebuilt our operations and maintenance center, and rebuilt city hall and the police station – all without asking for an extra dime from our residents. Oregon can do more with the revenue that we already have – without raising anyone's taxes." Gudman says his experience sets him apart, "How we manage our finances determines what we can afford: roads, schools, bridges – even PERS. As an experienced treasurer and analyst, I can offer reliable management of our state's finances to help put our state back on strong financial footing."
Chris Henry won the nomination of the Independent, Progressive and Pacific Green Parties with 16 years as a Union Truck Driver. Prior to that he was a aircraft mechanic. He graduated from Portland State University in Communications/Civic leadership. Henry wants to stop Wall Street rip-off and "strongly support the formation of a Public Bank for the state of Oregon. Such a Public Bank would be operated as a public utility for the benefit of, not Wall Street bankers, all the citizens of Oregon. Such a bank would use the financial resources already present in the state for capitalization and then use those funds to support public benefit programs such as low interest student loans, or funding of much needed infrastructure renovations." He also supports creating a post-carbon economy by de-constructing the fossil fuel infrastructure of asphalt streets by turning streets into community gardens.
Michael P Marsh won the nomination of the Constitution Party a retired with maintenance experience. He graduated from Lahabra High School is the only education listed.
Who do you want handling billions of taxpayer funds?
--Donna Bleiler
| | |
| --- | --- |
| Post Date: 2020-10-12 23:30:41 | Last Update: 2020-10-12 23:35:26 |