How we got here and how we might get out
I am not a legal source nor an attorney in any way, but I've been involved in passing laws for the last five years so I do know how to read them and decipher them. As you know, only the people can amend the Oregon Constitution, but the legislature can refer amendments to the people for passage.
In 2011, the Oregon Legislature passed
House Joint Resolution 7
. This is the summary of Legislative intent:
WHAT THE MEASURE DOES: Proposes amendment of Oregon constitution to provide for government action in event of catastrophic disaster. Grants governor temporary authority to redirect general fund and lottery monies for thirty days following declaration of disaster, unless legislature extends or passes law specifying use of funds. Permits extension of time limit with approval of three-fifths of each chamber able to attend and requires bill establishing termination date. Permits legislative operation in location other than Capitol and with quorum of two-thirds of members able to attend, rather than two-thirds of total members. Permits legislator attendance via electronic means. Restricts governor to onetime invocation per catastrophic disaster. Refers proposed amendment for vote in special election on same date as next general election.
The resolution passed: 57-3 in the House (with Tim Freeman, Kim Thatcher and Matt Wingard voting no) and 30-0 in the Senate.
As that was a joint resolution, it called for a move to the November 2012 ballot and was there as Ballot Measure 77. You can see the results here: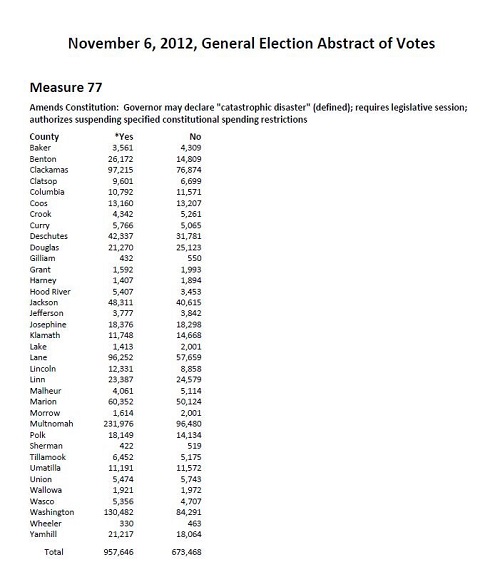 That's pretty overwhelming I'd say both in the Legislature and by the voters of Oregon. That leads us to our situation now in Oregon with the "emergency" that Governor Kate Brown as ordered. Here is the opinion that she is using as the basis for issuing the executive orders:
As you can see, she has purposely avoided the terms of the Oregon Constitution, Article 10, Section A as was passed by the Legislature and the voters of Oregon. This was willfully done.
Rather than the more narrow "catastrophic disaster" that has limits to the Governor's powers, she used the phrase "state of emergency" and old statute from 1949 that was updated in 2007... but that still does
not
supersede the Oregon Constitution.
Again, I am not an attorney but, there are several now that are moving forward with immediate action against this massive power grab by the Governor. I invite you to contact
Common Sense for Oregon
and its leader Kevin Mannix, who is helping to facilitate this action. They are a grassroots organization that fights for Oregon's rights. You can even donate to them as they are funding these legal actions including helping with the churches who have filed suits
as reported in the Willamette Week
.
As for reopening churches, here is one pastor's idea for how to open with proper social distancing. This is an outstanding plan that keeps all safe and utilizes the facility properly.
--State Representative Bill Post
| | |
| --- | --- |
| Post Date: 2020-05-16 13:48:57 | Last Update: 2020-05-17 18:49:11 |