A misunderstanding about paid leave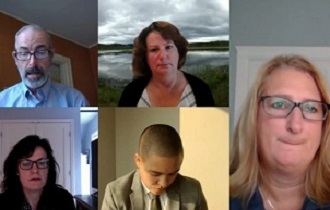 In a dispute over harassment, retaliation and paid leave, State Senator Sara Gelser has apparently fired a staffer who filed a complaint against her, shortly after the Senate Committee on Conduct cleared Gelser of any wrongdoing in the case.
The case was summarized in a 19 page report by a
third party investigator
:
On December 30, 2019, Sen. Gelser told Ms. Hanson, her Chief of Staff, that Ms. Hanson's "many consistent errors" were "not sustainable." In response, Ms. Hanson raised allegations for the first time that Sen. Gelser had subjected her to a "toxic" and "abusive" work environment. Sen. Gelser considered the allegations serious and important, and immediately reported Ms. Hanson's concerns to Jessica N. Knieling, Interim Human Resources Director. That same day, Ms. Knieling contacted Ms. Hanson to offer resources and support, and to better understand Ms. Hanson's concerns regarding her work environment. Among other things shared, Ms. Knieling advised Ms. Hanson that the matter would be referred to an outside investigator pursuant to Rule 27 given the nature of the allegations. Ms. Hanson responded that she did not intend to initiate an investigation or even involve Human Resources. Two days later, however, on January 2, 2020, Ms. Hanson raised a new allegation that some of what she experienced was "retaliation" by Sen. Gelser for Ms. Hanson taking or attempting to take family medical leave.
The legislative branch rules on harassment, including Rule 27, are found in the
Legislative Branch Personnel Rules
The Senate Committee on Conduct includes Senator Denyc Boles (R-Salem), Senator Kathleen Taylor (D-Portland), co-chair Senator Chuck Thomsen (R-Hood River) and co-chair Floyd Prozanski (D-Eugene). By rule, the committee is balance with two members from each party. According to the report,
The factual record is indisputable that: (i) Ms. Hanson remained on protected OFLA leave from October 29 through November 5 (though the medical certification stated that Ms. Hanson was able to return to work on November 2 or sooner if her symptoms had resolved); (ii) she received her full period of requested leave; (iii) she did not request any additional leave; (iv) there was no denial of requested leave benefits; (v) she was not required to perform any work during her leave; (vi) Ms. Hanson was reinstated to her same position; and (vii) Sen. Gelser encouraged her—on more than on occasion—to make sure she took the time she needed to heal and to not come back to work prematurely.
The report continues:
Ms. Hanson remains unwavering in her belief that Sen. Gelser was "pushing back on her for taking leave," was "trying to take her leave away," and was "fixated on taking [her] paycheck away from her." This belief seems to have arisen after Ms. Hanson returned from leave and was triggered by communication regarding whether Ms. Hanson had sufficient paid time off to cover her leave and how to properly designate the leave. What the record bears out is that Ms. Hanson likely conflated two materially (and legally) distinct concepts: (1) her entitlement to protected leave, and (2) whether the leave would be paid.
The committee met on October 5 to consider the case. At the conclusion, the committee took five votes:
Belongs to a protected class recognized under rule 27 (unanimous Yes)
The respondent interfered with the impacted party's protected leave (unanimous No)
The respondent retaliated against the impacted party for taking or attempting to take protected leave (unanimous No)
The respondent engaged in harassment by engaging in verbal or physical conduct that did denigrate or show hostility because of their status as a member of a protected class (unanimous No)
The respondent treated the impacted party less favorably because the impacted party made a good faith complaint about the conduct prohibited by Rule 27 or participated in the investigation into the conduct prohibited by this rule. (unanimous No)
It's not clear if the case will be further litigated.
--Staff Reports
| | |
| --- | --- |
| Post Date: 2020-10-12 08:54:05 | Last Update: 2020-10-12 16:43:47 |