Prosecution of rioters might be a better option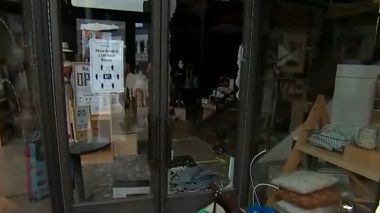 The City of Portland is currently one of America's most troubled urban areas.
Ted Wheeler has a
19-point plan
to get re-elected. Portland is committing $12 million to Black and Brown communities. Significant reforms to local policing have been implemented. He is also directing all City bureaus to develop strategies to better serve Black communities.
Mayor Ted Wheeler says he has a plan, but his policies seem to exacerbate his problems in Oregon's largest city. Despite this, many think he might be the better choice over his opponent in the November election, who is a self proclaimed Antifa extremist named Sarah Iannarone.
The Wheeler administration has given an update on how they are handling this crisis:
The City of Portland is actively working to support the safe reopening and sustainable economic recovery of Portland's downtown by ensuring our central west side is open for business, healthy, and safe. Portlanders and out-of-town visitors alike love our downtown neighborhoods, and we are excited to see them recover as we move through the worst of this year's challenges. Our work includes the following:

Graffiti removal
Mayor Ted Wheeler and Commissioner Chloe Eudaly have committed $100,000 to graffiti removal in the areas of nightly protest. About $60,000 of that has been invested so far.

Trash clean-up
There have been three SOLVE litter clean-up events in downtown since June, resulting in 11,000 pounds of trash removal. In addition, Downtown Portland Clean and Safe has removed 22,160 bags of trash – totaling more than half a million pounds – since June. That's about 24 garbage trucks' worth of trash.

On Oct. 21, 2020, City Council will consider code amendments that will allow for more trash and debris removal. In addition, the City is participating in a Trash Coordination workgroup with other municipal and business partners to make sure we're aligning our efforts and making the most of our collective resources.

Retail activation
Mayor Wheeler's office is working closely with an array of partners including the Old Town Community Association, Portland Business Alliance, Travel Portland, public agencies, and other community partners to raise the profile of businesses that are open downtown.

Some of these efforts include:
Launched the #BeTheChangePDX social media campaign, focused on supporting and promoting BIPOC-owned businesses in the central city. The campaign highlights ways Portlanders can be intentional about where they spend their money and support small local businesses, particularly those that are BIPOC-owned.
Supported the Old Town Community Association collaboration with adjacent businesses to sponsor "The Market" featuring local vendors on NW Davis throughout the summer months. Prosper Portland is continuing to work with community and business partners to identify locations to continue this activation through the holiday and winter season.
Sponsored the sixth-annual My People's Market, at the corner of NW 5th Ave. and Davis Street, featured nearly 100 BIPOC-owned businesses. This sold-out event was held in late September.
Working with BikeTown to create a video encouraging residents to explore and support the central city.
Coordinating with the Portland Business Alliance and Travel Portland on parallel efforts, including:
Portland Business Alliance launched its "Fall back in love with Portland" campaign for Downtown Portland focused on:
Safe Sleep Options
The pandemic has made it more complicated, and less safe, for people experiencing homelessness. The Mayor directed the Joint Office of Homeless Services to add several hundred new indoor shelter spaces through the fall and winter months. These spaces are open around the clock and provide food, showers, laundry, and housing navigation services. Together, Portland Parks & Recreation's Charles Jordan and Mt. Scott Community Centers provide 175 safe spaces, and more will come online soon. The City also placed 100 portable toilets around our community to make sure that our most vulnerable community members continue to have access to this basic and essential service. Downtown was one of the first areas served.

Public safety
Residents, workers, and visitors should feel safe downtown. We are keeping the community up to date on the City's full array of public safety initiatives and services, from significant reforms in the Mayor's 19-point plan to community engagement opportunities and information about recent protest activity. The Portland Police Bureau (PPB) has increased its investigative resources and is working with the Multnomah County District Attorney to ensure successful prosecution of people who engage in violence or criminal destruction.
--Ben Fisher
| | |
| --- | --- |
| Post Date: 2020-10-10 22:12:46 | Last Update: 2020-10-11 08:54:05 |