Why we can't have nice things in education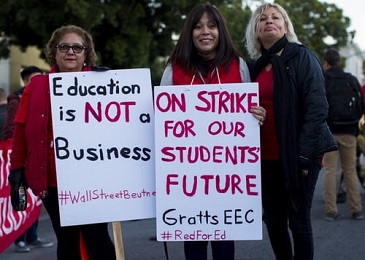 The Legislative Assembly shall appropriate in each biennium a sum of money sufficient to ensure that the state's system of public education meets quality goals established by law, and publish a report that either demonstrates the appropriation is sufficient, or identifies the reasons for the insufficiency, its extent, and its impact on the ability of the state's system of public education to meet those goals.

--Article VIII, Section 8, Oregon Constitution
State budgeting is a process by which various priorities compete for scarce resources. Public safety is important, as is transportation infrastructure, as is natural resource management, as are social services. And education.
Some priorities are more equal than others. Not every priority has a constitutional mandate that it be funded. Education does. Driven by the most powerful of all public employee unions -- a giant among giants, the Oregon Education Association -- education funding is mandated by the constitution and state law.
It's the ultimate self-licking ice cream cone. The teachers' union donates huge dollars to Democrat candidates and liberal causes. These politician in turn make sure that education is amply funded. Part of this funding finds its way back to the teachers' union and the process starts again for the next cycle.
As required by the Oregon Constitution, the
Quality Education Model Report
has been released. Many of the points raised by the report could be arguments for vouchers or increased school choice, but that doesn't really work for the teachers' union. Spoiler alert: They need more resources.
Highlights from the executive summary include:
Oregon has an inequitable education system. The result is that specific student groups consistently achieve at lower levels than their peers. The resulting opportunity and achievement gaps have existed for generations, leaving many students less well-prepared than their peers and less than what they deserve.

We must change our system if we expect to get different outcomes. Our current education system is delivering the outcomes it was designed to deliver, so if those outcomes are not the ones we want—and clearly they are not—then we need to change the system to one that delivers outcomes more consistent with our values.

Changing the system will also take more resources. Through the Student Success Act, the Oregon Legislature provided the needed resources by raising more revenue and appropriating more to education, with the clear goals of improving equity. The coronavirus pandemic means that the added revenue will come in slower than initially projected, but the added revenue is still considerable.

Despite lower than expected revenue, the K-12 funding gap will fall. While lower than earlier forecasts, the revenue from the new Corporate Activities Tax is still substantial, reducing the funding gap to a projected $834 million in the 2021-23 biennium. That's down from a gap of $1.77 billion in the 2019-21 biennium.

Someday, parents and taxpayers will refuse to accept this sustained level of failure. Maybe they get a pass because of COVID or maybe COVID is the straw that breaks the camel's back. As union members, teachers can't be held harmless. The law now allows them to resign from the union and keep their jobs. Below is our own report of some of the possible reasons why public education has failed and will continue to fail.
Major donations from Oregon Education Association - People for Improvement of Education
Date
Recipient (PAC Id)
Amount
09/29/2020
Eileen Kiely for Oregon (19025)
$18,935
09/17/2020
Friends of Tobias Read (5208)
$5,000
09/17/2020
Elect Ellen Rosenblum for Attorney General (15406)
$5,000
09/09/2020
Friends of Dan Rayfield (14046)
$5,000
09/09/2020
Friends of Lisa Reynolds (20209)
$1,000
06/24/2020
Friends of Ben Bowman (19763)
$1,500
05/15/2020
Oregonians for Ballot Access (20633)
$3,000
05/14/2020
Laurie for Oregon (20178)
$25,000
05/08/2020
Committee to Elect Shemia Fagan (14993)
$15,000
05/04/2020
Christina Stephenson for Oregon (18555)
$1,000
05/04/2020
Oregonians for Ballot Access (20633)
$6,500
04/27/2020
Friends of Khanh Pham (20376)
$2,231
04/24/2020
Committee to Elect Shemia Fagan (14993)
$45,000
04/20/2020
Committee to Elect Paige Kreisman (19452)
$1,000
04/17/2020
Committee to Elect Shemia Fagan (14993)
$32,000
04/17/2020
Campos for Oregon (20099)
$1,000
04/07/2020
No Fake Democrats PAC (20621)
$5,000
04/01/2020
Democratic Party of Oregon (353)
$5,000
03/17/2020
Committee to Elect Rachel Prusak (18850)
$1,000
03/17/2020
Committee to Elect Shemia Fagan (14993)
$10,000
03/17/2020
Friends of Diego Hernandez (16199)
$1,000
03/17/2020
Friends of Chris Gorsek (14515)
$1,000
03/17/2020
Friends of Paul Evans (16508)
$1,000
03/17/2020
Kathleen Taylor for Oregon (16757)
$1,000
03/17/2020
Oregonians for Clem (5133)
$1,000
03/10/2020
Laurie for Oregon (20178)
$5,000
10/16/2019
Democratic Party of Oregon (353)
$1,485
09/11/2019
Democratic Party of Oregon (353)
$5,000
04/19/2019
Friends of Lisa Fragala (19751)
$1,000
04/19/2019
Friends of Ben Bowman (19763)
$1,000
04/19/2019
Martina for School Board (19762)
$2,000
04/19/2019
Friends of Raul Marquez Guerrero (19789)
$2,000
04/19/2019
Caroline for Schools (19827)
$2,500
04/19/2019
Shimiko For Schools (19879)
$2,500
04/19/2019
Friends of Michelle DePass (19811)
$2,500
--Staff Reports
| | |
| --- | --- |
| Post Date: 2020-10-06 20:01:57 | Last Update: 2020-10-06 20:41:48 |