House District 8 is Eugene and the rural areas to the West and South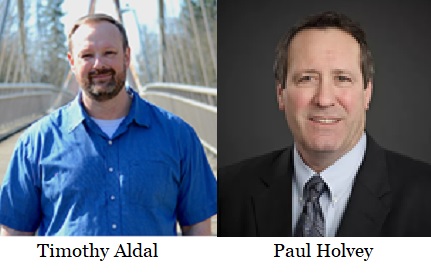 Editor's note: Oregon Abigail Adams Voter Education Project equips voters with information on how candidates stand on issues through a questionnaire process featured in comparison guides.
Candidate for House District 8
Timothy Aldal
is challenging incumbent
Paul Holvey
on his 9th run to represent a portion of Lane County.
Three major issues to Oregon voters are the economy, safety and education. Holvey, known as the Carpenters' Union representative, voted to increase taxes and fees including cap and trade, corporate gross receipts tax, and reduce the kicker. In 2020 he voted in support of SB 1603 imposing up to 6% tax on cell phones to extend broadband services to rural areas in addition to federal grants. Aldal indicates he would vote no on these issues and states he would work to stop over taxing and the shifting of money into non-dedicated funds. He states, the CAT tax is a business killing bill that passes on the cost to consumers lowering the standard of living for all Oregonians. He would work to reduce and repeal taxes not used for the betterment of all Oregonians.
Hovey helped sponsor the bill that nullified Measure 88 passed by voters allowing undocumented driver's license and he helped sponsor a bill that requires no proof of citizenship to obtain a driver's license. Voted to require employers to notify employees of ICE investigations, and prevent courts from asking immigration status and notifying ICE. He also voted for firearms to be trigger-cable locked or in a locked container when not carried. In contrast, Aldal said he is pro-constitution, supports local law enforcement and pro-Second Amendment. He states locking firearms is an "infringement and a good way to get citizens killed when one is needed for protection."
In the area of education and family, Hovey supported the bill to take a child into protective custody without a court order. He voted to include in all curriculum's contributions from every minority group such as immigrants, LGBTQ, disabled and women. He voted to require mandated vaccination with no exceptions and ban those from schools that don't comply. Aldal doesn't support the curriculum bill and says it is vague and poorly written. He also says, "every parent/family should have the right to make their own decisions regarding their medical care based on their beliefs and faith."
--Donna Bleiler
| | |
| --- | --- |
| Post Date: 2020-10-02 19:26:50 | Last Update: 2020-10-02 19:46:23 |