Kim Thatcher and Shemia Fagan square off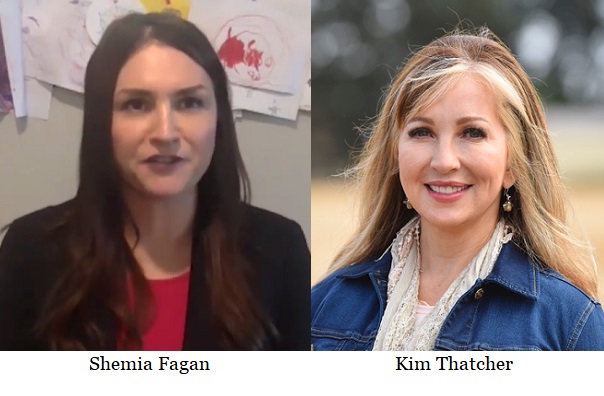 Secretary of State candidates Kim Thatcher and Shemia Fagan
squared off in a debate
sponsored by the City Club of Portland. Kim Thatcher started off by saying that Oregon is at a crossroad and the next Secretary of State needs to get Oregon back on track. She is the longest serving member of the Legislative Audit Committee and has focused her attention of the Secretary of State's office. The Audit Committee is where hard answers are found, such as why millions of Oregonians still haven't received their benefits. She thinks the state should be doing more to help displaced voters. Small business experience helps her see the issues to administer the Secretary of State's office as an advocate to get small businesses back to work.
Shemia Fagan began with her history-growing up in Wasco County as a struggling family, which led her to be a civil rights attorney to advocate for the underprivileged. Wants to make government work for everybody, making sure government has fair elections, auditing revenues and programs to make sure they make a difference in the lives of people who need them the most, and run a redistricting committee to make sure Oregon has equal representation for all.
Questioning covered campaign contributions, election, audits, public records, redistricting and the Oregon Land Board.
Thatcher thought that most of her campaign funds came from the forest industry with single donations around $10,000, but she has contributed more from her business. Fagan said public employees were her biggest donors with Emily's list donating $55,000 and the Governor $50,000. They both support Measure 107 for its transparency and campaign limits. Fagan would like to see grassroots donations and limit a single entity to drown out small donors. Thatcher would put a multi-partisan committee together so no one party dominates.
Vote by mail has been in the news as fraudulent. Thatcher doesn't believe Oregon's system is ripe with fraud. There are safe guards in place you don't see in other states. She did not vote for motor voter due to privacy concerns and not being able to register at the DMV counter. She does not support voter registration on election day. Fagan adamantly stated the widespread claims of voter fraud across the country is a meth stated by people who want to make it harder to vote. She first worked with then Secretary of State Kate Brown to mark out a path to motor voter. She supports same-day registration and would like to see ballot tracking statewide to give Oregonians comfort that their ballot is received.
Audits could be subject to legislative influence, how will they assure audits are free of partisan influence? Fagan would hire outside auditors to be nonpartisan with national guidelines, and thinks the audits should be on what affects people the most. Thatcher serves on the Legislative Audit Committee and says the auditors we have are free of influence. The committee fills the gap working together to identify what audits need to be made, and investigates a tip line for valid requests.
It was proposed to make Public Records office independent. Thatcher is on the Public Advisory Council and proposed a bill to make it independent, which she will again propose and they are working out the funding. The office and advisory council need to work together. Fagan also supports Public Records as an independent agency so the public has someone fighting for them.
When Fagan was asked if she could show her independence from her Public Employees Union supporters, she could not because that would mean going against her own principle. She is proud of their support and believes they should be paid a living wage, have health insurance, retirement security, paid sick leave, and have a say in the safety of their work place. She is on record to make public police records on discipline.
The most discreditable question went to Kim Thatcher equating her participation in the Senate walk-out as a dislike of the legislative process. Denying that statement, she affirmed that the legislative process is very important and that includes the ability for people to weigh-in, which includes quorum denial, which both parties have used. Had the public been given a chance to weigh-in on the issues that are bigger than the legislature, there wouldn't have been a walk-out.
The Elliott State Forest is overseen by the State Land Board, which includes the Secretary of State. Both thought that the Elliott Forest has to stay in state hands. Thatcher would like to see a stakeholder committee to determine the purpose of the Oregon Land Board. There are lots of proposals for the Elliott Forest to consider. Fagan seemed sold on Oregon State University proposal to use the Elliott Forest as a research forest, which includes decoupling it from the Common School Fund.
They each had an opportunity to ask the other a gotcha question. Thatcher questioned Fagan on her jumping around from position to position and how could voters count on her not running for Governor in two years. Fagan said she had no intention to run for Governor in two years. Fagan tried to tie down Thatcher on her vote for President, which she gracefully deflected staying non-partisan as the position would demand.
Maybe the most interesting question was for each to identify a professional sport they would like to play and what would their walk-up music be. Fagan would play for the WNBA for the Oregon Ducks, and walk on to Lizzo "Good As Hell." Thatcher would like to be a race car driver to "Radar Love."
In closing they both asked for your vote reiterating key points.
--Donna Bleiler
| | |
| --- | --- |
| Post Date: 2020-10-02 02:17:06 | Last Update: 2020-10-02 13:22:18 |