Secretary of State candidate Shemia Fagan takes money from those she would audit
In a race in which integrity plays a great role, the Secretary of State's race is seeing some donor activity that is raising eyebrows with some observers who are calling into question how the size of the donations may have an impact on the performance of the candidate, should she land the role of Secretary of State.
Democrat Shemia Fagan recently accepted a
$50,000 donation
from Governor Kate Brown's political action committee. While it's not unusual for cash to flow between PACs during an election year, it's troubling to some that one of the main functions of the Secretary of State is to audit executive branch agencies -- overseen by none other than Governor Kate Brown.
Another conflict of interest that's developing is that Fagan's campaign is almost wholly funded by public employee union political action committees. One of these, Service Employees International Union -- the largest public employee union among Oregon state workers -- has funded her campaign to the tune of over a quarter of a million dollars. Again, these are executive branch employees whose work will be audited by the Secretary of State.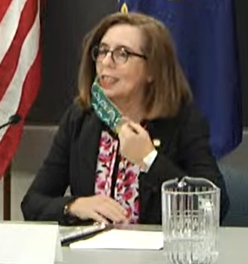 Fagan came under fire during the primary when
an email from fellow Democratic lawmaker Alyssa Keny-Guyer
was leaked expressing disappointment over the sources of Fagan's campaign money. Keny-Guyer said, "In addition to the obscene amounts of money from so few sources going into your campaign, now there is an Independent Expenditure cleverly called OREGONIANS FOR BALLOT ACCESS, made to 'appear' neutral since it offers one example of an endorsement for Mark and two for Jamie. No surprise, it is the first website that appears when you google any of the three candidate names."
Insiders are looking back at the 2016 election for Secretary of State when the highly partisan, left-leaning activist labor lawyer Brad Avakian lost to Dennis Richardson, a candidate with a legislative track record for integrity and fairness. Speculation is that this election might be a repeat, where voters may lean toward the candidate who can present a case that includes personal integrity.
--Staff Reports
| | |
| --- | --- |
| Post Date: 2020-09-25 12:59:47 | Last Update: 2020-09-24 20:32:33 |