Oregon's 1st Congressional District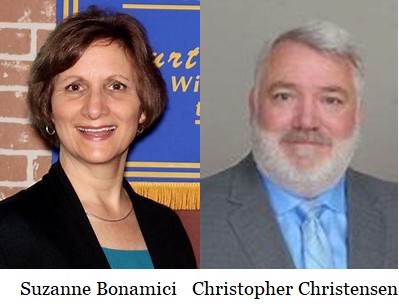 Editor's note: Oregon Abigail Adams Voter Education Project equips voters with information on how candidates stand on issues through a questionnaire process featured in comparison guides.
Republican candidate Christopher Christensen is running for Congressional District 1 against Democrat incumbent Suzanne Bonamici to represent Clatsop, Columbia, Washington, Yamhill and part of Multnomah Counties.
Bonamici is on a revived House select committee on climate change and has signed onto the Green New Deal introduced by Rep. Alexandria Ocasio-Cortez, claiming 100% energy from a mix of "clean renewable and zero-emission energy sources" by 2030. "Climate change affects our entire economy and it's more important than ever to develop a comprehensive national energy policy that shifts us toward a clean energy future," she said. She wants comprehensive background checks, limit gun magazine sizes, and reinstate the ban on military style assault weapons, but claims while reducing gun violence, it must be constitutional and consistent with the Second Amendment. She also helped introduce the Justice in Policing Act of 2020 to transform police practices, limit use of force and stop transfer of military grade equipment to state and local law enforcement.
When you look at what is happening in Portland spreading violence to other parts of the state, Christensen says he is for "no universal background checks and no restrictions on the right to bear arms as outlined in the second amendment." He states his passion for public policy are in his belief in our Constitution that should be honored, valued, and upheld. He would work for bipartisan solutions to infrastructure and transportation improvements in the region; build the Bridge; make America energy independent; lift people out of poverty, not enable it; choices in education; opposes the artificial creation of emissions trading platforms and cap & trade legislative policies; uphold the Second Amendment to the Constitution; uphold the legal immigration policies of these sovereign United States and advocate for strong border protection measures.
Who will best representative We The People?
--Donna Bleiler
| | |
| --- | --- |
| Post Date: 2020-09-24 16:54:23 | Last Update: 2020-09-30 10:54:26 |