Need to renew your driver's license?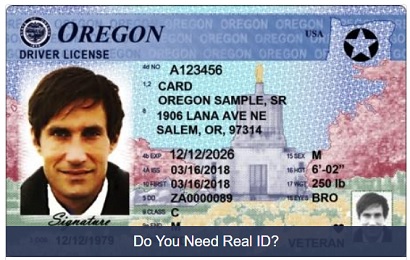 The
Department of Homeland Security
(DHS) announced that after more than 15 years since Congress passed the Real ID Act, all 50 states are now in full compliance issuing these cards, with most states becoming compliant in the last four years. To date, the 50 states have issued more than 105 million Real ID-compliant driver's licenses and identification cards, representing 38 percent of all driver's licenses and identification card holders.
Postponed to October 1, 2021, full enforcement of Real ID will take effect at all federally regulated airports, federal facilities, and nuclear power plants. Passed by Congress in 2005 following a 9/11 Commission recommendation, the Real ID Act establishes minimum security standards for state-issued driver's licenses and identification cards and prohibits federal agencies, like the Transportation Security Administration, from accepting licenses and identification cards for official purposes from states that do not meet the standards.
Do you need a Real ID? Oregon DMV has an
information brochure
, or an
interactive decision helper
to make that determination. A Real ID is not needed for driving, proving age, receiving public benefits, or voting.
Getting a Real ID requires in-person with
identification documents
, Social Security number, proof of address, plus an additional $30 Real ID fee. If you're driver's license is coming up for renewal, you may be required to go in-person to renew. However, since Governor Brown issued an emergency over COVID-19, the Oregon DMV has operated by appointment only. A driver's license renewal in April was given an October appointment. That's a five month wait.
The Department of Transportation has partnered with Oregon law enforcement agencies to exercise discretion in their enforcement of driver licenses, vehicle registrations and trip permits that expire during the COVID-19 emergency. On July 7, Governor Kate Brown signed into law Senate Bill 1601, which creates a moratorium on citations for certain DMV-related activities due to the COVID-19 pandemic and the subsequent reduction of DMV services effective between March 1, 2020 and December 31, 2020.
But, if you only need identification to travel, a
Passport
or Passport Card might be a better option. Airport security changes October 1, 2021, will require TSA travelers by air to present a Real ID compliant form of identification to pass airport security. A good option is a Passport card. It's cheaper than a full passport book ($65 vs. $145 - and if you already have a passport, the card is only $30). You can apply at one of the over 75 acceptance centers in Oregon, the requirements are similar to that of an Oregon Real ID (proof of citizenship – like a birth certificate, passport photo, photocopy of your driver license), and it only takes about four to six weeks to receive.
If you need to renew your Oregon driver's license or vehicle registration that takes an office visit, there are no alternatives but to get on the list for an appointment. The question lurks, how fast will they catch up after Oregon opens.
--Donna Bleiler
| | |
| --- | --- |
| Post Date: 2020-09-13 07:39:19 | Last Update: 2020-09-13 19:19:02 |