Many people in Marion County are suffering right now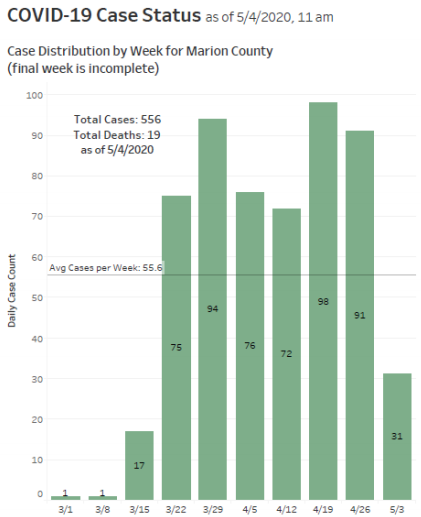 During its regular weekly board session on Wednesday, May 6, 2020, the Marion County Board of Commissioners adopted a resolution for beginning to reopen businesses, restaurants, churches, and county parks. Phase 1 of the community
roadmap for reopening
will begin on May 15. According to Commission Chair Colm Willis, "Many people in Marion County are suffering right now. This plan ensures first and foremost, the safety of the people of Marion County and fairness for our families and small businesses"
Working closely with our county Health and Human Services experts, local leaders, and regional public health partners, the roadmap is based on the Governor's guidelines for reopening counties across the state. Commissioner Willis adds, "In our case, the roadmap is tailored to fit the specific needs of our communities. We have worked hard with state and regional partners to prepare a thoughtful, balanced approach to supporting a safe, strong, and thriving Marion County."
In Phase 1, the roadmap proposes reopening several types of businesses and services, keeping in place sanitation protocols and specific limits on physical distancing, face coverings, and crowd size until public health monitoring shows it is safe to move to later phases. Hospital visits will remain prohibited at this time, as will night clubs and most large venues.
Monitoring community health and safety is very important as the limited, phased reopening gets underway. Marion County Public Health Director Katrina Rothenberger is leading efforts to protect public health during the COVID-19 pandemic and observes that, "Local hospitals have ample capacity today and much more so than a few weeks ago when the virus first arrived in Oregon." She goes on to add, "As businesses and other sectors begin to reopen, we will closely track new cases of the virus and will take immediate action if we see an unacceptable increase in new cases and hospitalizations." Meanwhile, the roadmap has very specific details about what types of preventive measures are required for each type of business, venue, and activity.
Marion County is committed to working with the Governor's office, local healthcare providers, and other community partners to update and refine the roadmap as needed.
--Staff Reports
| | |
| --- | --- |
| Post Date: 2020-05-07 09:51:19 | Last Update: 2020-05-11 09:51:29 |