On this day, June 4, 1990, Janet Adkins, age 54, of Portland, became the first person to use a suicide machine developed by Dr. Kevorkian. This began a national debate over the right to die.
Also on this day, June 4, 1999 a federal judge in Portland ruled that AT&T must open its cable lines to competitors.
Also on this day, June 4, 2017, a pro-Trump rally and counter-protest in Portland was marked by multiple arrests and clashes.
We have a new thing. It sounds similar, but it's different. It's equity.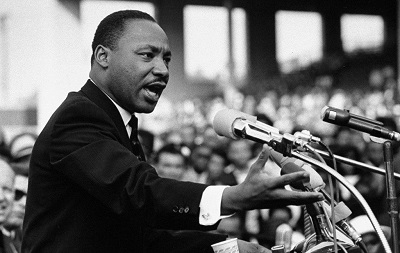 57 years ago Reverend Dr. Martin Luther King, Jr. delivered his "I have a dream" speech in Washington, DC. It was a prophetic speech which set the tone for the turbulent decade to follow. Arguably, the most memorable quote from the speech was, "I have a dream that my four little children will one day live in a nation where they will not be judged by the color of their skin, but by the content of their character." Judging people by the content of their character is the essence of equality.
"Equality" was the subject of Dr. King's speech. We don't strive for equality anymore. The conversation is about "equity" which means that certain races get advantaged status. A portion of the federal COVID-19 stimulus money that Oregon received will be
set aside for persons of a particular skin color
. There's no attempt to hide or sugarcoat that. The front page of the Oregon Cares Fund, explicitly says, "The Oregon Cares Fund is for Black people, Black-owned businesses, and Black community based organizations." If Michael Jordan or Oprah Winfrey lived in Oregon, they'd qualify.
More than race, having an intact family is more of an indicator of future success. This kind of analysis is rarely allowed into the debate. Those who try get shouted down and labeled as racists or white-supremacists. Things like school choice could help. Education can be a great equalizer and uplifter, and education choice seems like a great idea, especially for disadvantaged communities. Teachers' unions won't let it happen. It seems like the only tools we have left to combat lack of achievement are rioting and cancelling NBA basketball. That's sad. We're smarter than that.
--Staff Reports
| | |
| --- | --- |
| Post Date: 2020-08-28 16:21:05 | Last Update: 2020-08-28 18:14:08 |