The riots in Portland need to end after nearly 100 days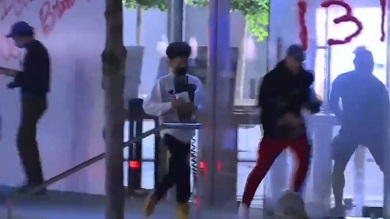 The Republicans are the minority party in Oregon.
In fact, elected Democrats hold a "super-majority". They seem to operate with very little checks and balances to hinder their legislative agenda. Many philosophical and ethical challenges may arise with such adherence to such one-party dominance.
Cries for change may even be snuffed, sadly, by forces in league with such a party in control, aided by a corrupt and biased media. With the injustice of the situation unaddressed, frustration can turn inward upon the opposing political party to "do something", but the power has been deliberately put in the hands of the Majority held Democrat state legislature. Elected Republican influence only goes so far in Oregon, until those numbers change via the ballot box.
To conservative and libertarian leaning Oregonians, it can be encouraging to see some elected Republicans doing everything they can despite the neglect of the media. Senate Minority Leader Fred Girod has once again done so, and it seems to many that he is stating the obvious.
"It's been nearly 100 straight days of nightly violence in Portland," said Senator Girod. "Law enforcement, the personnel who are tasked with upholding the law, have been left out to dry with little to no support. By most Democrats failing to denounce the violence, anarchists have been given free reign to destroy public and private property. Anarchists have lit fires, thrown fireworks, Molotov cocktails, water bottles and tools at the police officers who risk their lives each night to protect a city that refuses to protect them."
Senator Girod continued, "The response from Governor Kate Brown and Mayor Ted Wheeler has been disastrous and has made Portland fodder for national embarrassment. It took until rioters trashed Portland City Hall for the mayor to speak out. Until the governor's and mayor's words are followed with action, they are just words, and innocent Oregonians will continue to be collateral damage."
Perhaps Portland should try going back to just "being weird".
--Ben Fisher
| | |
| --- | --- |
| Post Date: 2020-08-28 11:23:04 | Last Update: 2020-08-28 12:34:44 |