Before factoring in riots or government response to COVID-19
The American Legislative Exchange Council, a nationwide think-tank focused on state legislative issues released its annual report
Rich States, Poor States
and it has some ominous data for Oregon.
As part of it's report, it includes an Economic Outlook Ranking, which is a forecast based on a state's current standing in 15 state policy variables. Each of these factors is influenced directly by state lawmakers through the legislative process. Generally speaking, states that spend less — especially on income transfer programs — and states that tax less — particularly on productive activities such as working or investing — experience higher growth rates than states that tax and spend more. Oregon's current rank is eight (one is the best, 50 is the worst), so Oregonians have a lot to be proud of. Yet high taxes, high government spending and other factors give it an outlook rating of 42, which should be worrisome. The last decade of legislative super majorities for Democrats have created opportunities for policymakers to create an environment that is not hospitable to business growth -- growth that will be necessary to take up some of the revenue shortfall caused by the government response to the COVID-19 outbreak.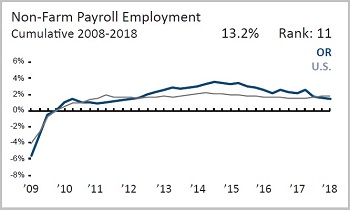 Since the recovery from the recession of 2008, the national economy has been flat, while the Oregon economy saw decent gains. However, for the past several years, while the national economy has lurched upward, Oregon's domestic economy has flattened. This has been driven in part by a spate of regressive tax increases as well as many new regulations on business. There's no such thing as a free lunch.
Since 2012, employment growth in Oregon has outpaced federal employment growth, which is good, but it's been steadily sliding under the weight of many anti-business policy moves by the legislature. Individually, they might have been sustainable, but the cumulative weight of regulations, coupled with the cost of government, has stifled economic growth in Oregon.
Numbers and graphs are all well and good, but the real indicator of how attractive Oregon is can be seen in the domestic migration numbers -- the number of people who come to the state minus the number of people who leave. Oregon has had positive growth through the decade -- growth that will almost certainly result in Oregon gaining a sixth congressional district -- but it's tapered off, as of late. These numbers don't factor in the impact of riots in Portland or the heavy-handed government response to COVID-19. Or the impact of upcoming legislative sessions.
This video of State Senator James Manning, Jr. (D-Eugene) illustrates the attitude behind the disregard for Oregon's economic condition.
--Staff Reports
| | |
| --- | --- |
| Post Date: 2020-08-24 14:00:13 | Last Update: 2020-08-24 19:23:35 |