"I hate this pandemic"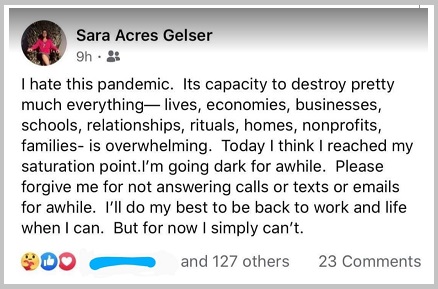 The Governor held a press conference today where she gave lip service to the social and economic hardships we're facing because of the COVID-19 outbreak. Ultimately, she thinks that these hardships are a fair exchange for the restrictions she thinks are necessary to combat an outbreak that has killed 400 in a state with 4 million.
State Senator Sara Gelser (D-Corvallis) is having a hard time because of these hardships. Though she doesn't give a great deal of detail -- which is fine -- she's entitled to
some
privacy, even as an elected official -- her public communications can't help but make a feeling person empathize. Maybe the Governor needs to have a conversation with Senator Gelser. Both Brown and Gelser draw secure paychecks that can't be touched by the economic downturn, unlike many, many other Oregonians.

Anyone familiar with Senator Gelser and her work, knows that she's not a weak person and she doesn't get beat down easily. But if the political elites are starting to feel the pain, maybe they could extrapolate that to the rest of us and give a little bit as far as opening the state goes. If Senator Gelser is crying out on social media, surely the rest of Oregon is feeling the hurt.
We wish the Senator the best.
--Editor
| | |
| --- | --- |
| Post Date: 2020-08-21 13:43:31 | Last Update: 2020-08-21 14:07:27 |