Ride the trolley for free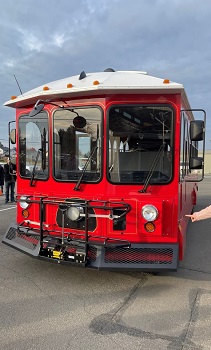 A
fter five years of analyzing, planning and a
feasibility study
, adjoining cities of Monmouth and Independence saw results by the arrival of the first of the three Trolleys to their community. The project is scheduled to begin service early in 2023 as a pilot project. Representative Paul Evans (D-Monmouth) provided $3 million in American Rescue Plan grant funds through the state budget to support the local transit service that will link downtown Independence, downtown Monmouth and the Western Oregon University campus. The plan is to start operating with transit fares and then find long-term funding to keep ridership free.
The trolley is intended to be fun for all ages. It will be a novelty attracting tourists, visitors, and locals. Planners modeled the pilot after the King Street Trolley in Alexandria, VA, that operates in the historic district, providing mobility for visitors, as well as supporting business. Other trolleys have revitalized downtowns playing a significant role in promoting community identity and economic development, while keeping the traditional urban values alive. That is the hope for Monmouth and Independence.
A D V E R T I S E M E N T
A D V E R T I S E M E N T
Community surveys found favorable support for the trolley service over other options. Eventually, the vision is that the trolleys will become a daily transit service for people living in the cities of Independence and Monmouth. This new service will be managed and operated by Cherriots and will link CARTS (Chemeketa Area Regional Transit System) with the Cherriots system in Salem.
The pilot will operate for two years to provide evidence of long-term viability of the service. The trolleys will be a hybrid gas-electric vehicle with plans to move to a 100 percent battery electric vehicle in the future. Two vehicles will operate each service day with a third to serve as a spare and used as rotation. The main route will travel along Main Street in Monmouth, and Monmouth Street in Independence with three trips per hour. The City of Monmouth has a complete schedule on their
webpage
. It is also possible to make reservations for off-route pickups and drop-offs if it is within 0.75 miles of the main route.
There is some discussion to have special trips for events. Might want to put one of the Independence City events in Riverview Park on your schedule and ride the trolley for free and see your tax-dollars at work.
--Donna Bleiler
| | |
| --- | --- |
| Post Date: 2022-11-30 00:08:20 | Last Update: 2022-11-30 20:06:46 |