Suzanne Bonamici v Christopher A Mann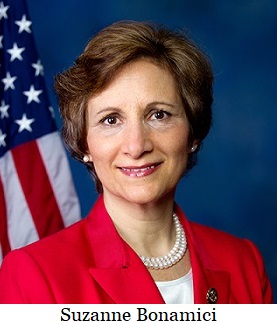 Editor's note: Oregon Abigail Adams Voter Education Project equips voters with information on how candidates stand on issues through a questionnaire process featured in comparison guides.
Veteran Christopher Mann takes on Suzanne Bonamici for one of the most left lending congressional districts in Oregon. The district is located in the northwest corner of Oregon with the majority of white-collar workers and only 13.35% rural. It includes Clatsop, Columbia, Washington, and Yamhill counties, and a portion of southwest Multnomah County in Portland stretching from Portland's western suburbs and exurbs, to parts of the Oregon coast. The district includes the principal cities of Beaverton, Hillsboro, and Tigard.
Bonamici won a special election in 2012 to replace David Wu after he resigned. She was a State Representative, and State Senator. In Congress she is one of nine Democrats serving on the Select Committee on the Climate Crisis, which developed a Climate Action Plan for Congress to embrace much of the Green New Deal. She endorses rebuilding America's infrastructure; prioritizing investment in rural and deindustrialized areas, low-income communities, and communities of color; and repairing the economic and racial inequality of low-income workers and communities of color exposed to pollution and more vulnerable to the costs and impacts of climate change.
Mann, born and raised in Portland, is a 21-year veteran that served abroad in Panama, Germany, Iraq, Kuwait, and Qatar, while the rest of his Military time was spent in the United States. He has a Bachelor's in psychology and an MBA. He has dedicated the past nine years as Executive Director of The Oregon Military Support Network. Mann sees the primary issue in his district as well as other places as rising costs and the need for energy efficiency. Our grids are not prepared for electric cars. He does not believe we are in a climate emergency and doesn't think the Green New Deal will ever lead to American energy independence.
Bonamici blasted the proposal to limit abortions to 15 weeks, when the baby feels pain. Her truth is, "Here's the truth: If this bill becomes law, millions of women will no longer have the freedom to decide when or whether to bear a child. More women will die. And many more women and children will live in poverty."
Mann coaches' youth and values life. He does not view abortion as essential and does not support the Women's Health Protection Act. He supports a doctor's choice to not perform an abortion, and supports cutting federal funds to Planned Parenthood or other organizations that performs abortions.
A D V E R T I S E M E N T
A D V E R T I S E M E N T
Mann has a strong stance on education. He does not believe the federal government has constitutional authority to regulate schools. He says, "parents should be the ones to decide what their children are taught in school, as well as choosing the school their children attend. Schools should not be withholding information from the parents." He also says, "teaching of any form of CRT or sexuality in grades K through 8 is not the role of the school system. More time needs to be spent on the core subjects to prepare our youth for success in the future." He also doesn't agree with biological males who identify as women be allowed to compete in women's sports.
Bonamici comes from an opposing view working for more government involvement expanding early learning for pre-kindergarten, addressing resource inequities in K-12, and wants to expand aid to make college more affordable. She claims success in helping to write The Every Student Succeeds Act (ESSA), and created the Congressional STEAM (Science, Technology, Engineering, Arts, and Math) Caucus.
Bonamici says, "Oregon has been a national leader in enacting meaningful gun violence prevention laws, and those measures have saved lives. It is past time for the federal government to enact similar laws to protect people across the country…. I helped the House pass historic legislation to require universal background checks and close the loopholes that make it easier for dangerous people to access firearms. I support getting assault weapons off our streets."
Mann supports the right of an American citizen to keep and bear arms as stated in the Second Amendment. He wants to see the demonizing of police stopped. He proposes body cam programs, more annual training for the officers and public education. He hopes to be a part of a police reform bill that will be successful nationwide.
A D V E R T I S E M E N T
A D V E R T I S E M E N T
Bonamici thinks government should be in the business of health care and says we need Medicare for all. She says, "I'm working to increase vaccination rates in our communities, strengthen and improve the Affordable Care Act while advancing universal health care, and provide support for frontline workers." She supports robust funding for our public health infrastructure and preventing future global health pandemics.
Mann sees divisiveness as the cause of many problems. COVID has ruined our skills to communicate and has also deepen the homeless and mental illness problems. He says, "there is a need to reopen mental health hospitals with drug rehabilitation. It is unacceptable to have camps all over our cities. Those camps have resulted in a rise in crime, damage to the city and businesses to close or move elsewhere."
Mann is also an advocate for veterans and will fight to fill the areas that are lacking for our service members. He responded in an interview that Jesus was his hero. "He washed the feet of those he served." Christopher Mann's questionnaire can be viewed on the Oregon Abigail Adams Voter Project website.
--Donna Bleiler
| | |
| --- | --- |
| Post Date: 2022-09-25 14:13:15 | Last Update: 2022-09-25 15:30:20 |