His Opponent, Darleen Ortega, Thinks the American Dream Is a "Nightmare"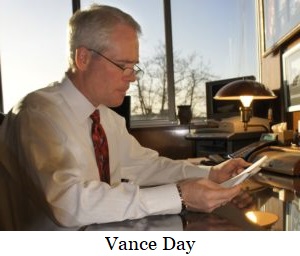 W
ith the May 17 primary deadline fast approaching, the insurgent candidacy of Vance Day, candidate for Oregon Court of Appeals Position 3, is on the march, gathering both votes and momentum.
Weeks ago, Day announced his campaign on the Lars Larson Show, saying:
"Our Constitution made a promise to us as Oregonians that we would do justice, that we would respect others, that we would live in a diverse community and not have a government that bullied us. As a former circuit court judge, I know how to work within the judiciary to bring about change. I'm asking for your vote, and I want to say thank you for getting involved in making Oregon a great state again."
Day, a sixth-generation Oregonian and descendent of Oregon Trail pioneers, is well-known to Oregonians, having served as the head of the Oregon Republican party and as a Circuit Court Judge in Marion County. Day is also well-known to Oregon's Christian community, having been recruited by the board of the Christian men's mega-ministry Promise Keepers to help rebuild the organization. Day started as Chief Operating Officer and was eventually elevated to serve as President.
Day began his campaign with a pledge to visit each of Oregon's 36 counties. When asked why it was so important to him to visit all of Oregon's 36 counties, Day said, "It allows me to listen. The position I'm running for, Oregon Court of Appeals Position 3, is a statewide position, and I care about the opinions of every Oregonian in every county."
According to Day's supporters, there are legs to his platform:
Equality, which Day understands to be very different from "equity." As Day notes, "The justice system should not promote privileged categories in the name of redressing past injustices —both real and imagined — and thus pits Americans against one another. By contrast, equality strives for fairness, an equal playing field where a person is only limited by their own industry and ingenuity. Equality is the bedrock of the American Dream."

A D V E R T I S E M E N T

A D V E R T I S E M E N T

By contrast, Day's opponent, Darleen Ortega, scoffs at the idea "that anyone from even the most humble beginnings can make it here if they just 'decide to go for it.'" Ortega attacked the idea of the American Dream in The Portland Observer and went so far as to assert that "The American dream is regularly a nightmare, even for its most successful dreamers—and for every person who decides to go for it and "succeeds," how many talented dreamers don't manage to survive such obstacles?" This is an approach to the law that Ortega actively promotes as an instructor at the University of Oregon Law School, in addition to actively writing and speaking on the subject. There is a clear difference between the candidates regarding the importance they attach to equality under the law.


Freedom, which Day believes is a God-given right possessed by humans—not a perk granted by government. Day explains, "The judiciary has a constitutional role in providing a check against the excesses of the other two branches of government: the Executive and the Legislative. History reveals that some in our government misuse their power to tell the average citizen how to live, work, and even think. I know what it's like to be on the receiving end of governmental group-think weaponized to punish dissenting voices. I know how precious—and fragile—freedom is."


The Rule of Law, which Day believes must be equally applied to all people, in all places, at all times, in the same manner. Day believes judges "are duty-bound to act as a check and balance against any effort to diminish, distort, or discard our Constitutions, along with the rights and freedoms of the People."
All three of these stem from Day's "strict constructionist" views, which Day describes this way: "Like the late Supreme Court Justice Antonin Scalia, Strict constructionists like me believe that judges should be faithful to the Constitution and laws as written and apply them. If elected, I will be the only strict constructionist on the Court of Appeals — and that the Court of Appeals desperately needs a diversity of opinion."
Although the race for Position 3 is nonpartisan, Day was offered the endorsement of the Oregon Republican Party, though he had to decline this offer to comply with Oregon Code of Judicial Conduct.
N
ot everyone is happy about Day's candidacy, however. Sarah Iannarone, the 2020 Antifa candidate for Mayor of Portland, took to Twitter to urge people, "do NOT vote Vance Day – he is openly neo-Nazi, affiliated with the Promise Keepers, Proud Boys, etc. Tell your friends to vote Darleen Ortega." Iannarone doesn't seem to care that Promise Keepers and Proud Boys are as different as cheese and chalk or that her other allegations against Day, which stemmed from partisan outrage over his views about same-sex marriage, were discredited long ago.
As former Governor of Virginia Bob McDonnell noted at the time, "Vance Day [was] targeted for prosecution, and I think persecution, for his Christian faith—simply because he chose not to perform a same-sex marriage. In Oregon, it's permissible for judges to do it [perform marriages], but not required. He quietly declined to do one. And I think that series of criminal charges, of bar complaints, and persecution by the Oregon Attorney General's office and others have all stemmed from that."
Former Governor of Arkansas Mike Huckabee asked the obvious question: "Is There a Vendetta Against Judge Vance Day's Religious Beliefs?" Huckabee then invited Vance Day on his television program to discuss what Huckabee termed Day's "Political Persecution."
Day's opponent in the nonpartisan race is Darleen Ortega, who has already served on the Court of Appeals for 19 years, 10 years longer than any other judge on this Court. Ortega ascended to the bench in what's become an Oregon tradition. Court of Appeals judges step down before the end of their terms to bypass the electorate and allow the governor to appoint their successor. This is intended to give the Governor's hand-picked appointees a considerable electoral advantage since they are now listed as the "incumbent" even though they never stood for election. Vance Day has already committed not to play this game, pledging to serve his full term as judge.
A D V E R T I S E M E N T
A D V E R T I S E M E N T
In her time on the bench, Ortega "has focused on issues of juvenile dependency and on efforts to address the structural inequities that affect operation of the legal system." Ortega is "a frequent speaker on topics related to equity, privilege, combatting structural and internalized racism and oppression, and learning to recognize and value the perspectives of people at the margins." She is a co-founder of OneGeorgeFox, an alumni organization of George Fox University supporting LGBTQ+ students.
During the past week, Vance Day has condemned the potentially illegal targeting of Supreme Court Justices and their familyies by mobs of protesters at the private homes as they deliberate a verdict in a case that may lead to the overturning of the 1973 Roe vs. Wade decision on Abortion, according to a leaked opinion draft from last week. Day has challenged his opponent Ortega to do the same, however no such condemnation appears forthcoming as of the publishing of this story.
So this rare competitive race for Appeals Court Judge offers Oregonian voters a clear set of contrasting choices: Vance Day, the candidate who sees equality under the law as critical to the American Dream, or Darleen Ortega, who rejects the very idea of the American Dream.
--Staff Reports
| | |
| --- | --- |
| Post Date: 2022-05-14 08:41:10 | Last Update: 2022-05-14 16:22:18 |