Out of 19 filed Republican candidates for governor, nine were present
B
allots will be mailed out this week for the May 17th Oregon Primary election. The Secretary of State sent out notices warning that misinformation about the election will be a crime they will prosecute against. Is it for your protection, or theirs? It seems like Oregonians aren't impressed with big names or big names supporting candidates. Democrat and Republican establishments are fighting the same battle for non-affiliated votes.
Started 57 years ago, the Dorchester Conference is the oldest political conference in the United States and a showcase for Oregon's conservative elites.
However, it was originally started at the Dorchester House in Lincoln City where moderate Republicans would talk about repairing the party. It deliberately excluded "far right-wingers."
The unique difference in the Dorchester debate from others is that the audiences takes a straw poll to pick a favorite candidate.
Out of 19 filed Republican candidates for governor, nine were on the ballot and there were 223 participants, Marc Thielman received an astounding 61%. Thielman may have put a target on his back. In 2018 Greg Wooldridge won over the favored Representative Knute Buehler that brought out big donors. Thielman's advantage is voters are listening to their messaging like never before, and there are 19 Republican candidates looking for support.
Election Integrity and Oregonians for Fair Elections gave a training event in conjunction with the Dorchester conference as a separate event. They did their own straw poll during the event and Marc Thielman received 43 out of 48 votes, and Joe Rae Perkins received 34 out of 45 votes.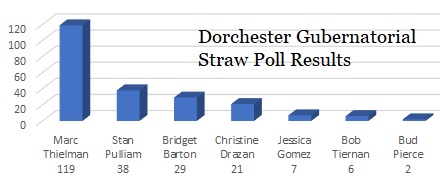 About 62 attended the training on being an election observer, making a records request, and heard reports from counties pursuing election integrity work.
In attendance was the person whom built the Oregon's Centralized Voter Registration (OCVR) Database for the Secretary of State's website and was allowed to speak on his work.
OCVR is a top-down system that maintains detailed registration and voting history information. Digital images of full voter registration cards are incorporated into the system for signature verification, and a public portal allows online checking of voter registration status.
The OCVR is working towards modeling after Washington State, which has same day voter registration, and internet voting that allows a person to print their ballot on a home computer and mail it.
Oregon allows the handicapped to vote on the internet with a specific pre- registration for that system. Some counties are experimenting allowing citizens overseas to vote by internet.
A D V E R T I S E M E N T
A D V E R T I S E M E N T
Legislative authorized Administrative Rules have allowed specific voting exemptions without further approval. However, printing on a home computer will eliminate paper with a watermark or heat-sensitive element as proof of an authentic ballot and prevent it from being photocopied.
Don Powers spoke on what the Multnomah County team has discovered in analyzing voting data. The data is showing something called shuffle. That's where extra or possibly manipulated ballots are entered throughout the process a little at a time avoiding big jumps that draw attention. However, it creates a smooth steady increase as ballots are counted instead of the normal little jumps back and forth. From their work, other states are finding similar results.
As teams put in public requests, two counties were unable to provide the requested information who lost their voting data and they did not make a backup. Being out of compliance is a violation of both U.S. and Oregon laws.
The Democrat conference is to begin April 29 to May 1. The 11th annual Oregon Summit of the Democratic Party of Oregon will be held at Sunriver Resort in Deschutes County. The Democrats have 15 candidates for governor.
--Donna Bleiler
| | |
| --- | --- |
| Post Date: 2022-04-30 11:33:32 | Last Update: 2022-05-02 16:18:35 |