The rights of parents will be on the ballot January 18th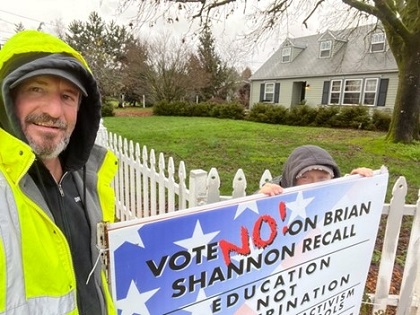 Progressive Yamhill gained enough signature to put Newberg School Board Chair Brian Shannon on a recall ballot. The election will be January 18th. A second recall effort involving school board member Dave Brown will conclude soon. A third recall effort involving County Commissioner Lindsay Berschauer will conclude in about two months.
The yard signs have gone up and canvassing began as both sides dig in for the contest about whether indoctrinating kids into critical theory and sexualizing them belongs in the teaching environment. Parents requests for the list of library books and the curriculum have gone unanswered by school administrators, who apparently don't want to discuss the matter.
Recently the Newberg School Board fired Superintendent Joe Morelock for failing to follow orders. A temporary superintendent has been hired as the search for a permanent replacement continues. Many teachers are in defiance of school board decisions regarding the classroom environment. American flags have been removed by some who refer to the flag as a symbol of hate.
The Oregon Education Association has made is clear that teachers first amendment rights end when they enter the classroom. By contract they must teach the OEA curriculum in an OEA approved environment. Many parents are frustrated that they are first in line to pay for public education, but last in line when it comes to deciding how their kids will be taught.
--Staff Reports
| | |
| --- | --- |
| Post Date: 2021-12-20 12:08:31 | Last Update: 2021-12-20 12:15:58 |