This is another example of how out of touch Governor Brown is with Oregonians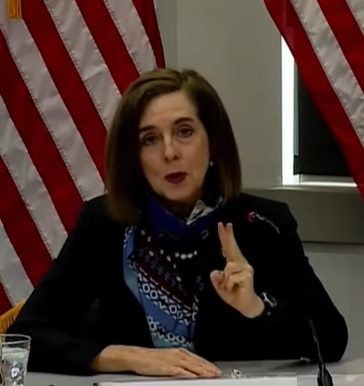 E
ver since a contentious 2019 session in which Republicans walked out in order to deny the Oregon House a quorum to block the passage of
HB 2020
-- a sweeping bill that would have established the Climate Policy Office within Oregon Department of Administrative Services and would have directed the office to adopt Oregon Climate Action Program by rule -- Oregon Governor Kate Brown has been trying to sneak climate change legislation through the back door.
In March 2020, Governor Brown put state government under an anti-carbon regime with
an Executive Order
, but she lacked the authority to subject the whole state to a climate policy.
Now, the the Environmental Quality Commission -- the body which oversees policy and direction for the Oregon Department of Environmental Quality -- is proposing a
Climate Protection Program
to do rulemaking on climate issues, much as proposed by
HB 2020
in 2019.
Governor Brown has a law degree specializing in environmental law.
Oregon House Republican Leader Vikki Breese-Iverson (R-Prineville) responded to the new regulations passed by the Oregon Environmental Quality Commission that passes an aggressive version of cap-and-trade from the Governor's office. She noted that critical public comments point to the lack of cost controls that will drastically raise prices for Oregonians.
A D V E R T I S E M E N T

A D V E R T I S E M E N T
"This executive action is another example of how out of touch Governor Brown is with Oregonians," said Leader Breese-Iverson. "People want more inclusive and collaborative responses to issues. Instead, the Governor is forcing people to pay higher prices to compensate for global emissions originating outside of our state. This approach is no different than a partisan proposal we saw in the Legislature, ignoring serious concerns to push an expensive and political climate plan on the state. Oregonians would be better served with a balanced approach benefiting everyone."
A report from the Department of Environmental Quality acknowledged that this plan could increase fuel prices and the cost of goods while pushing businesses out of state.
--Staff Reports
| | |
| --- | --- |
| Post Date: 2021-12-19 13:36:28 | Last Update: 2021-12-19 13:34:50 |