"There is no epidemiological reason to force vaccinate 5-11-year-old children "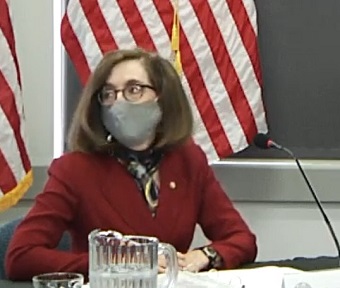 W
hile attention is being drawn to Oregon Health Authority rulemaking to make masking permanent under the direction of Oregon Governor Kate Brown, in a sly move, OHA has launched amendments to a more controversial rule effectively mandating the COVID vaccines for school and daycare children. With little to no transparency, no media coverage, only one virtual public meeting held in November that was buried from the public, their unethical maneuvering is being exposed.
OHA is trying to hide their lack of authority by tying a COVID vaccine mandate to a school and childcare exclusion. OAR 333-019-0010 and OAR 333-019-1005 effectively grants unelected members of OHA the authority to "determine" if a vaccine, such as the 5-11-year-old COVID-19 immunization, should be added to the list of vaccine requirements, and it allows OHA to set an arbitrary "School Exclusion" date pressuring all students to meet or be "Excluded" from in-person attendance at school if they do not comply. However, the required list of immunizations is approved by the legislature with one exclusion date established, and, by law, Oregon has medical and non-medical exemptions for children.
The Stand For Health Freedom lists the damage they have "unearthed," so far. The proposed rule changes:
do not require that OHA offer Exemptions, as is currently required by law for all other immunizations.
adjusts or removes definitions for natural immunity, attempting to create a new definition for immunity to effectively be vaccine-induced-only with the requirement to show proof.
lays the groundwork to exclude anyone who already has established natural immunity or individuals who wish to exercise the right to decline a medical treatment.
prevents any methodology from testing to use the "Test to Stay" option outlined by the Oregon Department of Education (ODE).
A D V E R T I S E M E N T

A D V E R T I S E M E N T
These rules are attempting to do what SB 442 (2015), HB 3063 (2019), and SB 254 (2021) have all failed to do, which is to mandate immunization as a prerequisite to attend school in Oregon and openly discriminate against students and families who exercise their right to decline. Out of all the issues that have been protested against at the state capitol, medical freedom tops the list. These bills drew hundreds of furious families out to protect their children.
T
he Stand For Health Freedom organization says there is no epidemiological reason to force vaccinate 5-11-year-old children as the risks from Covid are lower than the risk of vaccine injury. Pfizer's own research verifies this fact, but executives and CDC officials moved forward with the mass vaccination of children anyway. Now the Pfizer wants 75 years to release their data burying trial results.
CDC does list
possible side effects
for the COVID vaccines including myocarditis and pericarditis, inflammation of the heart muscle and outer lining, in adolescents and young adults as being higher after getting the second dose. This isn't as rare as they'd like you to believe. Even CDC's website says 1-10 cases of myocarditis per 100,000 persons occurs among young people in the United States adjusted for the 7-day risk period – meaning it is higher during the first 7 days after vaccination, which is when most cases occur. Why would government mandate an experimental practice?
Stand For Health Freedom has made available
easy messaging to OHA, Governor and legislators
. The deadline for public comment if 5pm December 14, 2021.
--Donna Bleiler
| | |
| --- | --- |
| Post Date: 2021-12-12 17:19:29 | |