At least Governor Brown is good at something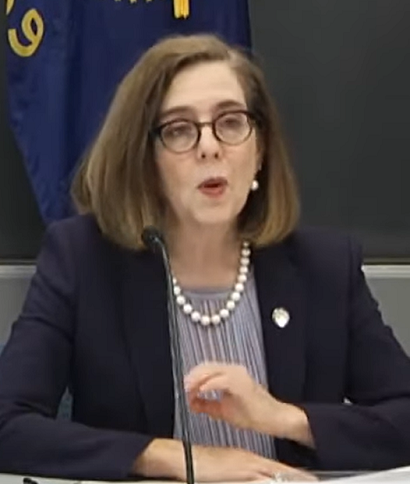 Congratulations, Governor Kate Brown, on July 21, 2020, you issued the most executive orders in one year in the history of Oregon. Granted, this is an unusual year, but we are barely half through the year.
The winning order isn't glamorous. Matter of fact, it's in a series of orders that is issued every other year. Executive Order 20-32 along with 20-31 declares a state of emergency in Morrow, Wheeler, Douglas, Gilliam, Josephine, Crook, Deschutes, Jefferson and Wasco Counties due to unusually low water supplies and hot, dry conditions. The orders include six directives, which are a repeat of duties and assistance that agencies normally operate under. There are no new duties or moneys. It is unfortunate that these counties have to be highlighted in an executive order to receive the service they rightfully deserve anyway.
These same counties were the subject of emergency orders in February through May in 2019 for severe winter storm, heavy snow, ice accumulation, high winds, flooding and landslides. In 2018 there was again a series of drought emergency orders due to low snow pack, precipitation and stream flow, and warming temperatures. Curious, I checked emergency orders for 2017. Any guesses? Yep, there was again a series on severe winter storms.
What is common is a sense of placating these rural counties with words from on high. What is interesting is that in years of elections the emergency on drought and fires running up to the election are issued. Another coincident is in 2019 as these severe storm orders were issued the legislature was passing flood safety and water quality districts for urban growth in Metro in
SB 431
and
HB 2008
. And, in 2018, bills passed focused on water use, reservoirs and transfers under
SB 1558
.
If the executive orders are an indication of what's to come, we should prepare for more water restricting proposals in 2021 session. Under Obama Administration, President Obama issued environmental rules to sweep in small water streams under wetland regulations devastating farms. In September, 2019, President Trump rolled back the overreaching rules of the Clean Water Act. What we have seen in Oregon is the majority party is trying to make sure that whatever President Trump does to stimulate the economy with more freedom to operate businesses, will not be instigated in Oregon. We saw this in the passage of
HB 2250
during the 2019 session that adopted changes to federal environment laws but limited changes to those federal environmental laws effective on January 19, 2017.
The number of Governor Brown's executive orders is a clear indication of the power she feels is hers, and is an indication of what the 2021 session will bring if changes aren't made in November. Who will represent you?
--Donna Bleiler
| | |
| --- | --- |
| Post Date: 2020-07-28 23:04:59 | Last Update: 2020-07-28 23:05:32 |