"We ensure that communities hit by climate change due to structural racism are not left behind"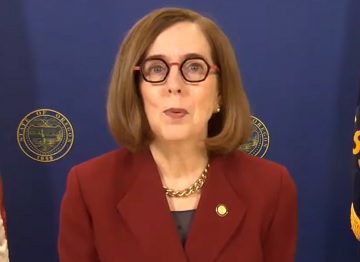 Governor Kate Brown Outlines Goals for 26th United Nations Climate Change Conference of the Parties Governor Kate Brown will travel to Glasgow, Scotland for the 26th United Nations Climate Change Conference of the Parties. In a press release, she said that the reason for her attendance is "to discuss the impacts of climate change on Oregonians, as well as to highlight the actions Oregon has taken to reduce carbon emissions, transition to clean energy, and ensure that Oregonians disproportionately impacted by climate change are not left behind."
"I have been Governor since 2015, and it was about that time that Oregon took a front row seat to climate change," said Governor Brown. "Nearly every year the extreme weather has been worse than the last. We are a warning for the rest of the world.
"We must continue to move urgently and with focus -- and we can tackle climate change and grow our economy at the same time. These goals are not mutually exclusive. Oregon is a shining example of how it can be done.
"What is clear is we cannot leave behind our historically underserved communities. In Oregon, we have worked to ensure that our communities hardest hit by climate change due to structural racism and systemic disparities are not left behind.
"Future generations will judge us not on the fact of climate change, but on what we have done to tackle it. The time is now, we can't afford to wait."
In addition to Governor Brown, State Representative Paul Evans (D-Monmouth) is already at the convention. He sent out an email describing the work of the conference.
I'm here with a delegation of U.S. elected officials across the country to show the importance of America leading the world to protect our communities and nation from the climate emergency.


I'm writing to you because next week we will deliver a letter from more than 350 state and local elected officials from dozens of states calling for a federal climate emergency declaration and plan.

For the health, security, and prosperity of Oregon, our country, and our planet, we must take urgent action to address the climate crisis.

Congress passing the Build Back Better Act and President Biden declaring a Climate Emergency is a vital first step to address what President Biden described as an "existential threat" at COP26 and Prime Minister Boris Johnson described as an imminent danger that is "one minute to midnight."
Both officials are attending at taxpayer expense.
--Staff Reports
| | |
| --- | --- |
| Post Date: 2021-11-05 10:54:52 | Last Update: 2021-11-05 11:20:29 |