Discussion based on soundbites and headlines is causing confusion and distrust
G
rants Pass Mayor Sara Bristol is proposing a plan, including $300,000 spending to increase COVID-19 vaccinations in the city. As reported by the
Josephine County Eagle
Mayor Bristol sent
an email
to the Josephine County Commissioners with a detailed proposal for encouraging residents to get the vaccine. It's not clear from the proposal where the funding would come from.
In her email, she outlines what she calls a draft of a proposal:
Thankfully, Covid-19 case numbers in Josephine County and throughout Oregon have dropped dramatically since the peak just before Labor Day. And yet the county's infection rate is still higher than it's been for much of the past 19 months. Here in Josephine County, just 50% of our total population is vaccinated. We're not out of the woods yet.

Our local businesses, our children, our mental health and our quality of life have been deeply adversely affected by this pandemic. We need to get back to normal. Let's work together to end Covid-19 in Josephine County.
The proposal has three parts.
The first part, proposed to cost $75,000, includes the creation of a "positive marketing campaign" and using that marketing theme, which she calls "JoCo Cares" and calls for providing "signs and banners featuring JoCo Cares theme, including pins and stickers that individuals can wear to show support, host[ing] a panel discussion with medical providers, city and county leaders to answer Covid-19 vaccine questions, [and] media interviews with the media and/or paid ads sharing "why I got vaccinated" stories."
The second part, also proposed to cost $75,000, seeks to "coordinate with medical providers and other community efforts to maximize resources." In addition to "direct contact from local doctors" it suggests connecting with "providers to encourage a call/text message campaign to their patients" and to "produce and provide informational flyers through social service partners, food banks, schools, etc. to help educate residents on the facts of the virus and its implications in our community." It proposes "outreach to underserved communities: homeless population, migrant labor, marijuana industry, etc."
Part three is merely to "provide a $100 Visa gift card incentive, first-come-first-served while supplies last. The goal is to encourage persons who "just haven't gotten around to it" to make the effort to get vaccinated. The current incentive of $25 is likely not enough to motivate people to take action."
A
ccording to
Josephine County Eagle
Editor Richard Emmons, "42% of Josephine County adults have said no to the vaccination. More advertising won't change a lot of minds. If parents want to pay their kids a dollar to eat their broccoli, that's up to the parents. We shouldn't bribe adults to take a medical treatment.
"Positive test results (aka "cases") have declined for 7 of the last 8 weeks in Josephine County. We've gone from 900 positive test results in one week to about 150. That's an amazing turnaround and suggests the pandemic is behind us."
In a
reply to Mayor Bristol's email
City Councilor Rob Pell -- who also owns
Sunshine Natural Foods
-- outlined five objections to her proposals, saying, "After reading your extensive proposal I feel it is missing the most critical aspects of the Covid discussion that may help our fellow citizens make well-informed decisions on this subject. It seems to me that basic Covid education would do more good than the financial schemes and incentives you propose. So the commissioners and my fellow councilors are clear, IMO the following 5 points need to be better understood by many and unfortunately you didn't touch on any of them."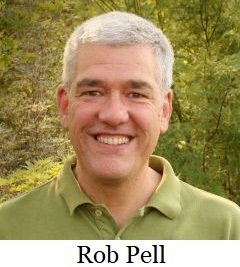 Councilor Pell concludes:
Discussion based on soundbites and headlines rather than discussion that is based on clear and objective data is causing confusion and distrust across many demographics in JoCo. The mandate of vaccines by school districts and Asante for the Covid recovered is baseless (see the 15 studies that address this concept in #3) and possibly more than any other single thing has seriously eroded credibility of the OHA and healthcare providers who continue to promote it - rightly so. Simply clarifying the 5 points I've presented will help our citizens have a better understanding of Covid-19 and what the vaccines can reasonably be expected to do so they can make informed decisions. I find the monetary incentives to be particularly gross. Since the vaccine only provides biological benefit to the recipient why would incentives be appropriate? At the end of the day I would hope we can agree that the public making more informed decisions would be a good thing.
Richard Emmons contributed to this article. He is the publisher and editor of the Josephine County Eagle
.
--Staff Reports
| | |
| --- | --- |
| Post Date: 2021-10-28 19:48:33 | Last Update: 2021-10-29 09:00:11 |