"President Trump's policies were working"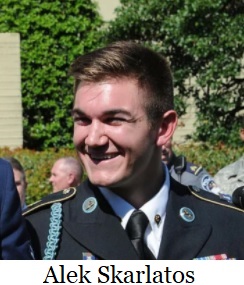 A
recent report revealed that illegal immigration arrests have dropped to their lowest level in over a decade, which is a direct result of President Joe Biden's open border immigration policy. Congressional Candidate Alek Skarlatos had this to say about the report.
"Once Democrats took control of Washington, Joe Biden paused on deporting illegal immigrants, now illegal immigration arrests have dropped to a record low and every town in America, including communities in Oregon, are border towns," said former Oregon National Guard soldier Alek Skarlatos. "President Trump's policies were working and this report is more proof that we need leaders like myself, who will stand with him in building a wall along our Mexican border and deporting those who illegally enter our country."
The
Washington Post
reports that
"Immigration arrests in the interior of the United States fell in fiscal 2021 to the lowest level in more than a decade — roughly half the annual totals recorded during the Trump administration, according to U.S. Immigration and Customs Enforcement data obtained by The Washington Post. Officers working for ICE's Enforcement and Removal Operations (ERO) made about 72,000 administrative arrests during the fiscal year that ended in September, down from 104,000 during the 2020 fiscal year and an average of 148,000 annually from 2017 through 2019. ERO administrative arrest data is considered one of the best gauges of ICE activity because interior enforcement is entirely under the agency's control, unlike deportations and other metrics that rise and fall with migration trends at the Mexico border. ICE arrests in the interior plunged after President Biden took office and set new limits on immigration enforcement, including a 100-day "pause" on most deportations."
A D V E R T I S E M E N T
A D V E R T I S E M E N T
Skarlatos is a former Oregon National Guardsman, who served in Afghanistan and a candidate for Oregon's 4th Congressional District, running as a Republican against incumbent Peter DeFazio (D-Springfield). In 2015, while traveling on a train bound for Paris, Skarlatos, along with four others, jumped into action to stop an Islamic Terrorist who tried to open fire on a passenger train. His heroism earned him several awards and medals around the world including, the United States' Soldier's Medal.
--Staff Reports
| | |
| --- | --- |
| Post Date: 2021-10-27 12:38:10 | Last Update: 2021-10-27 22:47:23 |