"Joe Biden and Nancy Pelosi will do anything to advance their liberal agenda"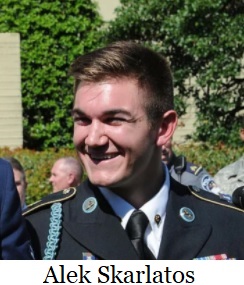 F
ormer Oregon National Guard soldier and U.S. Congressional Candidate for the 4th Congressional District
Alek Skarlatos
announced he raised over $512,000 for the third quarter, which is his first full fundraising quarter of the campaign,
outpacing his presumed opponent
long-time incumbent, Peter DeFazio (D-Springfield).
This news follows the recent announcement by the National Republican Congressional Committee that Alek Skarlatos was named as one of their top candidates for their 2022 Young Guns recruitment program.
"I am incredibly thankful to have the support of so many people, as Southwest Oregon deserves conservative leaders who will fight for them," said Skarlatos. "Joe Biden and Nancy Pelosi will do anything to advance their liberal agenda - which includes deliberately ignoring the crisis along our Mexican border and this $3.5 trillion tax and spend infrastructure bill championed by Peter DeFazio - and this is just the start of a long campaign to stop their far-left agenda."
S
karlatos is a former Oregon National Guardsman, who served in Afghanistan. In 2015, while traveling on a train bound for Paris, Alek, along with four others, jumped into action to stop an Islamic Terrorist who tried to open fire on a passenger train. His heroism earned him several awards and medals around the world including, the United States' Soldier's Medal. Skarlatos was defeated by multi-decade incumbent Peter DeFazio (D-Springfield) in the 2020 election.
Oregon's 4th Congressional district changed mostly on the Northern counties. The loss of Linn County and the addition of Lincoln County turned the district slightly more liberal and Democratic than the previous 4th Congressional district.
--Staff Reports
| | |
| --- | --- |
| Post Date: 2021-10-18 12:01:21 | Last Update: 2021-10-18 19:17:55 |