On this day, November 29, 1928, Paul Simon (d.2003), later Senator of Illinois, was born in Eugene.
Also on this day, November 29, 2012, Rebecca Jeanette Rubin, a 39-year-old Canadian citizen and environmental radical, turned herself in to the FBI at border in Blaine, Washington. She was part of a cell in Eugene, Oregon, known as the Family, and was sought for setting fires at a Vail ski resort and a lumber mill in Medford, Oregon.
Suspect was eventually subdued with pepper spray
On Thursday, September 30, 2021 at 12:52a.m., Portland East Precinct police officers responded to a report of someone pounding on the doors of a restaurant in the 1500 block of Northeast 103rd Avenue. The restaurant dining room was closed but employees were working the drive-through at the time.
Officers attempted to talk to the man, including an Enhanced Crisis Intervention Team officer that specializes in crisis communication. The ECIT officer used de-escalation techniques including giving the man time and space. He remained uncooperative, so officers backed out and monitored from a distance.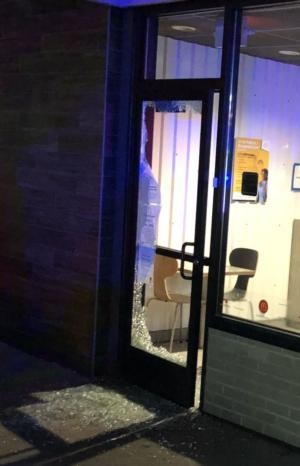 A short time later the man used a rock roughly the size of a grapefruit to break the glass door and access the inside. Employees hid in a freezer room to get away from him. Officers chased the suspect inside, but he barricaded himself in a breakroom. The officers evacuated the employees while they negotiated with the man. After a lengthy communication period, an officer used a sledgehammer to break a window to allow another officer to deploy pepper spray.
After the use of pepper spray, the suspect was convinced to come out and surrender. During the incident, an officer was cut with broken glass. He was treated and released from the hospital.
Anthony Bellamy, 38, was treated medically and then booked into the Multnomah County Detention Center on charges of Burglary in the Second Degree, Criminal Mischief in the First Degree, and Disorderly Conduct in the Second Degree.
--Bruce Armstrong
| | |
| --- | --- |
| Post Date: 2021-10-03 08:00:05 | Last Update: 2021-10-04 10:03:50 |