Governor Brown comes to the rescue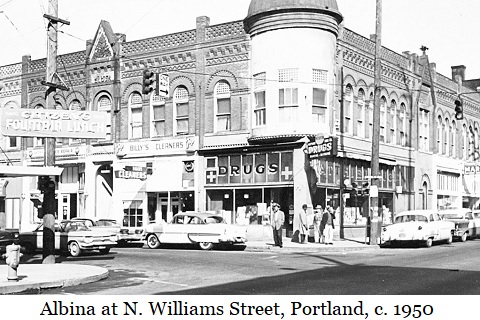 On September 9, the Oregon Transportation Commission released an announcement stating they were advancing the Hybrid 3 highway cover option for the I-5 Rose Quarter Improvement Project. With conditions. The Rose Quarter Improvement Project is part of a larger $5.2 Billion transportation investment package -- Keep Oregon Moving passed as
HB 2017
. One of the most immediate conditions for the Hybrid 3 project is for the Oregon Department of Transportation to provide a Project Funding Plan on how the revised Project might be funded.
In the early 1960's Interstate 5 was built through the Portland area which, due to the location of the new freeway, caused the removal of homes and businesses in the historic Albina district. The Albina community primarily was, and still is, a Black community. Due to the loss of homes, businesses and potential economic growth over the years from building I-5 through the Albina district, various stakeholders from the community, city of Portland, and state have been planning since 2010 on ways to rejuvenate the area, and the local economy.
The solution was to build a 4.1-acre cap over I-5 at the Rose Quarter that would serve to provide outdoor plaza space and reconnect streets that had been bisected by the construction of I-5. The (corrected) cost estimate of this solution was between $715 million to $795 million. However, the plazas did not address the loss of businesses and economic opportunity the construction of I-5 had displaced. As the proposed solution stood, the cap over I-5 was not sturdy enough to support buildings like businesses, apartments, etc. As a result, the Albina Vision Trust withdrew their support of the project and Portland City Commissioners requested the project to be "paused" because it was not "aligned with the city's Racial Equity Plan or Climate Emergency Resolution". This standoff lasted 15 months.
A D V E R T I S E M E N T
A D V E R T I S E M E N T
Governor Brown comes to the rescue. After the Albina Vision Trust withdrew their support for the proposed I-5 Rose Quarter project and spent 15 months away from the table, Governor Brown brokered a compromise. That compromise forces the Oregon Department of Transportation to spend more time and money on the project as well as increasing the project scope. The revised project now will require a more robust cap over I-5 capable of supporting buildings 2-5 stories high.
There is, of course, much more to the story. There is the addition of lanes on each side of the freeway to be added, and the need for the Harriet Tubman School to be moved. There is the projected cost of up to $1.25 billion for the improvement and the need for ODOT to come up with a funding plan. Of course, there will be the multiyear construction zones on I-5 going through the Rose Quarter, but if all goes to plan the Albina district will have a 4.1-acre cap they can develop on.
The result: Precious transportation dollars not being used for transportation. One can almost see the sign now. "Keeping Oregon on the Move. Your Tax Dollars At Work. Completion 2027."
--Steve Howard
| | |
| --- | --- |
| Post Date: 2021-09-15 21:11:37 | Last Update: 2021-09-15 21:30:24 |