But things took an interesting turn in the Newberg School District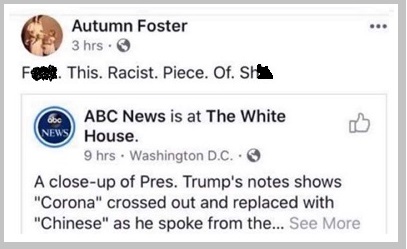 When the Newberg School Board voted to remove controversial political symbols from their classrooms they probably expected some resistance. They almost surely got more than they planned for.
The school board voted to remove political symbols like BLM and "gay pride" flags so that teachers and students could concentrate on school subjects. But the school board voted to remove all political flags and symbols -- although there have been no reports of any "Proud Boy" or "III%" flags ever making an appearance in Newberg schools.
The response from liberals was swift, organized and personal. Not only were marches organized, and large signs posted against the decision but such liberal icons as Alexandria Ocasio Cortez
joined in condemnation of the school board
.
The
ACLU threatened a lawsuit
and the Newberg City Council voted to censure them.
But the opponents of the school board's decision didn't stop there. They set out to personally destroy the people who voted to remove political propaganda from the classroom. They demanded that the offending school board members be fired from their day jobs. A Facebook group called "Equity ForNewberg" (sic) pushed to have the artwork of one school board member removed from a local business. Then they placed school board member Dave Brown in their sights.
Dave Brown serves on the Newberg School Board, but works as a coach in the Canby Schools. The "Equity ForNewberg" page asked people to contact the Canby School District and complain about Brown saying in a post, "Canby School District has strong pro-equity polices that Dave Brown is undermining in the Newberg School District."
A D V E R T I S E M E N T
A D V E R T I S E M E N T
But things took an interesting turn when it was learned that one of the people involved in the Facebook group attacking the Newberg School Board members was Autumn Foster. Foster is the "communications director" for… the Canby School District.
Dave Brown's working relationship with the Canby Schools has nothing to do with his role as school board member in Newberg and there have been no reports that we could find that he has ever acted in any way that would call into question his professionalism or commitment to his job as a coach. So Foster's involvement in this attack on another Canby employee because she disagrees with his decision to remove extremist political symbols from classrooms is startling. It must also cause the Canby School Board members to wonder how she would use her job to undermine decisions they might make.
But Foster's politics are not a secret in Canby. During the Trump Administration Foster placed a post on a Facebook page referring to Trump with the following: "F

. This. Racist. Piece. Of. Sh

." For some, the battle over control of public schools has crossed not only geographical lines, but the lines of decency.
--Staff Reports
| | |
| --- | --- |
| Post Date: 2021-09-01 20:49:34 | Last Update: 2021-09-02 15:57:01 |