On this day, June 4, 1990, Janet Adkins, age 54, of Portland, became the first person to use a suicide machine developed by Dr. Kevorkian. This began a national debate over the right to die.
Also on this day, June 4, 1999 a federal judge in Portland ruled that AT&T must open its cable lines to competitors.
Also on this day, June 4, 2017, a pro-Trump rally and counter-protest in Portland was marked by multiple arrests and clashes.
Who is going to blink first?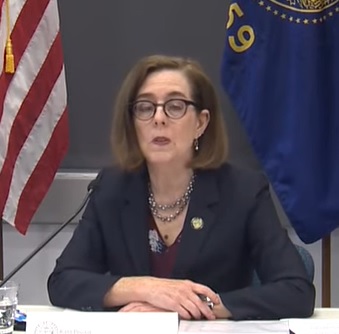 The Oregon Occupational Safety and Health Administration has been the agency which has been responsible for fining businesses for non-compliance with COVID-19 regulations. The director, Michael Wood, appeared before the House Health Care SubCommittee on COVID-19 to answer various questions.
After Oregon Health Authority Director Pat Allen made it clear that businesses could not use an "honor system" to allow customers into their stores, State Representative Cedric Hayden asked Woods what the fine would be for a business using the honor system. Woods explained some less-than-relevant scenarios and then said:
If an employer refused to comply or simply said, "I'm going to use the honor system. I don't care what the State says." Well, the minimum penalty for a willful violation is $8,900.
At this point in time, it appears that many -- if not most -- businesses are
not
checking vaccination status at the door, and OSHA isn't doing anything about it.
--Staff Reports
| | |
| --- | --- |
| Post Date: 2021-05-31 17:40:03 | Last Update: 2021-05-31 18:24:26 |