Are the goal posts going to move again?
Editor's note: A previous version of this article contained a math error. Thanks to a reader for pointing this out. It has been corrected below.
Since her
press conference
in which Oregon Governor Kate Brown announced the target of 70% of the population vaccinated, Oregonians crave clarity on two basic issues.
When are we going to reach 70%?
The definition of who is vaccinated is not always made clear. Some reports show number of doses administered, and few count that as being vaccinated. Some count the administration of both doses -- in the case of the Moderna and Pfizer which need two doses -- which probably equals "vaccinated" for most, but the vaccines require that the subject wait two weeks for the vaccine to fully take effect, so for most, the safe definition of "vaccinated" is both doses plus two weeks.
Governor Brown's definition of vaccinated is, in her own words "the number of Oregonians age 16 and older that we need to reach with a first dose."
According to the Oregon Health Authority website as of this posting, 2,150,964 Oregonians have received at least one dose. The US Census Bureau estimates that 20.5% of the population is under 18, which means 17 and younger -- not quite an exact amount to subtract to get 16 and older, but very close. If the population of Oregon is about 4,300,000, that means that The target population is about 3,500,000 and that we are at about 61.4%.
This means we need another 299,036 people to get vaccinated to get to the golden 70%. The OHA reports that it is doing about 30,000 doses per day, and one could conservatively surmise that this number will slip due to the fact that the remaining unvaccinated people are fewer, harder to find, and in many cases harder to convince. If the OHA were to average 25,000 per day, they could get to 70% in a couple of weeks. Governor Brown is "confident we can get there in June."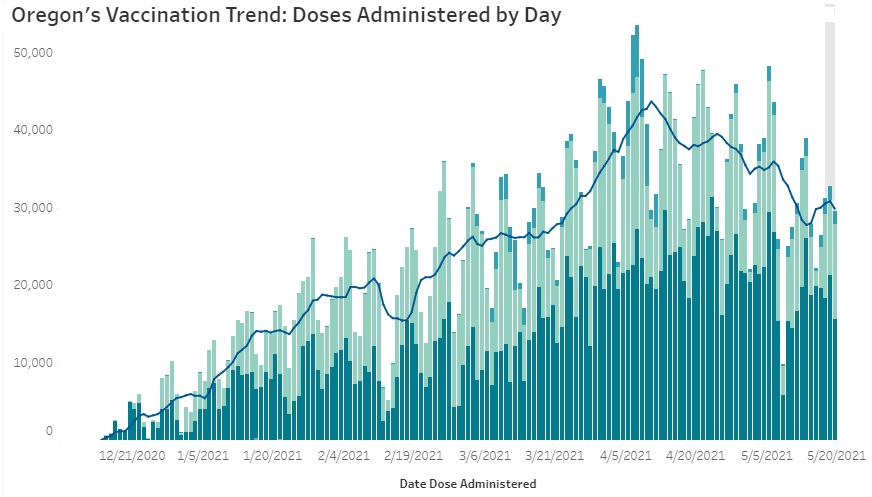 What happens once we reach 70%?
Again, in Governor Brown's words, from her
press conference
, "Once we cross that statewide goal, yes, that means, no more county risk levels, and a lifting of most restrictions –– including capacity limits for venues and businesses, and limits on group sizes.
That sounds like good news, but she manages expectations.
Common sense safety measures, like wearing masks and physical distancing may remain in effect, in line with CDC guidance. We will continue to evaluate CDC's recommendations on these measures and align them with Oregon's needs. Public health will remain focused on testing, contact tracing, and continuing to monitor hospital admissions so we can do this safely. We still have some work to do to reach our 70% goal, but I am confident we can get there in June and return Oregon to a sense of normalcy.
Remember, though, this speech was delivered prior to the CDC's declaration that vaccinated persons no longer need to wear masks. Watch for the goal posts to be moved. In the little over a year that COVID-19 has been upon us, we've seen a slew of executive orders and retooling of information.
--Staff Reports
| | |
| --- | --- |
| Post Date: 2021-05-22 17:01:23 | Last Update: 2021-05-23 12:57:35 |