"The constitution provides us specific guarantees of liberty"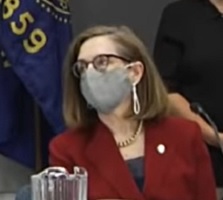 S
andy Mayor Stan Pulliam is announcing a lawsuit to be filed in Federal court on behalf of Heart of Main Street, the Oregon Mom's Union, and several businesses and individuals. The lawsuit challenges Oregon Governor Kate Brown's authority to continue using executive action to maintain a state of emergency.
"The constitution provides us specific guarantees of liberty," stated Stan Pulliam. "The Governor's broadly applied authority continues to be shrouded in opaque rationale, undisclosed science, and arbitrary metrics. After 14 months, it's time to put an end to this and restore our constitutionally protected rights as Americans."
The announcement will be made outside of Spud Monkeys, a Gresham restaurant and bar owned by Melissa Adams. Late last year, Spud Monkeys was visited by an Oregon Health Authority employee, who ordered a burger and a beer from her restaurant, and then cited her for illegally opening.
The lawsuit will be filed early this week in Federal court by Ed Trompke, an attorney with Portland law firm, Jordan Ramis, PC, seeking to restrain enforcement of the Governor's order.
"The state of emergency was necessary when we didn't know anything about the virus," said Stan Pulliam. "But we now have a vaccine, we understand how it's transmitted and how it's not, and we don't see any discernible difference in outcomes between states that are open and the increasingly few that aren't."
"Parents should not have to go to court to get their kids back to school," said MacKensey Pulliam, board member for the Oregon Moms Union. "We've been given hope time and time again and each time our leaders have broken their promises and failed to get our kids back to school. Parents and kids can wait no longer."
The discovery process of the lawsuit will force the Governor's office to produce the scientific data Stan Pulliam and others have been demanding for several months, forcing Brown to prove why it has been necessary to lock down main street businesses while big-box stores remain open.
"A governor's powers in a state of emergency must be narrowly defined and temporary. Instead, they have been broad and ceaseless. It's clear Governor Brown has no intention of relinquishing this absolute power herself, so we are forced to petition our judiciary branch to do it for her," concluded Stan Pulliam.
--Staff Reports
| | |
| --- | --- |
| Post Date: 2021-05-19 18:40:01 | Last Update: 2022-01-01 18:09:27 |