The bill is simple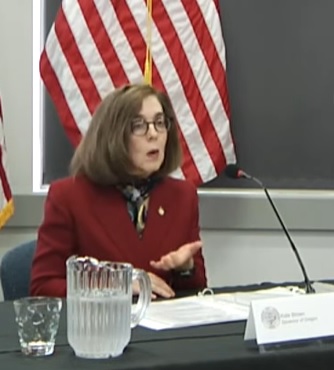 Oregon is now on it's 7th extension of Governor Brown's Executive Order on the COVID-19 State of Emergency and the Governor is giving no indications of an end in sight. The 8th extension, if she does one, will take affect the end June aligning with the end of the Legislative session and would run 60 days through the end of the summer butting right up to the beginning of the 2021-22 school year.
School districts are already well into budget preparation for the 2021-22 school year. The Governor's proposed budget is $9.1B, but in a
Portland Tribune article last month
Libra Forde, chair of the North Clackamas School Board and a member of the Oregon School Boards Association Board of Directors told reporters that "After a year of unfinished education and increased social emotional challenges, investing in our kids is paramount". She was reacting to the legislature consideration of adopting the Governors recommendation which she and others consider $500M underfunded. They have concluded that "just to keep pace on paying the bills over the next two years our schools need $9.6 billion — not the $9.1 billion currently under consideration".
However, what is being left unsaid, is that the Oregon State School Fund budget pales in comparison to the COVID-19 relief funding already received and on its way that is estimated at an additional $1.72 Billion.
Elementary and Secondary School Emergency Relief Fund
(ESSER I) - $121.1 million awarded to Oregon
ESSER II - $499.1 million was awarded to Oregon in January 2021
ESSER III - $1.1 billion will be awarded to Oregon
In addition, not a single school district has stated publicly that they will return to 100% in person full time learning in the fall. After all, how could they make that pledge not knowing what the Governor, the Oregon Department of Education or the Oregon Health Authority will have in place for rules in September?
This week, a bicameral group of legislators is seeking to give those school districts the certainty they need to know that they will be opening in the fall to all students for in person learning and that they need to plan their budgets accordingly. Representative Breese-Iverson (R–Prineville), Boshart Davis (R–Albany), Drazen (R–Canby) and Senator Girod (R–Lyons) introduced
HB 3399
which requires each public school to provide full-time, in-person classroom instruction during 2021-2022 school year, and takes effective July 1, 2021. The bill is simple, it says: Not withstanding any COVID-19 declaration of emergency or any provisions of a COVID-19 emergency rule, each public school in this state must provide full-time, in-person classroom instruction during the 2021-2022 school year.
Takes away the power of Governor Brown's State of Emergency or continued extensions over K-12 education "COVID-19 declaration of emergency means any declaration of a state of emergency related to the COVID-19 pandemic that is issued by the Governor, and any extensions of any declarations".
Takes away the power of the Oregon Department of Education Director, Colt Gill and the Oregon Health Authority Director, Pat Allen, to issue emergency rules or guidance requirements. "COVID-19 emergency rule means an executive order, order of the Superintendent of Public Instruction, declaration, directive or other local, state or federal authorization, policy, statement, guidance, rule or regulation that creates a standard or waives, suspends or modifies otherwise applicable local, state or federal law, regulations or standards regarding the rendering of education services during a COVID-19 declaration of emergency".
Defines what Full-time means, "at a minimum, the number of instructional hours prescribed by the State Board of Education by rule, as in effect on January 1, 2020".
Defines what in-person classroom instruction means, "classroom instruction that is provided by a teacher to students in a common physical location".
Defines School year as "the period beginning July 1 and ending June 30 next following, exclusive of any summer learning programs provided by a public school".
--Terese Humboldt
| | |
| --- | --- |
| Post Date: 2021-05-11 09:08:34 | |