It's just two counts, both of which are misdemeanors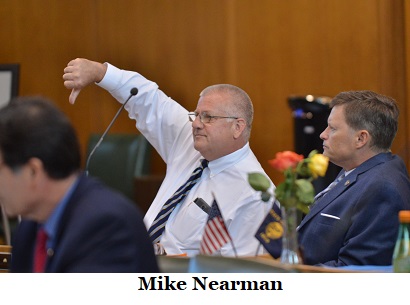 After a lengthy four month investigation, State Representative Mike Nearman (R-Independence)
has been formally charged on two counts.
Both charges are only misdemeanors.
Oregon House Democrat Majority Leader Barbara Smith Warner has made a statement in response to the announcement that Representative Mike Nearman (R-Independence) will be facing misdemeanor charges for walking out a door at the Oregon State Capitol. She claims he allowed white supremacists and other extremists into the State Capitol on December 21, 2020. Smith Warner is calling for Nearman to voluntarily resign. This was expected by many observers, as it in line with the Democrat leader's entirely partisan approach.
Representative Nearman is charged with official misconduct and second degree criminal trespass, according to court documents. Both charges are misdemeanors.
House Majority Leader Barbara Smith Warner claims to lead her caucus on building "a more equitable Capitol", however, when House Speaker Tina Kotek's staffer, Kristina Narayan was
arrested during a riot for interfering and not obeying a Police Officer
, the Majority Leader condoned her action by supporting
HB 3164
, which limits the circumstances under which a person could be charged with interfering with an officer. In this light, it doesn't seem equitable to attack the Minority Republican legislator for a lesser crime.
It seems that Majority Leader Smith Warner may be likely playing partisan politics in her position on the Nearman walking out the Capitol building door.
"When Rep. Nearman opened the door of the Capitol to armed, violent extremists, he not only endangered the physical safety of every person, legislator, and staff in the building, but also the very foundation of our democracy. "
The video shows no guns, and no extreme violence. The timing of the investigation and announcements seem to indicate that the Oregon Democrat leaders were likely attempting to correlate the incident with the national outrage of the U.S. Capitol incident that occurred on January 6th of this year.
The protestors present at the Oregon Capitol on December 21st seemed to have been lobbying for the public to have legal access to their legislative Capitol building as required by the Oregon Constitution.
"Freedom of expression represents the foundation of democracy. Every person - including members of my staff - has the right to stand up for what they believe and engage in nonviolent resistance." stated House Speaker Tina Kotek.
Does her statement apply to those wanting to lobby their elected representatives at the Capitol on December 21, or only to her staffer, Kristina Naranyan, who was charged with crimes during a Portland Oregon Leftist riot?
If you watch the video to the end, the police and security leave and people go in and out of the door left open by security. They do not "raid the Capitol" as Majority Leader Smith Warner has suggested. If Rep. Nearman is to be found guilty of opening the door, are not the security guards guilty of the same crimes for leaving that same door open only 10 minutes later? There had been no instructions to the legislators that day as to what entry and exit protocol was to be.
Many observers are putting forth the explanation that everything Representative Mike Nearman stands accused of that day was merely the Republican legislator advocating for fair and equal representation for all Oregonians.
"Let's set up some options where people have freedom to do what they want," Nearman said. "If you want to be masked and you want to be quarantined, go be quarantined. If you want to be out in public and that's an acceptable risk to you then you can do that."
Senate Minority Republican Leader Fred Girod (R-Lyons) issued a statement following the announcement of charges filed against Representative Mike Nearman:
"Democrats have overseen widespread and constant violence in Portland. Progressives have turned a blind eye to assaults against first responders, vandalism, and looting with sparse criticism from major Democrats. At this point, it looks like Representative Nearman simply opened a door. No matter who you are, no one is above the law. We should trust our judicial system to air out all the facts and judge them fairly."
--Bruce Armstrong
| | |
| --- | --- |
| Post Date: 2021-05-05 14:09:39 | Last Update: 2021-05-05 14:56:38 |