Has Governor Brown Reduced Bed Counts?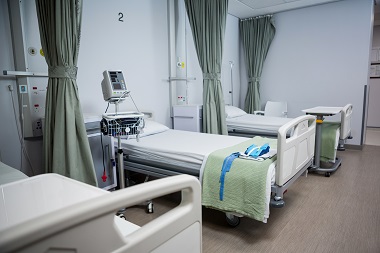 While other states continue to open and show a decrease in hospitalizations and COVID-19 cases, such as Texas, Oregon has remained locked down with excessive restrictions on severely struggling businesses.
Governor Kate Brown has now imposed a three-week lock-down, despite the minimal COVID impact Oregon has seen when measured against other state case and fatality data nationwide and worldwide.
The "two weeks to flatten the curve" lock-down measures she announced in March 2020 were meant to help our healthcare systems get through an additional surge. Yet Governor Brown has announced that 15 counties back into the "extreme high risk" category for COVID-19, and also re-instituting restrictions on other Oregon counties.
She claims that hospitals are beginning to overflow once again with COVID-19 patients. But is that really true?
According to the Oregon Health Authority, as of April 23rd, 2021, out of approximately 3.8 million residents, there are only 305 Oregonians currently hospitalized due to COVID, with 543 Adult non-ICU beds and 149 Adult ICU beds still available specifically for COVID-19 patients.
This is a far cry from the winter peak of COVID-19 hospitalizations on December 14th, 2020, where 601 Oregonians were hospitalized due to COVID, while an additional 739 Adult non-ICU beds and 149 Adult ICU beds remained available for COVID-19 patients.
On December 14th, 2020, there were 1,489 total hospital beds allocated for COVID-19 patients, but that by April 23rd, 2021, it seems that number had been reduced to only 997 hospital beds.
We can all agree that, if this is still an emergency situation that hospital bed counts should be maintained at 1,489 until the crisis is over. That doesn't seem to be what has been happening, according to School Superintendent Marc Theilman, of the Alsea School District, who has been in weekly contact with hospitals to stay abreast of the situation after concluding he could not rely exclusively on Oregon Health Authority(OHA)data.
"You know, it's been interesting because the information I've been getting from hospital staff hasn't been that the situation is getting worse again, despite the concern over variants, a lack of preventative nutritional guidance issued or access to available medical treatments known to be effective that are separate from the vaccine rollout," shared Thielman. "And, despite what Brown's Friday meeting tried to paint a picture of, the current situation is not about those who are choosing to forgo receiving an experimental vaccine—the reality is that hospitals are removing available beds for COVID-19 patients, as it's not economically feasible to keep so many beds empty. However, this is an easy data point to manipulate to use to tell the public that hospital capacity is getting maxed out," he added. "In fact, I just spoke with a ranking member of the Oregon Nurses Association who gave me advanced warning about the political narrative being set forth," said Theilman, "As one contact put it, 'the reality is that bed use continues to dramatically decline' and he told me, don't believe the spin, he actually said we should be celebrating at the waning of this pandemic."

"What hospital staff have been sharing with me is that they have been reducing their COVID bed counts due to lack of public need so they could make those beds available for people who actually are in need with other conditions," Thielman noted. "I was told point blank that they've been in discussions with representatives from Governor Brown's office and that she's fully aware of these reductions. Personally, I think this is good news and should be openly discussed, not be a reason to consider going back into lockdowns," he added. "Since there seems to be federal money for this very purpose, we should just increase bed counts again if necessary, without disrupting the lives of countless Oregonians, who have been great throughout this—that would make the most sense to me."
Critics are wondering if Governor Brown may not be telling the public that she authorized the reduction in COVID bed counts.
In 2008, and quite possibly during other years as well, Oregon received Federal grants specifically to help build pandemic preparedness.
And here is a another newsletter statement, describing additional federal grant money:
With any previous federal funds and additional money in new federal aid that Oregon has received over the last year, it seems that Governor Brown could simply support hospitals financially, in the isolated counties where hospitalizations may be rising slightly, to increase their available bed counts once again.
Oregonians will definitely have to continue to pick up the pieces created not just by COVID, but by abysmal public health policies that sometimes create an illusion of responsible action, but in fact only hurt healthy residents ready to get on with their lives.
--Staff Reports
| | |
| --- | --- |
| Post Date: 2021-06-06 11:59:50 | Last Update: 2021-06-06 12:01:34 |