Until it's not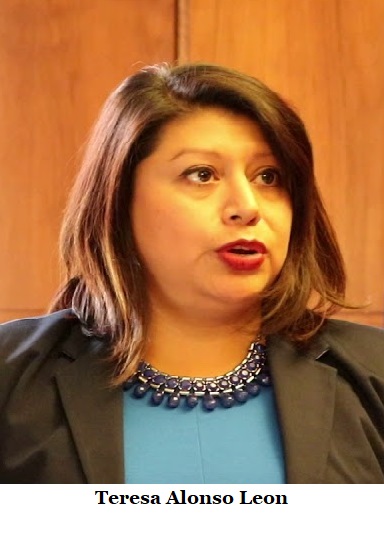 For almost two hours on the floor of the Oregon House, the House Democrats and Republicans debated changing a single number in a bill: 3-vs-4. No other changes to the bill were proposed, and in fact it was not a new conversation. It was a change that had been discussed in the House Education committee but voted down on a party line vote. The House Education Committee is chaired by Representative Teresa Alonso-Leon (D-Woodburn) who, according to the Secretary of State, has received over $78K towards her campaigns since 2016 from the Oregon Education Association and the American Federation of Teachers.
HB 2954
proposed to allow public charter schools to continue the non-discriminatory practice of admitting students, but added a weighted lottery system that would favor historically underserved students which would be based on race, sex, sexual orientation, ethnicity, etc. The House Education Committee agreed that this was a good change, but the Republicans on the committee felt that prioritizing admissions would also be improved if made available to more students. If the cap were raised from 3 to 4% more students could seek education opportunities outside of the traditional brick-and-mortar public school buildings.
The conversation about how many students should attend public virtual charter schools has been acerbated by COVID-19 and Governor Brown shutting down schools to in person learning last Spring. With her executive order, she instantly turned every brick-and-mortar school into a virtual school. As parents, teachers and students struggled with the unknown world of virtual learning, many of them made the choice to move to established virtual public schools. According to information provided by the Oregon Department of Education, as of October 1, 2020, brick-and-mortar school enrollment was down by 3%, and virtual charter school enrollment was up 54% from the same time the year prior.
However, the true debate in committee and on the floor was all about money, not about equity or access. Laurie Wimmer, with OEA submitted testimony to the committee that stated "This particular amendment would cost the school districts of Oregon $118 million. Representative Courtney Neron (D-Wilsonville), agreed saying "It is going to have a huge price tag. I want to caution everyone to not only think about the education impacts of this change, but that it would be nearly a $120M change". However, Representative Mark Owens (R-Crane) reminded her that "it is not a loss in funding it is a shift in funding. It still goes to the educational opportunities for children". Representative Janeen Sollman (D-Hillsboro) continued the money argument on the floor of the House yesterday saying "197 school boards and districts would agree, this is not the time to take money away from them. Small districts especially are impacted by these by large charters who increase their grasps on those smaller districts". According to an ODE report, districts currently at their 3% cap range in total enrollments from 420 to 18,400 kids and represent a wide variety of district sizes and geographic locations.
A D V E R T I S E M E N T

A D V E R T I S E M E N T
Representative Owens shared during debate that "As of October 1, 2020, there were 560,917 students enrolled in K-12 schools in Oregon with 21,705 of those students enrolled in virtual charter schools; right around 3.9%". The amendment of 4% would preserve those students' rights to continue learning where they area. Currently school districts may go over the 3% cap, but the decision is up to the individual district not the student's family. Since last Spring, approximately 25% of the school districts in Oregon have reached or exceeded their 3% cap and are now denying student transfers. Denied students have an appeals process, but, according to ODE, Since June 2020, the Department had received 832 appeals, 388 were denied and 31 are pending. 46% of all appeals are denied giving parents little to no choice. They can return to the distance learning or limited in person learning now being offered by most school districts, homeschool their children themselves, or pay for private education.
As public school in Oregon are still not fully open for in person learning and the start of the 2021-22 school year is only 5 months away, many families are concerned that full-time in person learning may not return and they may also be shut out of the public virtual charter school option. In a recent survey conducted by the Oregon Values and Beliefs Center, it showed that 58% of Oregonians expect remote learning for K-12 students to continue for a few years.
Representative Suzanne Weber (R-Tillamook), a retired public school teacher of 30 years, told the House members
"This body has rightly spent this session addressing equity; making sure that ALL Oregonians have equitable access to the services to which they have a right. That is exactly what the cap adjustment does. It insists that every child in Oregon has a right to a public education. Equity in education means that we meet our students where they are, not insist they fit into a model of public education that comes to us from a time when only white, wealthy men ran public institutions, and insisted that everyone conform to the way THEY think things should be. That's not equity. Let's not just pick and choose what we believe equity to be based on pressure from political special interests. Let's do what's best for students, especially those who have been marginalized for so long".
House Democrats used their supermajority powers, ignored the request, and voted to protect the OEA and brick-and-mortar funding over doing what was best for Oregon families and Oregon students. The bill is headed to the Senate and will most likely be assigned to the Senate Education committee.
--Terese Humboldt
| | |
| --- | --- |
| Post Date: 2021-04-17 11:11:37 | Last Update: 2021-04-17 12:00:45 |