Defendant paid high bail with cashier's check from Saudi government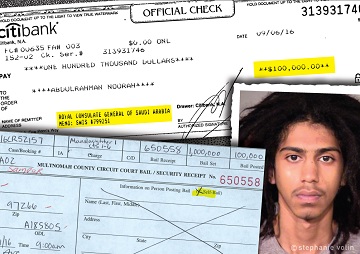 On August 19, 2016, teenager Fallon Smart was struck by a recklessly speeding gold Lexus owned by Abdulrahman Noorah, a student from the Kingdom of Saudi Arabia attending Portland Community College. Fallon died at the scene in her mother's arms.
Noorah was arraigned at Multnomah County Court on charges including Manslaughter in the First Degree. A bail deposit of $100,000 was paid by the Saudi government and Noorah was released under court-ordered terms including an ankle monitor and participation in a police supervision program. Predictably, Noorah fled the United States before trial, aided by the government of Saudi Arabia—a country that does not extradite. Fallon Smart's family now has no hope of her killer being brought to justice.
Recently uncovered documents paint an even more disturbing picture of the case, including Noorah's use of over $32,000 in public defense funds meant for Oregon citizens who cannot afford an attorney—and who certainly do not have a foreign government bailing them out of jail. Noorah's private attorney, Ginger Mooney of Hood River, appears to have been hired by Saudi Arabia as well, as she had been in several other cases involving Saudi defendants who were aided to escape justice and return home.
When Noorah was bailed out of jail, Mooney paid with a $100,000 cashier's check from the Royal Consulate General of Saudi Arabia, representing a 10% deposit on the full security amount of $1 million. Astonishingly, the bail paperwork that Noorah and Mooney filled out did not properly identify Saudi Arabia as the "person posting bail." Instead, a "self-bail" box was checked, certifying that Noorah had paid his own bail.
Mooney then took the paperwork over to Multnomah court where "self-bail" was written twice on Noorah's release agreement. This allowed the Saudi government to avoid the $900,000 bill when Noorah fled. Instead, the bill went to Noorah at his former Portland address, years after his flight from justice back to Saudi Arabia.
Even worse, it is now known that taxpayer money was used to pay Noorah's case expenses through Oregon's Office of Public Defense Services (OPDS), an agency which provides legal representation and other defense services for those who financially qualify. Before he fled, Mooney submitted a sworn affidavit to the Multnomah court certifying that Noorah was "financially eligible" for some expenses to be paid by OPDS. Let that sink in: Despite easily paying the $100,000 bail (and guaranteeing $900,000 more), Mooney claimed that Noorah's case qualified for public funds.
Mooney's request was approved by the Multnomah court, and OPDS was eventually billed $32,326.14. When Eric Deitrick, General Counsel of OPDS, was locating information relevant to my most recent public records request, he was surprised to see that public funds from his agency were used in Noorah's case (and for at least one more of Mooney's Saudi student
defendants
). Deitrick told me that this was "problematic," and said, "Our public defense funds need to go to people who genuinely need those funds. I have no reason to believe the defendants in these cases did, particularly given the ease at which they posted bail."
Seth Smart
, Fallon's father, is even more disturbed by this newly uncovered information. "The Saudi government can post $100,000 in bail money, but Ms. Mooney uses $33,000 of tax payer dollars to cover expenses in her client's defense? One word: disgusting." Smart continued. "As I find out more information about Ginger Mooney and her actions as legal counsel to my daughter's killer I become more deeply appalled. It seems no matter what aspect of her actions are dug into, it always gets dirtier."
--Stephanie Volin
| | |
| --- | --- |
| Post Date: 2021-04-13 16:07:02 | Last Update: 2021-04-13 15:58:23 |