"We need to have people who can serve as role models"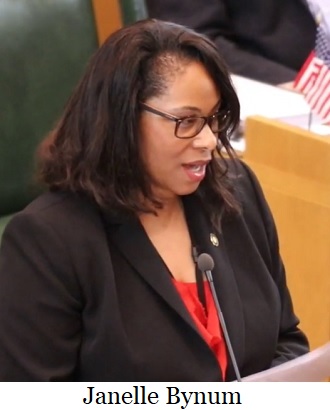 Representative Janelle Bynum (D-Clackamas) has submitted an amendment to
HB 2942
, which she co-sponsored with Senator Michael Dembrow (D-Portland). The bill allows individuals convicted of drug dealing and sex crimes to be licensed or registered by Teacher Standards and Practices Commission allowing them to teach in K-12 schools. It further opens the door for convicted criminals to work and volunteer in K-12 educational settings.
HB 2942
removes
existing prohibitions
on who can be employed as an educator and work with other people's children. Those prohibitions identify many crimes including those that have been prohibited by the proximity of schools to limit the exposure of students to that environment and influence. The prohibitions include unlawful manufacturing of controlled substances (including methamphetamine, cocaine, etc.) within 1000 feet of a school, and the delivery of those same drugs within 1000 feet of a school, as well as prostitution. This bill does not deal with possession of drugs -- this bill essentially says that a drug dealer may ultimately become a teacher.
The bill takes the decision away from the Teacher, Standards, and Practices Commission and puts it in the hands of individual school districts by creating an arbitrary standard. This says to parents that the very best people we can put in front of your children are convicted drug dealers, manufactures and prostitutes, which does not help school districts attract and retain the very best teachers to serve our children.
Testimony that supports putting school children at risk said such things as, "we believe in restorative justice and the ability of individuals to transform their lives," and "in order to break the school to prison pipeline, we need to have people who can relate to them and serve as role models."
The Oregon School Boards Association said they support
HB 2942
because "Oregon is in the midst of reforming a criminal justice system that has, deliberately or otherwise, had the effect of removing a disproportionate number of people of color from the school community."
However, many parents expressed opposition to using their children as test cases to whether a convicted criminal is truly rehabilitated. Instead of letting the bill fade away as a bad idea, Representative Bynum doubles down with an
amendment
that puts the burden on the Teacher Standards and Practices Commission to assess the rehabilitation mentality of a criminal applicant and authorizes them to refuse to issue a license or register a convicted person.
HB 2942
is scheduled for a work session on April 6 before the
House Committee on Education
.
--Donna Bleiler
| | |
| --- | --- |
| Post Date: 2021-04-02 09:21:25 | Last Update: 2021-04-02 09:31:09 |