Legislation would block independent journalists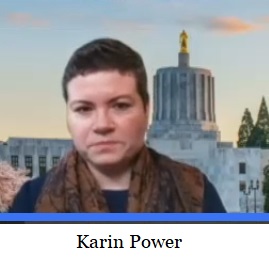 HB 2486
can certainly be described as anti-independent-journalism legislation. It is proposed legislation by three Oregon Democrat legislators that would take away the power to bring important news to the people of Oregon from any organization who is not credentialed though the government.
When government heavily mandates journalism, the truly free press cannot easily or accurately portray the news of the stories happening around us, information that we all rely on for various reasons. Free speech in danger can endanger us all.
Representative Karin Power (D-Portland) and Representative Julie Fahey (D-Eugene) are the Chief Sponsors of this bill as well as being Regularly Sponsored by Representative Marty Wilde (D-Eugene). The law proposes to grant favoritism to only select main stream media outlets.
The proposed law states that it would give officials of public bodies the power to grant news media representatives access to scenes of emergencies or emergency police activity that are otherwise closed to the public. It does provide exceptions when access may be denied.
Perhaps most disturbingly, the bill directs the Department of State Police to develop guidelines for press credentialing.
A D V E R T I S E M E N T

A D V E R T I S E M E N T
Furthermore, the law also requires the department to consult with law enforcement and fire department personnel, representatives of local governing bodies and representatives of news media organizations in developing those guidelines.
And, as usual in Oregon, the Emergency Clause has been attached to this legislation, which would make the law instantly effected into law.
Apparently it is added in the law that access to scenes of emergencies or emergency police activity may be denied if the presence of news media representatives or the activities being conducted by new media representatives compromise the safety of emergency response employees, impede the response of emergency equipment or personnel or impede the investigation of the incident that constitutes the scene of emergency or emergency police activity.
Nothing in this alters the applicability of Federal Aviation Administration regulations that govern the closure or restriction of airspace over incidents.
--Bruce Armstrong
| | |
| --- | --- |
| Post Date: 2021-03-20 13:29:05 | Last Update: 2021-03-20 16:38:10 |