Alfa Romero was fraudulently purchased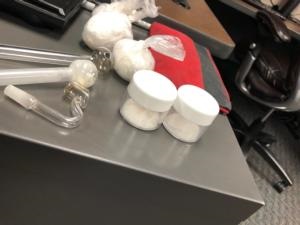 Portland Oregon is a city riddled with crime these days, sadly and another car theft seems to have been attempted by a suspect carrying a large amount of methamphetamine with them in an Italian sports car.
On March 17, 2021 the Portland Police East Precinct Neighborhood Response Team (NRT) received information about an Alfa Romeo car, which was fraudulently purchased from a dealership near Southeast 92nd Ave and Southeast Stark Street.
NRT officers began investigating and located the car in a nearby motel parking lot. Officers developed information about the suspect and conducted surveillance on the car. When the suspect returned to the car, officers took her into custody.
Officers recovered forged documents, and approximately 164 grams (5.7 ounces) of methamphetamine. Officers returned the car to the dealership.
The suspect was identified as 38-year-old Mary P. Nguyen, who was booked into jail for Aggravated Identity Theft, 7 counts of Forgery I, Aggravated Theft I, Distribution of a Controlled Substance -- Methamphetamine, Possession of a Controlled Substance -- Methamphetamine, Unauthorized Use of Motor Vehicle, and Computer Crime.
--Bruce Armstrong
| | |
| --- | --- |
| Post Date: 2021-03-17 17:57:29 | Last Update: 2021-03-17 18:14:05 |