A look at the dark origins of First Amendment practices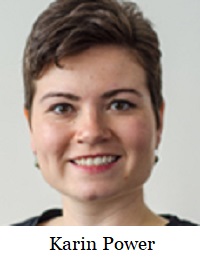 Well, the cat is out of bag, so to speak. State Representative Karin Power (D-Milwaukie) announced in a recent tweet that her colleague, Mike Nearman (R-Independence) is behind the media company, the Northwest Observer. She's even posted a screen shot of the Secretary of State's business registry record for the Northwest Observer, which is too small to read, but the media company is corroborating the information.
When asked if he was the brains behind the Northwest Observer, Representative Nearman quipped, "That would pre-suppose that I have brains, wouldn't it?"
Speculation was rampant in the newsroom today that the recent article on Representative Power's
bill to ban diesel fuel in Oregon
got on Representative Power's radar and created enough negative activity, that she was compelled to research who was behind the Northwest Observer.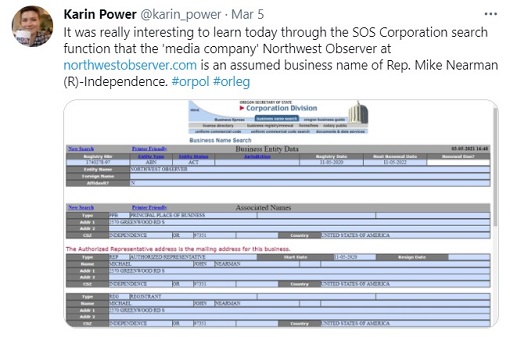 Nearman was asked for more specifics about his involvement with the Northwest Observer. He said that he works with a large and diverse group and does some writing -- though he admitted that mostly he just copies and pastes press releases.
He said that he did much of the work on the website, which he says is still evolving. "Back when I used to do honest work for a living, I was a software engineer," Nearman said. "She's welcome to subscribe. If she puts her email in the subscribe box, she'll get daily updates."
--Staff Reports
| | |
| --- | --- |
| Post Date: 2021-03-08 17:36:20 | Last Update: 2021-03-08 20:34:33 |