On this day, January 28, 2003, Oregon voters defeated a proposed three-year income tax hike designed to forestall $310 million in cuts to schools and social services.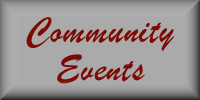 Post an Event

School Choice movie "Miss Virginia"
Saturday, January 28, 2023 at 12:00 pm
Free, fun, family-friendly afternoon to watch the movie to learn how it is possible for parents, grandparents and other ordinary folks to stand up for their children and give them the opportunity and financial means for a great education. Live Q&A with Ms. Virginia herself.

EducationFreedomforOregon.com
When: Jan 28, 2023 Where: Hillsboro, The Hillsboro Cultural Arts Center 527 E Main St, Hillsboro, OR 97123 Time: noon to 3 pm
Free ticket registration

Western Liberty Network Leadership and Activist Training Conference
Saturday, February 4, 2023 at 9:00 am
The year's premiere grassroots activist and leadership conference! Get what you need to be successful in 2023!
Portland Airport Embassy Suites Hotel 7900 NE 82nd Avenue

The Oregon Constitution
Wednesday, February 22, 2023 at 7:00 pm
First of a three part series presented by former State Representative Mike Nearman studying the Oregon Constitution.
The River Church 4675 Portland Rd NE Salem

The Oregon Constitution
Wednesday, March 1, 2023 at 7:00 pm
Second of a three part series presented by former State Representative Mike Nearman studying the Oregon Constitution.
The River Church 4675 Portland Rd NE Salem

The Oregon Constitution
Wednesday, March 8, 2023 at 7:00 pm
Third of a three part series presented by former State Representative Mike Nearman studying the Oregon Constitution.
The River Church 4675 Portland Rd NE Salem

We Are Stronger Together
Monday, March 27, 2023 at 10:00 am
Oregon's Natural Resources & Industries (ONRI) is sponsoring the rally to meet legislators and influencers to bring light on legislation affecting natural resource industries, their families, and their communities. https://onri.us/events
Rally at the State Capitol, Salem.
View All Calendar Events
Many wonder why Oregon imposes so short a statute of limitations on rape
F
rom the late 1960s until 1986, Richard Troy Gillmore took regular runs through the neighborhoods of Portland.  Gillmore had a special purpose for his fitness routine:  He was casing the community for likely rape victims.  In that period, Gillmore raped at least nine women, according to his statements to police.  Police suspect he raped
as many a hundred others
.
Gillmore was eventually caught and tried in 1987.  Because most of the known incidents were too old under Oregon's statute of limitation, only the last was prosecuted at his trial.  On December 6, 1987, Gillmore convicted by the jury for raping 13-year-old Tiffany Edens.
In the last ten years, Gillmore's case has been considered multiple times for parole and each time rejected.  Finally, after 35 years, the maximum assigned by the court minus time off for good behavior,  the Parole Board has approved Gillmore's release.  At age 63, he will walk the open streets and breathe free air before the end of the year.
The case has stirred considerable controversy over the years.  Many wonder why Oregon imposes so short a statute of limitations on rape.  If the rapist avoided capture for three years, he could not be prosecuted.  Thus, Danielle Tudor could not tell the court about Gillmore raping her in Southeast Portland when she was just 17 in 1979, and Colleen Kelly could not testify that Gillmore broke into her Southeast Portland home and raped her when she was 13 in 1980.  Gillmore evaded capture and ran out the clock.
A D V E R T I S E M E N T

A D V E R T I S E M E N T
Since that time, the
statute of limitation
has been extended to six years if the victim is a minor.
Some small correction in that situation was effected by the State Parole Board in 2012.  At that time, the definition of "victim" was expanded to include anyone injured by the convict, including those who had not appeared as a witness at trial.  Under the new rule, some of Gillmore's other victims were able to speak at his parole hearings.
According to the
Oregonian
, though Gillmore was considered a "dangerous offender" at trial, he is being released as only a Level 1 sex offender.  That assignment was determined by the "Static 99" risk assessment tool the state uses to gauge the sexual recidivism rate for sex criminals.  And that Level determines the notification given to the residential community where Gillmore is assigned to live.
--Mark DeCoursey
| | |
| --- | --- |
| Post Date: 2022-10-11 01:28:56 | Last Update: 2022-10-11 21:55:24 |
Cliff Bentz v Joe Yetter
Editor's note: Oregon Abigail Adams Voter Education Project equips voters with information on how candidates stand on issues through a questionnaire process featured in comparison guides.
O
regon Congressional District 2 is the largest of Oregon's six districts covering two-thirds of the state including all of Baker, Crook, Deschutes, Gilliam, Grant, Harney, Hood River, Jackson, Jefferson, Klamath, Lake, Malheur, Morrow, Sherman, Umatilla, Union, Wallowa, Wasco, Wheeler counties, and part of eastern Josephine county, and some of the Grants Pass area. Some 53 percent of the land is federally held. Cliff Bentz was elected to represent District 2 in 2020 to replace Greg Walden, who chose to retire.
Cliff Bentz served in the Oregon House for ten years and the Oregon Senate for two years before being elected to Congress. He is a partner in the law firm Yturri Rose specializing in agricultural, water and real property law. He also owns a 100-acre alfalfa farm.
Challenger Joe Yetter is a veteran, a physician, teaches a faculty development fellowship program, and was part of the Society of Teachers of Family Medicine. He says he is running because, "we cannot ruin the world that they [our children] must live in. Equality and justice mean that all people are equal under the law and, to the extent it is possible, we must redress the sins of our past."
Yetter favors two or more years of national service for all young Americans. He says, "this is not a popular idea today, but I'll work to make it popular. As your representative in Congress, I will work with President Biden and my Congressional colleagues to continue to repair and expand NATO re-establish our standing in the world."
Bentz says, "America is not just a country; it is an idea. A very successful idea that no one else in the world has been able to duplicate." He opposes boycotting Israel and doesn't support expanding NATO.
Yetter would build the economy by supporting the Build Back Better investments in infrastructure and job training needed, in an equitable way. He sees higher wages, improved workers' rights, gender equity, family farm values, support of home-ownership, and a tax code that is fair as a priority.
Bentz says we have to have a strong economy. Each person crossing our southern border cost the American taxpayer $10,000 per year, which is amounting to $7 million a day and growing. We are spending billions and billions of dollars on unnecessary things and sending money to states that don't need it. At some point taxpayers have to pay for it and that doesn't seem to be understood by many.
Yetter's health care stance is for government run healthcare. He also says, "I believe in liberty. I believe in bodily autonomy. Roe should be codified in Federal law." He supports universal health care that includes pre-pregnancy counseling, nutrition, and health habits; that provides health care throughout the pregnancy and after; and that provides care for the family regarding employment and social support.
Bentz opposes government run healthcare costing $30 trillion and wants to see a free-market plan that drives down skyrocketing costs. He supports medical malpractice reform to stop frivolous lawsuits and voted against controlled drug pricing that limits initiative for new and better medications. He sees the healthcare system being drained and abused by illegals crossing the border.
As a veteran, Yetter feels strongly about the nation's obligation for the medical needs of veterans and funding for improved services. He says, "I consider VA medical care The Best Care Anywhere. And, remember: I've practiced medicine (and been a patient, too), in the military and in civilian practice, on three continents and in several states here at home."
Bentz also fully supports veterans and says, "without our military, and the men and women serving, we would not have a country."
Yetter is a full supporter of renewable energy suggesting solar panels on irrigation canals in drought areas that will cool the water and reduce evaporation. He says, "We need to act immediately to combat climate change: electrifying, de-carbonizing, sequestering, and more."
Bentz led a panel on the lower emission future for fossil energy at the
Congressional Western Caucus
saying, "getting completely rid of fossil fuels is not a strong strategy for the U.S. We need to not only lower (not delete) our carbon footprint, but also understand how the carbon footprint is created. That understanding will generate cleaner energy domestically." As a member of the Natural Resources Committee he says, "it genuinely eludes me as to why we are not producing energy in America. Our energy is cleaner and we can produce it more efficiently than other nations."
Bentz supported farmers on the
floor in congress
to provide a relief package with a balance to provide water to farmers in drought areas. He opposes the breaching of dams on the Snake River and sending billions to communities affected. He sees fires and withholding water to farmers as the biggest priority for his district. He says, "We must get back into the forests to mitigate the risk of future wildfires."
Yetter also supports marijuana legalization nationwide, rational gun ownership and responsibility, and universal pre-K education and full funding of state college for any student in an accredited program.
Bentz wants closed border, opposes recreational marijuana, reduced regulations, lower taxes, supports Second Amendment rights, opposes taxpayer-funded college, is anti-gender identity, and values life of the unborn.
--Donna Bleiler
| | |
| --- | --- |
| Post Date: 2022-10-10 19:48:34 | Last Update: 2022-10-06 21:25:26 |
John Verbeek v Elizabeth Steiner Hayward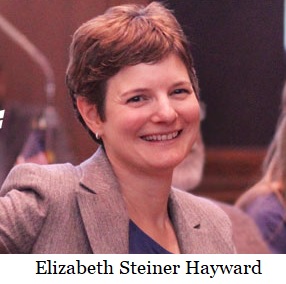 Editor's note: Oregon Abigail Adams Voter Education Project equips voters with information on how candidates stand on issues through a questionnaire process featured in comparison guides.
I
ncumbent Elizabeth Steiner Hayward was appointed to the Senate District 17 in 2011 to replace Suzanne Bonamici after she won a special election to represent Congressional District 1. Senate District 17 covers the heart of Portland and parts of Washington County.
Steiner Hayward is an Adjunct Associate Professor of Family Medicine at Oregon Health & Science University. In 2013, Steiner Hayward publicly revealed she suffers from major depressive disorder and multiple sclerosis. She disclosed her condition to advance SB 823, mental health services, and the funding that was needed to implement it.
Steiner Hayward has set her sights on making Oregon the healthiest state in the nation. In her accomplishments, she includes establishing Oregon's CCO system which streamlines and integrates health systems to deliver healthcare more efficiently and increasing Oregon's vaccination rates. She worked to improve health outcomes through upstream interventions such as raising the legal age for purchasing tobacco products to 21, establishing the nation's first state-wide universally-offered nurse home visiting program for families with newborns, and improving access to mental health and substance use disorder treatment. She voted for
HB 2447
, which proposed single payer government run health care,
HB 2005
establishing paid family medical leave and
HB 3057
mandating the COVID-19 vaccine to attend school, work or travel.
A D V E R T I S E M E N T
A D V E R T I S E M E N T
John Verbeek isn't new to the campaign race. He ran for U.S. Senate in 2020, and five other races prior to that including Oregon's Congressional District twice. He has 34 years in financial services and an MBA from the University of Georgia.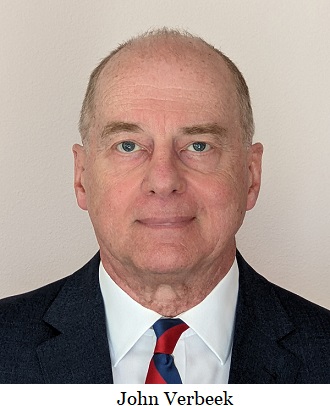 Verbeek agrees everyone has the right to good health, but supports private healthcare insurance. He says, "Minimizing poor medical outcomes requires more than a doctor visit or bipartisanship. We must look not only at the contribution of government but also at the participation of private individuals." He further believes a child's health care is under a parent's authorization. Medical oversight (OMB and OBNM) should be limited to protection of patient-physician relationship with witnesses and informed consent. Verbeek believes this will protect a system from being turned into a government-sanctioned cult.
Verbeek has three children and sees quality teaching as a priority. "The purpose of public education is not to cultivate university professors and lawlessness, but to cultivate young people learning to read, to write, to do arithmetic and to obtain other useful skills for leading productive lives; Including the purpose of sports as part of sound education… to cultivate self-reliance and distinguishing attributes (character), expect legislative support for funding those educational programs, for teachers who can be trusted with someone else's child, and for principal school officials be held to the greatest standard." He also believes justice involving minors should be parental authority and responsibility first in a rightful chain of command.
Steiner Hayward voted for
SB 554
requiring gun owners securely store weapons and bans guns in the capitol and PDX, allows public schools to ban guns, and makes gun owners liable for crimes committed after the gun is stolen. She also voted to prohibit law enforcement and courts from inquiring about immigration status in
HB 3265
.
Verbeek says he would have voted no on
SB 554
and believes everyone should be diligent with anything potentially lethal. He also disagrees with
HB 3265
. He further says, "early releases by officials does not serve justice, unless it serves justice over an unjust verdict. He believes the penance leads to reconciliation with what is good for a clear conscience and a changed life that honors the law from a clean heart and spirit."
A D V E R T I S E M E N T
A D V E R T I S E M E N T
Steiner Hayward is in full support of the green energy agenda. She voted yes on
HB 3055
funding infrastructure $5.3 billion over 10-years increases gas taxes 40 cents, voted to permit tolling, voted for electric vehicle rebates and charging stations with public funds, voted for the CAT tax that bankrupted small business during the pandemic, and voted for
HB 2021
requiring 100% reduction in emissions below baseline emissions by 2040 with no structure to insure adequate power.
Unlike Steiner Hayward, Verbeek believes in a free enterprise for raising living standards, and not government. He says, "reduction in emissions below baseline would be harmful to families with less income, especially their personal mobility." He also doesn't agree with the electric vehicle agenda and questions the expense and battery recycling. He would vote no on the $5.3 billion infrastructure bill and tolling and objects to controlling our movements.
Verbeek says, "when government maintains order with justice, and promotes opportunity and freedom for all, Americans can be unified and happy." Compare votes of Steiner Hayward with Verbeek's responses: https://bit.ly/OAA2022-SD17Guide
--Donna Bleiler
| | |
| --- | --- |
| Post Date: 2022-10-09 06:18:14 | Last Update: 2022-10-05 11:50:20 |
The online open house will be available until October 21st
L
ast year the Oregon State Legislature requested that the Oregon Department of Transportation examine policies and actions that could improve quality of life through increasing housing options with easy connections to transit. This aligns with our
strategic goals
to address equity, address climate change, improve access to public and active transportation, and address congestion.
ODOT has completed its
Oregon Transit and Housing Study
identifying policies, strategies, and actions that can better link housing, including affordable housing, with transit services in the future. The study and its products are designed to inform state, regional, tribal, and local agency and transit provider staff about steps they can take to improve transit and housing outcomes in their area.
ODOT has invited people to
browse the online open house
. The online open house will be available until October 21st. It is designed to allow you to browse the lessons learned and products completed throughout this project on your schedule. There are no surveys or other work included. The virtual open house will allow people to explore the collected results of the case studies, survey, and the rest of the study.
A D V E R T I S E M E N T
A D V E R T I S E M E N T
According to ODOT, the study can help guide public investment and lead to denser developments along bus, streetcar, and/or rail lines. It can help implement national and statewide emissions initiatives, such as the Climate-Friendly and Equitable Communities Program, to help meet climate change targets. According to ODOT, this project provides recommendations and strategies to help make Oregon a better, more affordable place to live.
While housing policy is not directly a part of ODOT's mission, they are pursuing this Study due to the important connection between transportation and housing on the quality of life for all Oregonians, especially those traditionally underserved. The information we uncovered can help ODOT, other state agencies, public transportation providers, and regional, local, and tribal transportation and land use agencies better enable links between transit and housing of all types.
The
study
identified several key takeaways:
Transit-supportive housing is not a well-defined concept nor a focused concentration within many of the policy and guidance documents. Many state-level policies affect the provision of transit, housing, and affordable housing, but few directly address all the concepts together. A clear and consistent statewide policy position across multiple agencies could help to reach numerous statewide goals – improve housing production and affordability, reduce GHG emissions, etc. – and direct funding and investment toward these goals.
Coordination between state agencies and local and regional partners is key in addressing and delivering transit-supportive housing. Land use, housing, and transit, while addressed within local community comprehensive plans, are aspects of the built environment that are often planned independently by separate agencies. Greater coordination between the agencies could result in identifying opportunities for additional collaboration that may ultimately benefit Oregon communities. Delivering effective transit-supportive housing will require fostering a shared understanding of the concept and partnerships among these agencies and local jurisdictions.
There are opportunities to leverage recent legislative, executive, and agency actions to further transit-supportive housing policies. HB 2001 and HB 2003 focus on missing middle housing and statewide housing needs, respectively.
Transit-supportive housing performance measures, evaluation criteria, and guidance would benefit any transit-supportive housing policy.
--Staff Reports
| | |
| --- | --- |
| Post Date: 2022-10-08 06:57:57 | Last Update: 2022-10-05 14:48:35 |
Kim Thatcher v Richard Walsh
Editor's note: Oregon Abigail Adams Voter Education Project equips voters with information on how candidates stand on issues through a questionnaire process featured in comparison guides.
D
uring a virtual forum with the Marion County Democratic Party, Richard Walsh, running for Senate District 11, declared his support for a $22 billion tax hike on Oregonians to create a universal health care system. This is just $6 billion less that the State of Oregon's entire general fund for the entire 2021-2023 biennium. This is an unprecedented expansion of state government.
Senate District 11 covers parts of Marion County, including Woodburn and much of Salem. Richard Walsh is competing against Senator Kim Thatcher for Speaker Peter Courtney's district upon his retirement.
Kim Thatcher voted against single payer government run universal health care in 2019,
HB 2447
, and introduced a Vaccine Passport ban and advocated against forced vaccinations and for vaccine safety while legislators were trying to exempt themselves from what they were trying to force on the public. Thatcher repeatedly sponsors various forms on protecting the unborn from inception to 20-weeks to 'care of life' if a child is born alive after attempted abortion. She also passed legislation that cracks down on sex offenders.
Walsh says, "I will protect and defend a woman's fundamental right to control her own body. We must protect access to the full scope of reproductive health care, including access to abortion. I will fight to preserve accessible, affordable care in Oregon."
A D V E R T I S E M E N T
A D V E R T I S E M E N T
Walsh says, "housing affordability must be addressed. To do this we need to address the core issues of income inequality, financing, and affordable housing inventory." Thatcher takes another approach, "The government has layered costly regulations and permitting making it more expensive to build new homes… Oregon's population is outpacing her supply of homes. We can loosen the crippling regulations contributing to the housing and homeless crisis. I will defend against any changes to raising caps on property taxes that drive up housing costs."
Walsh wants to address rising costs by cracking down on price gouging in areas where Oregonians are struggling to keep up with rising costs. He says, "We all deserve housing, health care, and transportation that's affordable, and I am ready to tackle this problem by prioritizing the needs of our working families."
Thatcher has consistently voted and advocated against reducing greenhouse emissions 100% below baseline, the electric vehicle agenda and the $5.3 billion transportation infrastructure raising gas taxes and allowing tolling in
HB 3055
and
HB 2021
. She also did not support
SB 390
, requiring 100% of electricity to be generated utilizing renewable and carbon-free energy.
Walsh supports
SB 554
as common-sense gun safety measures to prevent gun violence like safe storage and capacity limits. He says it "allows us to protect our children and keep dangerous weapons out of the hands of those who don't need them, while still preserving core constitutional rights for responsible gun owners."
Thatcher was vocal against
SB 554
calling it a trap. "
SB 554
will set up numerous potential "felony traps" all over the state for those with Concealed Handgun Licenses (CHL)." Thatcher's survey responses: https://bit.ly/OAA2022-KimThatcher
--Donna Bleiler
| | |
| --- | --- |
| Post Date: 2022-10-08 06:17:48 | Last Update: 2022-10-05 11:08:55 |
The agreement establishes a framework for future collaboration work on salmon and steelhead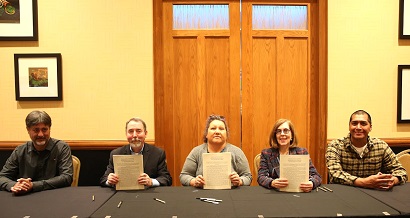 T
he Burns Paiute Tribe, a federally-recognized Indian tribe, signed an agreement with the State of Oregon and ODFW to continue support and cooperation to protect and enhance fish and wildlife, cultural resources, and habitat connectivity.
"
This agreement
affirms the role of the Burns Paiute Tribe in both exercising and management of aboriginal rights that were never extinguished," said Burns Paiute Chairperson Diane Teeman."We value our partnership with the state in co-management of fish and wildlife and this Agreement is an important step in further developing that partnership." Governor Kate Brown, Chairperson Diane Teeman and ODFW Director Curt Melcher signed the agreement on Oct. 3 at the Tribal-State Summit in Florence.
"The people of the Burns Paiute Tribe have been stewards of these lands and First Foods like salmon and steelhead since time immemorial, and it is critical that our governments work hand-and-hand to protect and maintain Oregon's fish and wildlife," said Governor Kate Brown.
"I'd like to thank the Burns Paiute Tribe and Chairperson Diane Teeman, as well as ODFW and Director Melcher, for making this important agreement possible, which is essential for this critical work to move forward in a collaborative way, using the combined expertise and knowledge of Tribal and State experts," Brown added.
A D V E R T I S E M E N T
A D V E R T I S E M E N T
The agreement memorializes ongoing cooperative efforts between BPT and ODFW. These efforts include ceremonial hunting opportunities, a ceremonial and cultural Chinook fishery on the Malheur River, and a collaborative effort to address vehicle-caused wildlife mortality from Highway 20 in the Malheur River Canyon.
"At ODFW, we understand and appreciate the importance of fish and wildlife to the Burns Paiute Tribe," said Director Melcher. "It gives me great pleasure to sign this agreement recognizing our shared interests and outlining our future commitments to the fish and wildlife resources of the state," he added.
In addition, the agreement establishes a framework for future collaboration work on salmon and steelhead restoration efforts in the Malheur River Basin. The framework includes cooperative efforts to restore habitat, in addition to conducting baseline assessments including pathogen assessments that will be needed for any future reintroduction efforts.
--Staff Reports
| | |
| --- | --- |
| Post Date: 2022-10-07 18:20:14 | Last Update: 2022-10-07 18:44:56 |
Critics say that this is typical of Democrat attitude on Law and Order
T
he Statesman Journal is reporting that Democrat candidate for state House District 21 R.J. Navarro knowingly hired a registered sex offender, convicted of sexually abusing a child younger than 14, on his campaign.
--Staff Reports
| | |
| --- | --- |
| Post Date: 2022-10-07 11:10:42 | Last Update: 2022-10-12 13:37:56 |
"This is a sad day for crime victims and prosecutors in Oregon"
T
he Oregon Supreme Court has
denied Review
of the Oregon Court of Appeals decision in regard to the challenge by
crime victims and District Attorneys
as to the Governor's exercise of clemency powers outside the process specified by law.
Kevin Mannix, attorney for the victims and District Attorneys, commented as follows on the denial of the Review:
"This is a sad day for crime victims and prosecutors in Oregon. The Oregon Supreme Court has let stand a decision by the Court of Appeals that the Governor is not bound to follow the clemency process set by law, which requires input from District Attorneys and an opportunity for victims to be heard before a clemency decision is made. Instead, the Governor can follow whatever process she wants and can ignore input from victims and District Attorneys if she wishes. The Court also allows the Governor to give the Parole Board authority to shorten sentences where the law does not give such authority.
"Because all of this involves an interpretation of Oregon law, no further appeal can be taken. Instead, I will go to the Legislature to seek a specific law which makes it clear that the Governor cannot set up her own clemency procedures and ignore the statutes. I will also seek a referral to the voters of a constitutional amendment which specifies that victims and District Attorneys must be allowed to be heard in the clemency process. I will go one step further and seek a constitutional amendment which provides that no Governor can use the clemency power to shorten felony prison sentences except when such clemency is approved by a majority vote of the Oregon Senate. This is one way we can restrict the abuse of the clemency process which we have witnessed in Oregon."
--Staff Reports
| | |
| --- | --- |
| Post Date: 2022-10-07 10:25:20 | Last Update: 2022-10-07 14:03:26 |
SD 10 race between Deb Patterson v Raquel Moore-Green
Editor's note: Oregon Abigail Adams Voter Education Project equips voters with information on how candidates stand on issues through a questionnaire process featured in comparison guides.
I
ncumbent Deb Patterson had a rocky start in Senate District 10, barely defeating Denyc Boles, the incumbent, in a recount in 2020. Patterson previously lost to Jackie Winters. Now she faces Representative Raquel Moore-Green after the redistricting put her in Senate District 10. The voters in parts of Marion and Polk counties have two candidates with voting records to give a clear indication on how they stand.
Moore-Green is a small business owner and served her community as a member of the Salem Area Chamber of Commerce, the Latino Business Alliance, Union Gospel Mission, and the Salem Police Foundation to name a few. Her goal is to bring balance to the senate and ensure legislation that will improve educational standards, support law enforcement, and reduce the tax and regulation burdens placed on our businesses. She is running for the Republican and Libertarian parties.
Deb Patterson earned a master's degree in music, and in health administration from Washington University School of Medicine, and a master's degree and doctorate from Eden Theological Seminary. Her experience includes working as a healthcare administrator and executive director, and the executive director of Northwest Parish Ministries. She has served as a member of the Salem Rotary Club, Healthcare for All Oregon, and SEIU 503. She is running for the Democrat and Independent parties.
Moore-Green believes in accountability, and wants to ensure that future Governors will not have the ability to exclude the legislature's active participation during states of emergency. Oregon has forced legislative fiscal accountability by passing the tax kicker, which refunds excess forecasted funds to taxpayers. Moore-Green voted not to lower the kicker by rewriting prior budgets to reduce the amount of the kicker. Patterson voted to reduce the kicker, voting for
SB 846
.
A D V E R T I S E M E N T

A D V E R T I S E M E N T
Moore-Green believes public safety means funding of law enforcement and supporting services to address mental health issues, alcohol abuse and drug addiction, as well as provide job skill training. She voted against
HB 3265
restricting law enforcement and courts from inquiring about immigration status, and voted against
SB 554
, that locks up firearms to make them inaccessible.
Patterson supports common sense gun safety laws like universal background checks and safe storage voting for
SB 554
, which makes it virtually impossible to defend yourself from murderers and criminals. She also voted to restrict law enforcement and courts from asking about immigration status.
Moore-Green says, "Our students deserve to compete nationally, but Oregon's recent lower graduation standards fail to equip them for the real world. We need comprehensive education that's rigorous, transparent, and inclusive of parental input." She voted against eliminating the essential skills test for a high school diploma (
SB 744
), and voted against
HB 2166
enacting a social emotional learning framework establishing an early childhood suspension prevention program.
Patterson says, "I know that we must do more to give our children a head start, to support strong community schools that respect and reflect the diversity of Oregon and to make college and vocational training more accessible for everyone." She voted in support of eliminating the essential skills test for a high school diploma (
SB 744
), and voted for
HB 2166
enacting a social emotional learning framework establishing an early childhood suspension prevention program.
Moore-Green wants greater access to patient care and wants to see local county initiatives promoting healthy diets, exercise and lifestyle choices. She voted against
HB 3057
, vaccine mandates for attending school, work or travel. She says she values life and voted to require 'care of life' if a child is born alive after attempted abortion.
A D V E R T I S E M E N T
A D V E R T I S E M E N T
Patterson says, "I support access to the full spectrum of reproductive healthcare…I opposed legislation that infringed on one's right to choose and will continue to stand up for reproductive rights for everyone." Except when it comes to mandating vaccines, she voted for
HB 3057
mandating vaccination for attending school, work or travel. She also voted against requiring 'care of life' if a child is born alive after attempted abortion.
Patterson supported legislation to bring Oregon to 100% clean energy by 2040 voting for
HB 2021
that has no structure to insure adequate power. "We can build a clean energy economy that protects our environment and invests in our workers and our economy and we must start now," Patterson said. She also voted for
HB 2290
, to spend taxpayer dollars installing public electric vehicle charging stations, and
HB 2165
establishing a rebate program for electric vehicles.
Moore-Green says "we must protect our small/private farms, fisheries, and dairies from continued regulation. They are excellent stewards of their resources – providing jobs, food, and services for nearly 4 million Oregonians." She voted against bills intending to convert to electric vehicles, and voted against reducing emissions 100% below baseline emissions by 2040, with no structure to insure adequate power.
--Donna Bleiler
| | |
| --- | --- |
| Post Date: 2022-10-07 06:17:13 | Last Update: 2022-10-05 10:57:27 |
Kevin Mannix v Ramiro Navarro, Jr.
Editor's note: Oregon Abigail Adams Voter Education Project equips voters with information on how candidates stand on issues through a questionnaire process featured in comparison guides.
K
evin Mannix is a practicing business law attorney representing small businesses, churches, private schools, and non-profit agencies. He served as a state legislator for 10 years. He became Oregon's leading crime victim advocate, authoring Measure 11 and Measure 73 in 2010. which formed mandatory minimum sentences for violent crimes. He has successfully stood up to a government run wild, including fighting Governor Brown's punishing mandates and successfully defeating the largest tax increase in Oregon history. He also backs law enforcement, fully funding police, and restoring the criminal justice system with prevention, accountability and rehabilitation.
Challenger Ramiro Navarro went from taking the United States oath at 18, to an Army Veteran, worked as a Veteran's Representative at Chemeketa Community College and Project ABLE supporting veterans with mental health services, to a business owner of Oregon's Finest Automotive, and now running for Senate District 21. He says "I will legislate not from a position of authority, but as a person who knows the issues impacting the most vulnerable in our community." He currently serves on the Cherriots Board advocating for public transportation, and recently spoke during a virtual forum with the Marion County Democratic Party where he expressed a top priority will be to eliminate gas cars to clear the way for electric cars. He says, "I've advocated for investing in cleaner public transit to support the mobility of low-income Oregonians and protect our environment."
Navarro says, "We need to make major investments in affordable housing to support working families and take transformative steps to make healthcare more affordable. Focusing on these policies will help everyone by stimulating our economy." He showed his passion in the Marion County Democratic Party meeting using strong language to show his support for universal health care and to raise taxes to fund it.
Mannix says, "the homelessness problem is actually a symptom of the failure to address a number of issues. The state needs to develop a comprehensive backstop system for counties, cities, non-governmental organizations, and churches to be able to better address homelessness issues. He proposes strengthening the capability to require drug-addicted and alcohol-addicted persons to enter treatment facilities, staffing and training for facilities, work programs for homeless, and research what's working across the nation.
A D V E R T I S E M E N T
A D V E R T I S E M E N T
Mannix has dedicated much of his life to promoting school choice and parental rights in our kids' education. Mannix founded Blanchet Catholic School in Salem and will fight to stop the one-size-fits all policies putting a barrier between parents and curriculum in the classroom. He sees a need to expand school choice, provide a voucher program for parents of children with disabilities, a tax credit for businesses sponsoring scholarships, and grants to help private schools expand their capabilities in certain academic areas.
Navarro sees a "need to prioritize child care so working families can get a leg up and build a better life for their children." His focus is on more funding for education and head start programs so our children have the support they need to thrive.
Mannix wants to keep taxes low making Oregon more affordable for working families. He says, "We need a comprehensive review of Oregon's tax system so as to enhance business development and employment growth, while lowering taxes and fees for working Oregonians." He proposes removing the Oregon death tax and the CAP system, establish caps on income taxes, and clarifying exemptions from personal property taxes.
Navarro says he will always protect your bodily autonomy, your right to medical privacy and ability to access an abortion. He says that is why he is the only candidate endorsed by Planned Parenthood and Pro Choice Oregon.
Mannix believes he can represent minorities from spending many years of his childhood in Latin America living in Ecuador, Bolivia, and Panama while his father served in the Foreign Service. While in Latin America, Kevin attended private Spanish immersion schools and is fluent in Spanish. He serves as President of the Salem Catholic Schools Foundation and founded Blanchet Catholic School serving on the Board. He says, "I believe that life begins at conception and public policy should be designed to support life. I am endorsed by Oregon Right to Life."
The two are challenged by Michael Morrow running for the Libertarian Party. His responses to the
OAA questionnaire
places him as a moderate candidate.
--Donna Bleiler
| | |
| --- | --- |
| Post Date: 2022-10-06 08:16:35 | Last Update: 2022-10-05 10:05:03 |
The U.S. will need between $100 billion and $166 billion in charging infrastructure
A
t the direction of the Oregon Legislature, the Oregon Department of Transportation and the Oregon Department of Environmental Quality have produced a
report analyzing existing incentives available to support the transition to Zero Emission Vehicles for Medium- and Heavy-Duty transportation fleets
. The agencies were further directed to research incentives offered in other states and to provide recommendations on expanding or creating incentives to support Oregon businesses in the transition. This report includes analyses on incentives for both vehicles and electric charging or other fuel infrastructure
Two listening sessions
were held to provide space for comments and feedback from stakeholders on the MHD ZEV incentive Report. May 31 and September 27, 2022.
In 2021, Governor Kate Brown stated that Oregon has experienced more extreme weather events, chronic heat and drought, flooding and more intense wildfires as a result of climate change. The Governor also acknowledged and supported Oregon's efforts on addressing climate change through the reduction of greenhouse gas emissions. According to the Oregon Global Warming Commission,
state-wide emissions must be reduced by over 50 percent to meet Oregon's 2035 GHG reduction goal
.
Political experts have noted a pattern of
politicians setting high goals in the future -- when they may no longer expect to be in office -- and then failing to meet them
.
A D V E R T I S E M E N T
A D V E R T I S E M E N T
The report, entitled
Incentives to Support the Transition to Zero Emissions for Medium-and Heavy-duty Sectors in Oregon
identifies the significant bottleneck to advancement of these initiatives: Electric Charging Infrastructure. Zero emission vehicle adoption for Medium- and Heavy-Duty is only possible if the infrastructure needed to charge or refuel electric vehicles exists. This is a key barrier to both battery and fuel cell electric vehicle adoption, particularly in the medium- and heavy-duty sectors.
According to Atlas Public Policy,
the U.S. will need between $100 billion and $166 billion in charging infrastructure
investment this decade to support 100% electric truck sales by 2040. There are many types of medium- and heavy-duty battery electric vehicles, and each vehicle type will have different charging needs based on vehicle size, usage schedule and application. The primary EV chargers utilized in the Medium- and Heavy-Duty sector are Level 2 chargers and Direct Current Fast Chargers.
According to the report, many stakeholders brought up the issue that for some sectors, specifically non-road and long haul vehicles, technology does not exist right now for them to adopt ZEV vehicles. Whether the vehicles are not made for the application, the load, or the range it will limit who the early adaptor sectors and use cases are for incentives.
Comments on the draft report are due Oct. 10 at noon. The report is due by Dec. 1, 2022.
--Staff Reports
| | |
| --- | --- |
| Post Date: 2022-10-06 06:50:51 | Last Update: 2022-10-05 12:55:53 |
Company Sold Fraudulent Clean Fuel Credits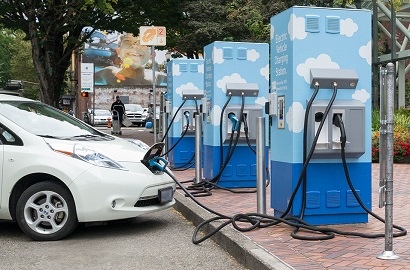 T
he Oregon Department of Environmental Quality today issued its largest penalty to date against Thompson Technical Services, of Lincoln City, for selling nearly $2 million in fraudulent credits through DEQ's Clean Fuels Program. The $2,723,895 penalty surpasses the
$2.1 million enforcement action
last year against Herbert Malarkey Roofing for air quality violations.
The action against Thompson Technical Services, which goes by TTS Charging, came after DEQ discovered the company had illegitimately claimed 16,089 in Clean Fuel Program credits for operating three electric vehicle charging stations in Sheridan. TTS then sold most of those credits to Elbow River Marketing for nearly $1.8 million.
At the time the company claimed and sold the credits, the three charging stations had not been installed and had not dispensed any electricity to vehicles.
"This is an egregious violation of a program that is designed to reduce greenhouse gas emissions, which contribute to climate change," said Leah Feldon, interim director of DEQ. "The Clean Fuels Program has been highly successful, but selling fraudulent credits seriously undermines the program's environmental benefits. This penalty is intended to encourage the violator to return legitimate credits to the market and should serve as a deterrent to anyone considering similar fraudulent behavior."
The Clean Fuels Program, which has been in place since 2016, provides incentives to companies that develop transportation fuels with lower carbon intensity, such as electricity or biofuels. The incentives come in the form of credits that can be sold to other companies as a way to comply with state rules requiring reductions in greenhouse gas emissions. Each credit is equal to 1 ton of reduced emissions. To date, the program has helped reduce emissions by 7.6 million tons and has displaced nearly 1.5 billion gallons of fossil fuels with cleaner ethanol, biodiesel, renewable diesel, electricity and renewable forms of natural gas and propane.
On June 10, TTS used the Oregon Fuels Reporting System to falsely claim it had dispensed 14.9 million kilowatt hours of electricity from the three non-working charging stations during the first three months of 2022. The false reporting generated 16,089 credits in the reporting system. On June 27, TTS transferred most of the credits to Elbow River Marketing. The total sales price of the credits was $1,788,000.
DEQ's order:
Revokes TTS's account with Oregon Fuels Reporting System and invalidates the 89 illegitimate credits remaining in the TTS account.
Requires TTS to purchase legitimate credits to replace the 16,000 credits transferred to Elbow River.
Assesses a total civil penalty of $2.7 million, of which $1.8 million represents the economic benefit gained by selling illegitimate credits. The remainder of the fine is punitive for violating the rules of the Clean Fuels Program.
If TTS complies with the order and purchases credits to offset the illegitimate ones, DEQ will reduce the size of the penalty accordingly. TTS has 20 days to request a hearing to appeal the penalty.
"This enforcement action demonstrates DEQ's commitment to maintaining the integrity of the Clean Fuels Program and our willingness to act swiftly when anyone violates the program's rules," Feldon said.
--Staff Reports
| | |
| --- | --- |
| Post Date: 2022-10-06 06:17:48 | Last Update: 2022-10-05 10:06:29 |
Read More Articles