On this day, August 8, 1971, the Enchanted Forest Theme park in Turner opened. It enchanted 75 people on its first day.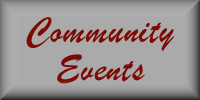 Post an Event

Umatilla County Fair
Wednesday, August 10, 2022 at 10:00 am
Umatilla County Fair Aug. 10th-13th, 2022
1705 E. Airport Rd. PO Box 94 Hermiston, OR 97838

Tillamook County Fair
Wednesday, August 10, 2022 at 10:00 am
www.tillamookfair.com August 10-13 PignFord races, pari-mutual horse racing, destruction derby, nightly entertainment included in entry fee.
4603 Third St, Tillamook, Oregon 97141

CLACKAMAS COUNTY FAIR & RODEO
Tuesday, August 16, 2022 at 10:00 am
CLACKAMAS COUNTY FAIR & RODEO August 16-20, 2022 10am - 10pm
Clackamas County Events Center 694 NE 4th Ave. Canby, OR 97013

Oregon State Fair
Friday, August 26, 2022 at 10:00 am
Which part of the Oregon State Fair are you most excited for? We'll keep adding to the fun all summer long!
Salem, Or

Washington County GOP Reagan Dinner
Saturday, September 17, 2022 at 6:00 pm
Tickets for Reagan Dinner 2022 in Hillsboro September 17th, now on sale at www.washco.gop, featuring former Secretary of State Mike Pompeo.

Oregon General Election
Tuesday, November 8, 2022 at 8:00 pm
Statewide
View All Calendar Events
Since 2015, more counties and cities have taken action
The
Second Amendment Sanctuary Ordinance
was a campaign drive in Oregon spearheaded by Rob Taylor that now encompasses 23 counties. He led a movement to get counties to adopt a Second Amendment sanctuary resolution in 2013-2015. It was the same Second Amendment Preservation Ordinance volunteers put on the ballot starting in 2018 using the initiative process.
The initial counties are Baker, Columbia, Coos, Curry, Douglas, Josephine, Klamath, Lake, Linn, Umatilla, Union, Wallowa and Wheeler counties. Crook County was actually the first to release a Second Amendment Proclamation on May 15, 2013. It all started to come together in 2015 with eight additional counties passing various Second Amendment protections:
Sherman – February 4, 2015 – passed a resolution in opposition to background checks.
Polk – February 11, 2015 – passed a resolution in support of Constitutional rights to keep and bear arms.
Clackamas – February 19, 2015 – passed a resolution in support of Second Amendment Rights.
Tillamook – March 4, 2015 – issued statement in support of the Second Amendment.
Marion – March 18, 2015 – passed resolution in support of the Second Amendment.
Lane – June 2, 2015 – pass resolution supporting Second Amendment Rights.
City of Canby – June 3, 2015 – passed resolution defending the Second Amendment.
Yamhill – July 2, 2015 – passed two pro-Second Amendment Resolutions.
Douglas – August 26, 2015 – passed a resolution supporting the Second Amendment.
Grant – February 25, 2015 – has a filled initiative aimed at prohibiting enforcement of laws that restrict gun possession that is still waiting a ruling by Grant County Circuit Court Judge William D Cramer Jr.
Since 2015, more counties and cities have taken action. Supporters believe they have a legal defense against the state and federal government in the Constitution. The supporters of gun control laws argue that cities and counties cannot override state laws. But Rob Taylor says the current Second Amendment Preservation Ordinance was crafted by legal minds to withstand a court challenge.
Harney – April 10, 2019 – passed the Second Amendment Preservation Ordinance.
Town of Lexington in Morrow – February 3, 2020 – declares itself a Second Amendment sanctuary.
City of Nyssa – February 11, 2020 – council affirms right to bear arms.
Malheur – April 6, 2021 – supports Second Amendment Rights.
In two counties, Lincoln and Jackson, the voters rejected the initiative on the ballot last November.
Rob Taylor is hopeful of covering the state with Second Amendment protections that will have the effect of killing bills in the legislature.
It seems like the Portland riots have had more than one impact on the state.
--Donna Bleiler
| | |
| --- | --- |
| Post Date: 2021-07-14 17:04:23 | Last Update: 2021-07-14 17:16:13 |
Book exchange finally has books flying off the shelf...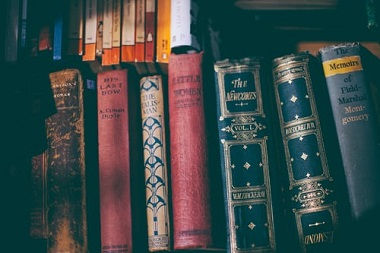 On July 10, 2021 at about 11:33 p.m., Portland Police officers responded to the sound of a loud explosion in the area of Northeast 87th Avenue and Northeast Fremont Street.
Officers arrived and found a book exchange box had been destroyed.
There was debris of wood and books spread around the scene. Flying debris appeared to have caused minor damage to at least two residences, but nobody was injured.
On July 12, 2021 at about 1:18 a.m., officers responded to the sound of a loud explosion on Northeast 148th Avenue. When they arrived they found a brick mailbox enclosure and a mailbox near Northeast 148th Avenue and East Burnside Street had been destroyed. Debris landed up to one hundred feet away. Nobody was injured.
These incidents are under investigation by the Metropolitan Explosives Disposal Unit (EDU) and the Portland Fire Arson Investigations Unit.
--Bruce Armstrong
| | |
| --- | --- |
| Post Date: 2021-07-13 19:04:53 | Last Update: 2021-07-13 19:26:12 |
In response to Grandview Fire
Governor Kate Brown has announced that she has invoked the Emergency Conflagration Act in response to the Grandview Fire that broke out in Jefferson County on the afternoon of Sunday, July 11th.
The fire is estimated to be 2,000 acres in size and is located near Culver, where there are Level 3 evacuations in place.
The fire is threatening structures in Jefferson and Deschutes Counties. The Office of the State Fire Marshal Red Incident Management Team will assume unified command with the Oregon Department of Forestry, and will work to bring resources from counties around Oregon to assist in the response.
"With several large fires burning throughout Oregon, I want to reiterate how important it is for all Oregonians to be prepared and to remain vigilant about fire prevention, especially with activities that could spark fires," said Governor Brown.
In accordance with
ORS 476.510-476.610
, the Governor determined that a threat to life, safety, and property exist due to the fire, and the threat exceeds the firefighting capabilities of local firefighting personnel and equipment.
The Governor's declaration cleared the way for the State Fire Marshal to mobilize firefighters and equipment to assist local resources battling the fire.
The Office of the State Marshal has mobilized a task-force from Marion County to address the immediate need on the Grandview Fire.
The Office of the State Fire Marshal's Red Incident Management Team was also mobilized, along with three additional task-forces to support the protection of life and structures. OSFM personnel responded with a Communications Unit and a cache trailer loaded with incident support supplies, tools to enhance defensible space around structures, and other provisions firefighters need to inhabit a fire camp.
--Bruce Armstrong
| | |
| --- | --- |
| Post Date: 2021-07-12 18:55:34 | Last Update: 2021-07-12 19:08:17 |
"A lot of people don't know it's free, or they don't know you don't have to have insurance, and you don't need ID"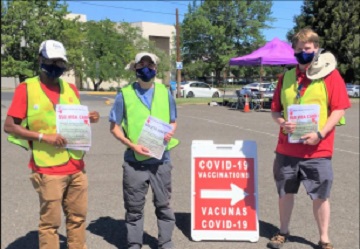 Peace Corps volunteers are going door to door in The Dalles to spread the word about the mobile COVID-19 vaccine clinic at St. Mary's Academy. The clinic is only here through next Wednesday, July 14, and this is a final push to get the word out.
The clinic is open daily through July 14 (except for Monday July 12), from 8 a.m. to 2 p.m.
The volunteers work in teams of two, and they concentrate on apartment complexes, so they can reach the most people in the quickest time. They have identified some 500 affordable housing units to visit.
Max Sullivan is the team coordinator for the 10-person group of Peace Corps volunteers assigned to The Dalles for the final days of the mobile vaccine unit at St. Mary's, located at 1112 Cherry Heights Road.
Most of the volunteers will be working at the vaccine clinic, while others will knock on doors and hand out flyers about the clinic, Sullivan said. They distribute flyers at businesses in the mornings, and start visiting apartments at around noon, so they don't wake anyone up.
Vaccines are free, and no appointments, insurance or ID are needed at the drive-up/walk-in clinic. Wasco County residents get a $50 VISA gift card for getting the vaccine. Offered is the Pfizer vaccine, for those 12 and older, and the one-dose Johnson & Johnson vaccine. Those who need a free ride to the clinic can call the LINK bus at 541-296-7595.
Peace Corps volunteers have already knocked on thousands of doors in the Portland metro area. "A lot of people don't know it's free, or they don't know you don't have to have insurance, and you don't need ID,"
"A surprising number of people don't know how easy it is," said Peace Corps Volunteer Charlie Yow. They only know about the early months, when getting a vaccine was difficult. Baboucarr Jallow, a Peace Corps volunteer, said once people learn they can get something free, such as a gift card, "they start coming out."
Sullivan said the gift cards don't turn a "no" into a "yes," but it incentivizes people who "weren't in a hurry" to get the vaccine to go ahead and get one.
Sometimes volunteers do door-knocking one day and work a clinic the next, and they see people they'd talked to the previous day coming to the clinics. "We know it works," Sullivan said of doorknocking. "It's very important to say it's a personal decision and we're not forcing it on anyone," Sullivan said.
Peace Corps Volunteer Judy Jones said in-person outreach is effective. "It's just talking to people and finding out what makes them motivated to do it."
Someone answers the door about half the time. "If you get 100 doors and two or three are interested in it, that's something," Sullivan said. "Usually it's more."
They use the translation application Voiance to help them if they meet someone who doesn't speak English.
"Within less than a minute we have someone on the line that can translate any language," Sullivan said. The vast majority of people are polite, but the volunteers are trained in how to calm a situation if need be.
Their main goal is simply to notify people of the clinic and that it's free. They are also able to answer general questions about the vaccines.
The Peace Corps volunteers were all evacuated from abroad in 2020 because of the pandemic. In all, 158 volunteers were sent to five states to help with vaccinations. It is only the second time in the Peace Corps' history that volunteers have worked in the United States. The first time was during Hurricane Katrina in New Orleans in 2005.
--Staff Reports
| | |
| --- | --- |
| Post Date: 2021-07-12 10:36:19 | |
Certain areas in the Capitol will be under construction
Senate President Peter Courtney and House Speaker Tina Kotek have released the following statement on the expansion of public entry in the Oregon State Capitol:
"The last year has been extremely hard on our state. Oregonians have suffered devastating wildfires, an ice storm, a historic heatwave, and extreme drought. Through it all, we have battled a global pandemic that has dramatically changed our daily lives.
"Last March, we consulted with infectious disease doctors and public health officials about what changes were needed to reduce the risk of COVID-19 transmission in the Capitol. In the end, we made the very difficult decision to limit Capitol entry to legislators, essential staff, and members of the press.
"Over 70% of Oregonians 18 and older are now vaccinated against COVID-19 and community spread has reduced considerably. We are extremely grateful to Oregonians for stepping up to help beat this pandemic. With new guidance from the Oregon Health Authority and the lifting of county risk levels, we are excited to expand entry to the Capitol today to include members of the public."
Due to the ongoing Capitol Accessibility, Maintenance and Safety project, certain areas in the Capitol will continue to be under construction during the coming months. Access to the Senate and House wings will be limited to construction personnel only until December 2021. The State Street entrances and front steps will also be temporarily closed for construction. Visitors can use the North ADA entrances to enter the building.
Public access to the Capitol building has lagged behind other businesses, churches and public places, and many critics have noted that the Capitol building remained closed for the entirety of the legislative session. Article IV, Section 14 of the Oregon Constitution reads:
The deliberations of each house, of committees of each house or joint committees and of committees of the whole, shall be open. Each house shall adopt rules to implement the requirement of this section and the houses jointly shall adopt rules to implement the requirements of this section in any joint activity that the two houses may undertake.
--Staff Reports
| | |
| --- | --- |
| Post Date: 2021-07-12 10:19:51 | |
This doesn't build confidence in their science
Epidemiology
-- a field we hear a lot about these days -- is "the study and analysis of the distribution, patterns and determinants of health and disease conditions in defined populations." You might be surprised to find out that the State Epidemiologist Dr. Dean Sidelinger -- the one who Governor Kate Brown often turns to during press conferences, etc. -- is not, in fact, an epidemiologist. According to the US Bureau of Labor Statistics,
Epidemiologists typically need at least a master's degree. The degree may be in a range of fields or specializations, although a master's degree in public health with an emphasis in epidemiology is common. Epidemiologists who direct research projects—including those who work as postsecondary teachers in colleges and universities—often have a Ph.D. or medical degree in their chosen field.
Dr. Sidelinger's
official bio
lists his current position with the state of Oregon, his professional experience, and his education, but no ties to the field of epidemiology:
Dean Sidelinger, MD, MSEd, FAAP is the Health Officer and State Epidemiologist for the Oregon Public Health Division. In this role he supports public health practice, programs, and staff.

Prior to joining the Oregon Health Authority, Dr. Sidelinger served as the Child Health Medical Officer and Interim Deputy Public Health Officer for the County of San Diego Health and Human Services Agency (HHSA). In this role, he helped provide strategic direction for HHSA programs that impacted children and public health through the County's vision, Live Well San Diego, to help all County residents be healthy, be safe, and thrive. He worked across programs in behavioral health, child welfare, early childhood, eligibility operations, and public health. In addition, Dr. Sidelinger worked with multiple partners in the community from the education, health, and social service sectors.

Dr. Sidelinger obtained his undergraduate degree in chemistry and medical degree from Georgetown University. He completed his pediatric internship and residency at the University of Tennessee Health Science Center in Memphis and a fellowship in Community Pediatrics at the University of California, San Diego. He also has a Master's in Education from the University of Southern California.
Sidelinger has been all over the place with his epidemiological conclusions. As an example, with regards to schools being the source of infection, he's quickly flip-flopped. In April,
KATU News in Portland quoted
Dr. Sidelinger, saying:
"Studies from around the world and experience throughout the country shows schools are not a driver of COVID-19 transmission," Dr. Dean Sidelinger, the state health officer and state epidemiologist for Oregon, said.
A few weeks later, in early May,
KBND News, in Bend reported
Oregon State Epidemiologist Dr. Dean Sidelinger says most of the recent spike in Covid cases statewide can be traced to kids returning to school. He says only three percent of Covid cases are tied to restaurants and bars in the state - despite the tighter dining restrictions imposed by the Governor. Of the 257 new outbreaks during the last week in Oregon, Dr. Sidelinger says 30 percent were attributed to single case outbreaks associated with schools, 12 percent were attributed to two or more case outbreaks associated with schools, and four and a half percent of cases were attributed to recreational sports and sports teams.
This is surprising, as much of the epidemiological evidence indicates that the source of infections has not been schools. Perhaps the teachers' unions got to him.
--Staff Reports
| | |
| --- | --- |
| Post Date: 2021-07-11 09:22:37 | Last Update: 2021-07-11 10:03:03 |
Lack of information tells a bigger story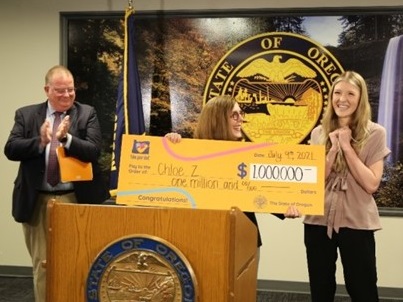 As Oregon Governor Kate Brown and Oregon Health Authority Director Patrick Allen handed over a $1,000,000.00 check to McMinnville resident Chloe Zinda as the winner of the
Take Your Shot, Oregon
campaign to increase COVID-19 vaccination participation, the state has been largely silent on the possible effects of taking the vaccine.
With
thirty-one data dashboards on OHA website
devoted to COVID-19, not one dashboard devoted adverse side effects -- including death data. More young people have died from the vaccine than the virus in Oregon, but not a mention of that on state government websites.
You can find graphs and charts for a myriad of data, including
Lineage Prevalence Over Time
-- where a curious citizen can follow the rise and fall of the Delta variant -- on the OHA site, but nothing that would help a concerned Oregonian make an informed decision about whether or not to get the vaccine, by presenting data about the risks, including death data.
The federal Department of Health and Human Services operates a database of Adverse Events that correlate to vaccine administration. This database lists 4,465 reports of adverse events following administration of a COVID vaccine -- 45 of which resulted in death. The Vaccine Adverse Event Reporting System, known as VAERS, by it's own admission doesn't even have reports for all events. "VAERS is a passive reporting system, meaning that reports about adverse events are not automatically collected, but require a report to be filed to VAERS. 'Underreporting' is one of the main limitations of passive surveillance systems, including VAERS. The term, underreporting refers to the fact that VAERS receives reports for only a small fraction of actual adverse events."
State and federal governments have access to the most complete set of data on any health related issue, including adverse vaccine events. For some citizens making decisions, it is incumbent on these governments to provide as honest and complete picture of what "taking the shot" truly means. Such data might be worth -- who knows -- a million dollars.
--Margo Logan
| | |
| --- | --- |
| Post Date: 2021-07-10 19:28:14 | Last Update: 2021-07-10 19:42:55 |
Parent permission may not be required
According to documents recently released by the Oregon Department of Education (ODE), vaccine clinics and mask wearing will remain a significant part of Oregon school-children's daily lives.
This is despite the state's Governor recently announcing that Oregon is "fully open".
Bureaucratic restrictions supposedly to mitigate the spread of Covid-19 are having a hard time going away.
It remains to be seen how motivated the state teacher's union will be in getting the teachers back to actually teaching in classrooms, the Oregon Education Association has been hesitant to return to normal, and Oregon has much slack to pick up regarding education rates. Some parents of those school children are quickly losing faith in the public education system.
The recently released
"Ready Schools, Safe Learners Resiliency Framework for the 2021-22 School Year"
lays out that there will be an aggressive agenda continuing into Fall of 2021 and possibly beyond, to vaccinate school children.
It is stated within the document that under OHA guidance, 15, 16, and 17 year old children do not need their parent's permission to get the experimental Covid-19 vaccine.
Parental or guardian consent is required to vaccinate people 12-14 years old, but the parental or guardian consent requirement does not necessarily mean a parent or guardian must go with the youth to receive the vaccination. Written consent may be obtained in advance.
Mask wearing will also be heavily promoted. The language describing the policy reads as follows:
"OHA and ODE strongly advise face coverings for all students in grades kindergarten and up, and all staff when students are inside the building. Certain accommodations for medical needs or disability may be necessary."
"When students falter in adhering to your district's or school's face covering policy, center grace and patience and reteach the expectation. Refrain from implementing consequences that deny access to instruction as a result of these challenges. Schools and teams should continually provide instruction and positive reinforcement to help all students adapt to the changes in school facilities while ensuring punitive measures are not the methodology to remind, motivate and reinforce healthy practices."
"Per OHA guidance, it is acceptable for both fully vaccinated and unvaccinated people to be outdoors without a face covering."
--Bruce Armstrong
| | |
| --- | --- |
| Post Date: 2021-07-10 14:25:48 | Last Update: 2021-07-11 09:07:30 |
CDC "estimates" flu and COVID-19 death statistics
Photo documentation daily in the first three weeks of Governor Kate Brown's March 2020 shutdown showed Portland/Vancouver metro area Emergency Rooms, Urgent Care, MASH tents and COVID-19 test sites were empty with at times one, two, three cars at a test site. A neighbor at Providence Hospital test site confirmed the test site consistently looked like this in the photo. The number of people in Emergency Rooms and Urgent Cares followed the same pattern. MASH tent pattern showed only empty MASH tents.
Even less busy was the Oregon Convention Center COVID-19 test site even though it had three electronic signs telling the public they were a test site. The local news reported this test site was only for OSHU employees. Some folks wonder why OSHU employees would have to drive down the hill to get a test. The day vaccinations started in February 2021, the test site closed permanently.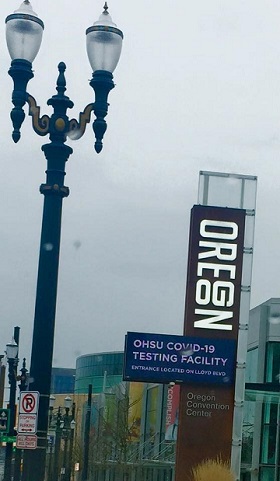 Some Oregonians have a question as to where in Multnomah County did 1,240,299 people go to get tested? Where did over a million people go to get the
reported number of tests
, given the documentation that test sites were few to none getting tested?
The CDC "estimates" the number of flu and COVID-10 deaths on their website. CDC reports that 95% of COVID-19 deaths had comorbidity issues and the other 5% comorbidity was not mentioned but CDC assumes those 5% had comorbidity as well. Did mainstream media look at these numbers on the CDC website? Why did 274,485 flu and pneumonia deaths not make the news?
--Margo Logan
| | |
| --- | --- |
| Post Date: 2021-07-09 20:20:07 | Last Update: 2021-07-10 07:58:25 |
She will join a long list of appointed leaders
This week, a near-unanimous decision from County Commissioners for Benton, Marion, Polk and Yamhill Counties selected Anna Scharf to fill the vacant position as Representative of House District 23. She will be officially sworn in as the newest State Representative July 12 at 11:00am in the Chamber of the House of Representatives.
"It's an honor to be selected to represent my friends and neighbors of House District 23," said Representative-designee Anna Scharf. "I look forward to continuing my service for these communities, now as their State Representative, and working with people across the district to empower their voices in Salem."
Anna Scharf previously worked as a policy analyst in the office of District 23, working on behalf of constituents on a variety of legislative issues. Scharf works for Scharf Farms in Polk County, owned by her husband's family.
Of the current sitting members, 13 -- including Scharf -- were originally appointed to their seats, which is 21.6%. With over 1/5 of the current members being appointed by county commissioners and then able to run as incumbents, some observers see this as a significant gap in accountability to actual voters.
Representative
Appointment Date
Representative Daniel Bonham (R-The Dalles)
2017-11-28
Representative Vikki Breese-Iverson (R-Prineville)
2019-08-13
Representative Paul Holvey (D-Eugene)
2004-01-23
Representative Gary Leif (R-Roseburg)
2018-05-09
Representative Rick Lewis (R-Silverton)
2017-02-23
Representative Raquel Moore-Green (R-Salem)
2019-07-25
Representative Rob Nosse (D-Portland)
2014-07-07
Representative Mark Owens (R-Crane)
2020-01-30
Representative Andrea Salinas (D-Lake Oswego)
2017-09-18
Representative Anna Scharf (R-Amity)
2021-06-06
Representative Barbara Smith Warner (D-Portland)
2014-01-15
Representative Andrea Valderrama (D-Portland)
2021-04-01
Representative Brad Witt (D-Clatskanie)
2005-01-27
*In 2016, Rep. Gail Whitsett effectively created an appointment when she filed for re-election, withdrew at the last
minute and E. Werner Reschke filed for her seat, again, at the last minute.
For Republicans, who serve in the minority and are probably more prone to get frustrated and leave (or be subject to expulsion) seven out of 23, or 30.4% were originally appointed.
--Staff Reports
| | |
| --- | --- |
| Post Date: 2021-07-09 09:54:16 | Last Update: 2021-07-09 10:34:17 |
Man loses fingers in Eugene
On July 5, near midnight, there was an explosion at a residence in the 1300 block of Chambers Street in Eugene, Oregon.
Eugene Police Fireworks Patrol and Eugene Springfield Fire responded. An adult male was immediately transported, and EPD fireworks patrol conducted a welfare check for other victims. No other victims were located.
The man had improvised fireworks using Tannerite powder. He had just mixed it and moments later it exploded, tearing off some fingers and seriously injuring his hand.
Each year, there are hand injuries and trips to the emergency room. This incident is a good reminder about how dangerous fireworks and explosives can be.
--Bruce Armstrong
| | |
| --- | --- |
| Post Date: 2021-07-09 06:06:08 | Last Update: 2021-07-08 19:27:09 |
Number of Shootings Continues to Escalate in Portland
Portland Police officers responded to at least four shootings through the morning hours of July 8, 2021.
Among the shooting incidents, one person was shot, and residences were struck by bullets.
At about 2:55 a.m., officers heard gunshots in the Hazelwood neighborhood near Northeast 102nd Avenue and East Burnside Street (case 21-185779). They went into the area and found that an apartment on Northeast 102nd Avenue had been hit. There was nobody inside when officers arrived and nobody appeared to have been injured. Officers found more than 10 cartridge casings at the scene.
At about 4:04 a.m., officers responded to the report of shots fired in the Centennial neighborhood, near the 16000 block of Southeast Alder Street (case 21-185801). They arrived to find that two separate apartments had been struck by bullets, although nobody was injured. Officers found more than 10 cartridge casings at the scene.
At about 4: 52 a.m., officers responded to the report of shots in the Montavilla neighborhood, near Southeast 89th Avenue and Southeast Hawthorne Street (21-185814). Officers arrived and found that a residence and a vehicle had been hit by bullets, but nobody was injured. Officers found at least 20 cartridge casings at the scene.
At about 7:09 a.m., officers responded to the report of shots in the Reed neighborhood, near Southeast 28th Avenue and Southeast Holgate Boulevard (case 21-185866). Officers arrived and found a person at the gas station suffering from an apparent gunshot wound. That victim was transported by ambulance to the hospital. Officers secured the crime scene and searched the area for a suspect. The Enhanced Community Safety Team (ECST) responded to investigate.
Just days before,
over 80 shots were fired
in a Saturday night shooting with local apartments and cars hit by bullets.
Each of these cases is an open investigation and any additional information will be released at the direction of the investigators.
--Bruce Armstrong
| | |
| --- | --- |
| Post Date: 2021-07-08 16:44:22 | Last Update: 2021-07-08 16:53:18 |
Read More Articles