On this day, December 8, 2005, federal prosecutors announced six arrests of eco-sabotage suspects following a nine-year investigation in four arson cases in Oregon dating to 1998 and 2001 and a toppled power line in Bend, Oregon in 1999.
A sliding scale of rates based on loyalty to party policies
During the 2020 session, the Oregon Legislature failed to pass
HB 4068
, a which would have required that the Department of Consumer and Business Services amend the state building code to require that new construction of certain buildings include electrical service capacity for a specified percentage of parking spaces. It passed the House, but never made it to the Senate floor for a vote as the short session ended. Though it failed, it reveals the appetite that state government has for manipulating our transportation choices.
A continent away, DiDi ride sharing of China was pleased with the successful IPO launch that brought in $70 billion this past week, mostly from U.S. investors seeking investments in green corporations.
This massive infusion of cash enables the company to realize many of its policies immediately. The Harmony Program presents users with a sliding scale of rates based on loyalty to party policies. The greater the loyalty to Party goals the lower the rate. When more than one person occupies the vehicle, the rate will reflect that assigned the least loyal of the passengers. Face recognition will register each passenger automatically eliminating time consuming paperwork and expedite billing. Tipping is forbidden. Onboard cameras and recording devices will assure passengers of harmonious relations with their driver.
As the fleet moves quickly to 100% Autonomous Vehicle, stress in relating to drivers will be eliminated. When most citizens are relieved of mastering driving skills, new efficiencies may be pursued in endeavors more critical than personal mobility. The 100% AV Didi fleet will then join the national fleet of all electric vehicles by 2030. Vehicles requiring human drivers will file simple trip plans using GPS coordinates that manage potential congestion. Assuring congestion free travel is easy as any vehicle straying from its trip plan route will be guided to a nearby quarantine site and then lose power. Vehicles with records of responsible use will recharge at official stations that read vehicle codes via satellite.
From weekly travel plans filed its easy to determine allowable travel distance remaining until recharging then calculate time to recharge and schedule a visit to the nearest available charging station.
--Tom Hammer
| | |
| --- | --- |
| Post Date: 2021-07-04 06:53:29 | Last Update: 2021-07-03 19:31:00 |
What Old Glory stands for goes beyond skin color
'Woke' R&B singer and Grammy winner, Macy Gray, is pitching a change in the color of Old Glory and adding two more stars to represent the U.S. territory of Puerto Rico and Washington DC. This isn't an original thought. Michael Ingbar, Presidential candidate in 2020, has started several petitions to change the look of the flag. The latest yellow, black and white gives recognition to Black Lives Matter. Then there is the "rainbow flag" proposed by the gay pride group. But Gray's proposal was designed by a nine-year-old for a class project with the idea of unity by changing the stars to colors reflecting every skin tone.
Gray claims the American flag's reputation is beyond repair after being carried into the Capitol on January 6, and thinks the flag has been hijacked as a code for a specific belief. In her world, she thinks it should go the way of the Confederate battle flag that symbolizes the opposition to the abolishment of slavery. She proposes changing Old Glory into New Glory by making the white stripe off-white because America is not pure, and the stars colored to reflect every skin tone. The blue and red remain, standing for vigilance and valor. The flag was revealed in a Juneteenth day op-ed commemorating the end of slavery in the United States.
The pop star is demanding a 'woke' makeover for what she calls a 'divisive' American flag. "'Woke' is a slang term that is easing into the mainstream from some varieties of a dialect called African American Vernacular English (sometimes called AAVE)," according to Merriam-Webster. Originating from an Erykah Badu song in 2008, 'Stay woke' became a watch word in the Black community. After the death of Michael Brown, the term 'woke' became entwined with the Black Lives Matter movement, and became a word of action.
What Old Glory stands for goes beyond skin color, and whomever tries to make it a racial symbol just doesn't understand what the flag represents. This nation was founded amidst a world of slavery. Old Glory is the standard the world looks to for this kind of freedom. It's a symbol, not that slavery ended at that moment. It was raised and put in the hands of freedom fighters and set forth as a standard that from that day forward every battle and every decision made was a step towards that freedom. Every time the flag is unfurled and held high, it isn't that slavery has ended, but it's the standard for which we stand and fight that battle under the declaration made in 1776. It sends a message to tyranny that you're going down. It's called Old Glory as a symbol that God founded this nation to fight for freedom worldwide and when it's carried into battles abroad, God shows His Glory.
A D V E R T I S E M E N T
A D V E R T I S E M E N T
The 'woke' crowd is using a term that means actively attentive and advancing it in the opposite direction. They demand a social justice while carrying sticks that are meant to do harm. The origin of 'woke' actually goes back to the Garden of Eden in Genesis 3:5 when the serpent told Eve if she eats of the tree of good and evil, it will make them 'woke'. Believing the serpent, Adam and Eve's world crumbled when they ate fruit of the tree and they were taken into slavery out of their freedom. Now, six thousand years later, the world is reaching into the tree of good and evil wanting to be 'woke'. Eat this fruit, change the flag, collapse freedom, embrace bondage, and be 'woke'.
Old Glory is a standard for freedom, "We hold these truths to be self-evident, that all men are created equal, that they are endowed by their Creator with certain unalienable rights, that among these are Life, Liberty and the Pursuit of happiness." These stirring words were designed to convince Americans to put their lives on the line against the mother country. They are words against tyranny and slavery. It is the history of all men, "created equal" that all may pursue life, liberty and happiness.
In February 1945, American Marines plunged into the surf at Iwo Jima and into history. Clint Eastwood directed the movie, 'Flags of Our Fathers' based on the book by James Bradley about six men who survived a bitter battle to raise the flag over Iwo Jima. Johnny Cash sang about one of them, a Pima Indian boy who watched the government take their water rights and forced them out of their home plunging them into poverty. When old enough, the boy, Ira Hayes, enlists in the Marine Corps and risked his life to plant the battle flag on Iwo Jima. His story has a sad ending, but the flag is what motivated him his whole life.
A retired history teacher told Northwest Observer, "1619 is a fantasy. America was never meant to be a country dominated by slavery, although slavery was and had been practiced for centuries by natives before the Vikings, Portuguese and Columbus. CRT is just wrong. America has been continuing from 1865 to become the nation promised by our constitution. Somehow there's a movement to reverse all we gained in the turbulent 60's and 70's. It's like Martin Luther King never lived. I went to Cuba during the missile crisis. I love the flag and our country. We are going through a struggle right now but the strength represented by our flag will straighten our course."
The 'woke' crowd wants you ashamed of who you are, ashamed of the flag, ashamed of this nation. Changing the flag will strip the hope of every young person, especially minorities. Change the flag and you have no standard for freedom.
This July 4th, wave Old Glory proudly as a standard for freedom for all.
--Donna Bleiler
| | |
| --- | --- |
| Post Date: 2021-07-04 06:48:08 | |
Businesses always had the power
Some Oregon businesses remained open throughout 2020-2021 by taking their rights of due process without taking OSHA or Oregon governor Kate "The Wizard of Oz" Brown to court.
Throughout Brown's many television appearance edicts that violated the Oregon emergency law, ORS 401.165(5), she acted as though Oregonians would obey her words. Some Oregon businesses kept it simple, business owners who knew their rights, and owners did so without going to court and it cost them no money. As the Good Witch said in the Wizard of Oz, "You always had the power my dear."
Some businesses strategically learned; it is not required to immediately answer a state government employee's email question about a complaint allegation. The OSHA complaint allegation put to one business was "Are you open?" The business owner's response was to thank OSHA for their email then to request this information from OSHA:
"To respond comprehensively, cogently, and cooperatively I request documents to review, consider, evaluate, and analyze regarding Complaint #______.

Please send hard copies of the following & specifically highlight subsections of these laws you deem applicable to #________ and highlight them in yellow:
The United States Constitution
The Oregon Constitution
Federal Civil Rights laws
Oregon State Law
Hard copies are necessary if by chance the state of Oregon issues to me some other legal document then you and I both have hard copies of the same document where both documents, the original to me; and the copy that stays with you then we both have the same highlighted sections/subsections of law showing your decision as an Oregon government worker the legal decision you made that applied to this complaint allegation.

Please consult with your attorney before sending the materials. I could locate no information as to who the OSHA attorneys are that provided you legal advice prior to you as a government worker taking this action of contacting me about a complaint".
That business owner never heard from OSHA again. Eight months now and OSHA has been quiet as a mouse. A template was created from that success and shared with other businesses and citizens to share far and wide in meetings and on social media that American citizens have foundational rights, that a "rule" shall not violate law and a business can take their God given rights without spending money or going to court.
State government agencies only have the trappings, the illusion of power and state government employees fervently hope businesses and citizens will go along with that illusion, and not pull back that Wizard of Oz curtain and know, "You had the power all along, my dear."
A D V E R T I S E M E N T
A D V E R T I S E M E N T
Given the accelerated learning of businesses in 2021 that their due process rights can be used without stepping into a courtroom and with zero cost to the business owner, some consider it unwise for the governor to get on television again to verbally order any more shutdowns of businesses, the masking of adults and particularly egregious the masking of children.
Kate Brown's governing 2020 theme was "Revenge is a dish best served cold and slowly" as she violated ORS 401.165(5), the emergency law that was a shall that she could not shutdown every square inch of Oregon including the Pacific Ocean.
The curtain has been pulled back and Oregonians foundational rights via the Creator, the U.S. Constitution, the Oregon Constitution, Federal Civil Rights laws, and Oregon laws are in her face now per the many Oregonians who never gave up their rights, who knew they "…had the power all along…".
--Margo Logan
| | |
| --- | --- |
| Post Date: 2021-07-03 12:35:35 | Last Update: 2021-07-03 12:56:19 |
Fire burned an estimated 987 acres on Thursday evening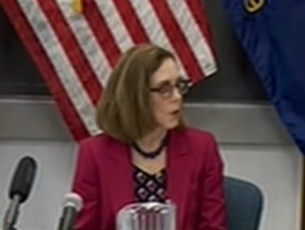 Governor Kate Brown invoked the Emergency Conflagration Act yesterday in response to the Sunset Valley Fire that broke out in Wasco County Thursday evening. The fire temporarily closed Highway 197 on Thursday and there are level 1 and 2 evacuations in place. The Office of the State Fire Marshal assumed command at 7 a.m. today and will work to bring resources from counties around Oregon to assist in the response.
"This year's fire season is already proving to be serious, as I have invoked the Emergency Conflagration Act for the second time this week to make more state resources available to the fire crews on the front lines in Wasco County at the Wrentham Market Fire, and now, the Sunset Valley Fire," Governor Brown said. "As we head into the 4th of July weekend, it is imperative that all Oregonians remain mindful of fire safety and prevention. Please remember to be prepared, responsible, and to honor all burn bans."
In accordance with ORS 476.510-476.610, Governor Brown determined that a threat to life, safety, and property exist due to the fire, and the threat exceeds the firefighting capabilities of local firefighting personnel and equipment. The Governor's declaration cleared the way for the State Fire Marshal to mobilize firefighters and equipment to assist local resources battling the fire.
The Office of the State Marshal's Red Incident Management Team has been mobilized. In addition, the responding agencies include Mid-Columbia Fire, Dallesport Fire, Dufur Fire, and Mosier Fire; taskforces from Multnomah, Washington, Yamhill, and Hood River Counties; the Bureau of Land Management; and the U.S. Forest Service. OSFM personnel responded with a Communications Unit and a cache trailer loaded with incident support supplies, including COVID-19 PPE, tools to enhance defensible space around structures, and other provisions firefighters need to inhabit a fire camp.
According to the Oregon Fire Marshal the Sunset Valley Fire burned an estimated 987 acres on Thursday evening. The fire was first reported around 3:45 p.m. on the 3100 block of Valley View Drive near The Dalles. Strong winds pushed the fire, which was burning in mostly brush and wheat, in a southeast direction, forcing evacuations and road closures. The fire damaged one barn, several outtbuildings, multiple vehicles and a portion of a local cherry orchard. Firefighters were able to protect the homes in the area and no injuries have been reported.
The Oregon State Fire Marshal temporarily reassigned task forces from the Wrentham Market Fire while coordinating air attack from Oregon Department of Forestry resources. This decision, along with mutual aid from neighboring fire districts, was critical in stopping the rapidly advancing fire.
"Without the resources we had today, including the three additional task forces and air support from OSFM, we would not have stopped it as quickly and the fire would have grown much larger," said Chief Robert Palmer. "What the state is doing is working. We were able to better protect properties with their assistance and support."
Parts of Highway 197 were closed Thursday evening, but are now back open.
--Staff Reports
| | |
| --- | --- |
| Post Date: 2021-07-03 08:56:25 | Last Update: 2021-07-03 09:35:15 |
The Arizona case seems to put a wrinkle in HR 1
In a high-stakes electoral integrity case, the US Supreme Court has decided in favor of Arizona ballot-harvesting ban and that doesn't violate the federal Voting Rights Act. Arizona has mail-in voting or in-person for nearly a month in advance of election day with two restrictions. The Supreme Court upheld the two restrictions requiring in-person ballots cast on election day be done in their precinct, and mail-in ballots cannot be collected by anyone other than an election official, a mail carrier or family member or caregiver.
Oregon Secretary of State, Shemia Fagan, said "The Supreme Court has kicked away the foundation of the Voting Rights Act, effectively allowing the disenfranchisement of American voters, especially those who've historically been prevented from exercising this sacred right." She continues by saying, "Oregon continues to lead by breaking down barriers to voting, while many other states continue to make it harder to vote. Congress must pass the For the People Act (HR 1) to strengthen voting rights and access for all Americans." Is the Secretary of State referring to this constitutional nation?
FreedomWorks Consultant, Mike Melillo, describes HR 1 as an attempt to federalize elections taking away voter ID state laws, requires states to have voter rolls ready six-months prior to election day, engages a three-judge panel in DC to review redistricting with overruling powers, no state control over eligibility to register to vote, and restricts states from making rules about mailing out ballots. It's designed to censor speech requiring organizations to report donor names, and prohibits organizations from contacting their representatives by broadening the definition of lobbying. It also adds DC as a state in regards to representation in Congress. Melillo states, "It is unconstitutional for the federal government to mandate states on elections."
Janice Dysinger, President of Oregonians for Fair Elections, sees them trying to break HR 1 into smaller bills since there is resistance in the Democrat Party in DC. She draws attention to the Oregon legislature, "Democrats put forward several bills in the 2021 Legislature each of which were components of HR-1. These included ballot harvesting, same day voter registration, allowing late voting, allowing inaccurate voter registrations to stay on the voter rolls, allowing our ballots to be opened as soon as they are returned back from the voter which is nearly 3 weeks ahead of the election day, allow Department of Revenue to submit taxpayers to register voters automatically, allow felons to register and vote from Prison, allow 16 and 17 year-olds to vote, and rank choice voting options (which is weighted ballot counting)."
A D V E R T I S E M E N T
A D V E R T I S E M E N T
Dysinger is encouraged, "out of these terrible ideas, only two bills passed. HB2681, which will allow voters to stay on the active voter rolls even if their address is wrong and they haven't voted for any length of time. It used to be 5 years and then it was extended to 10 years, now it is forever. The other bill is HB3291 which allows ballots to come in by mail up to 7 days after the election. It says in the beginning of the bill that they need to have a postal indicator on them, but if you look further in the bill it says it will be assumed that they were mailed by election day if they come in by the 7th day after the election."
Oregon also had a case of ballot-harvesting gone awry when Defend Oregon (connected to Our Oregon) collected ballots from voters on Election Day but didn't turn in 97 ballots on time. They received a $94,750 penalty for mishandling ballots though they claimed they made an honest mistake. The group is required to submit their procedures for collecting ballots and track and store them, and how they train volunteers.
The Arizona case seems to put a wrinkle in HR 1 by supporting state laws on elections. But Oregon continues to make voter fraud a challenge that is hard to overcome.
--Donna Bleiler
| | |
| --- | --- |
| Post Date: 2021-07-03 07:50:37 | Last Update: 2021-07-03 09:35:35 |
AV technology could spur an economic revolution
Automated Vehicles use sensors and computer systems to drive themselves. Often called "self-driving" cars, AVs partially or entirely remove the need for a driver to control the vehicle. In 2018, the Oregon Legislature
designated the Oregon Department of Transportation
to be the lead agency coordinating autonomous vehicle programs and policies in Oregon.
The National Highway Traffic Safety Administration says 94 percent of vehicle crashes are caused by human error. The majority of crashes are caused by 1) recognition errors, where drivers are not paying attention to the road or the vehicles around them; and, 2) decision errors, such as speeding, performing illegal maneuvers and misjudging gaps between vehicles or others' speed. Automated vehicles could eliminate the majority of these crashes.
While automated vehicle systems require much more testing and validation before they are ready for commercial deployment, engineers are working to ensure they drive safely, closely follow traffic laws, and respond appropriately to changing road conditions. Automated vehicles do not get distracted and can monitor their environment in 360-degree, high-precision 3D, unlike a human.
Automated vehicles can also provide increased mobility to seniors, children, people with disabilities and others who are unable or choose not to drive. They could operate more efficiently than conventional vehicles, reducing congestion and emissions.
Oregon does not currently regulate AV testing, but the voluntary notification process allows ODOT to provide safety information to interested companies on work zones and lane closures on proposed test routes and dates. It also enables us to solicit feedback from AV system developers on how to engage the industry, and to track the progress of AV testing in the state.
A D V E R T I S E M E N T
A D V E R T I S E M E N T
The development of AV technology could spur an economic revolution on the scale of the invention of the internal combustion engine or the invention of the personal computer. AVs could free up resources in the economy currently used by drivers and law enforcemnt ("send my speeding ticket to Google -- I was asleep") as well as reduce insurance premiums. Also, by making driving more efficient, incrmental gains can be made in reducing the cost of shipping.
--Staff Reports
| | |
| --- | --- |
| Post Date: 2021-07-02 17:00:42 | Last Update: 2021-07-02 17:00:45 |
"Why are they so worried about the extra scrutiny?"
Sandy Mayor Stan Pulliam, who is
exploring a run for Oregon Governor
in 2022, issued the following statement regarding the Supreme Court of the United States decision on
Brnovich vs. DNC
.
"I applaud the Supreme Court for upholding Arizona's common sense laws that guarantee every American is able to vote, and vote once," said Pulliam. "Despite the partisan spin coming from our Secretary of State, the reality is that ballot harvesting is a tactic we've seen used and abused by her political party. Oregonians deserve leaders who put the integrity of our elections before their desire to get a good headline or partisan advantage.
The 6-3 SCOTUS decision came during the ongoing Arizona audit of the 2020 election that was started as an attempt to restore trust in elections.
"As I have been traveling around Oregon on my Gubernatorial Exploratory Listening Tour, one of the frequent concerns I've heard is whether our elections are fair and honest," continued Pulliam. "Ensuring our elections are conducted without fraud is basic to our constitutional republic. I have to ask those politicians who are critical of attempts to ensure our elections are fair: why are they so worried about the extra scrutiny?"
Stan Pulliam is the two term, nonpartisan Mayor of Sandy.
--Staff Reports
| | |
| --- | --- |
| Post Date: 2021-07-02 16:10:23 | |
There are multiple ways to get involved this summer
Beginning June 28, Lane County will collect input and feedback from community members to help guide the development of the Lane County Climate Action Plan.
There are multiple ways to get involved this summer, including an online open house, survey, and virtual meetings. Lane County will also conducting stakeholder interviews with residents in historically marginalized communities who experience greater barriers to participation in public engagement.
Online Open House and Survey
Starting June 28, learn more about the project and share your ideas about the draft plan framework using our online survey. The open house and survey will remain available through July 31.
Virtual Public Meetings
Join one of five virtual meetings that will focus on the following elements: transportation, energy used in buildings/renewable energy production, consumption (the stuff we buy and use), coastal communities, and foothills communities.
| | | |
| --- | --- | --- |
| Meeting | Date and Time | Link |
| Meeting 1 – Transportation | June 30, 5:30 – 7:30 p.m. | Register here |
| Meeting 2 – Energy Used in Buildings and Renewables | July 13, 5:30 – 7:30 p.m. | Register here |
| Meeting 3 – Consumption: stuff we buy and use, including food, agriculture, and forestry products | July 21, 5:30 – 7:30 p.m. | Register here |
| Meeting 4 – Florence and Coast | July 27, 5:30 – 7:30 p.m. | Register here |
| Meeting 5 – East County Foothills | July 29, 5:30 – 7:30 p.m. | Register here |
For more information about the project, people can visit
www.lanecountyor.gov/climateplan
.
--Staff Reports
| | |
| --- | --- |
| Post Date: 2021-07-02 09:29:06 | Last Update: 2021-07-02 09:50:37 |
She supports it, as local election officials welcome trunks full of ballots
Oregon Secretary of State Shemia Fagan (D-Portland) has issued a breathless press release regarding the US Supreme Court's recent decision
Brnovich v. DNC
. At issue is an Arizona law passed as Arizona HB 2023 in 2016, which made it a felony for anyone other than an election official or a family member or caregiver to handle or collect a completed early voting or absentee ballot, thereby banning "ballot harvesting."
While political operatives in Arizona working with data to direct them to harvest only ballots which support their candidates are committing a felony, in Oregon, local election officials welcome trunks full of ballots arriving at 7:59pm or even later.
According to Secretary Fagan:
"The Supreme Court's decision today is a catastrophic outcome for voting rights across our country. As Justice Elena Kagan wrote in her dissent, 'The Voting Rights Act is ambitious, in both goal and scope. When President Lyndon Johnson sent the bill to Congress, ten days after John Lewis led marchers across the Edmund Pettus Bridge, he explained that it was 'carefully drafted to meet its objective—the end of discrimination in voting in America'.

This stands in contrast to Oregon who has continued make it easier for Oregonians to cast their ballot by breaking down barriers to voting. From accepting ballots postmarked on Election Day to providing election information in multiple languages to making it simple and easy to register, Oregon continues to lead the way.

The Supreme Court has kicked away the foundation of the Voting Rights Act, effectively allowing the disenfranchisement of American voters, especially those who've historically been prevented from exercising this sacred right. To again quote the dissent by Justice Elena Kagan, 'What is tragic here is that the Court has (yet again) rewritten—in order to weaken—a statute that stands as a monument to America's greatness, and protects against its basest impulses. What is tragic is that the Court has damaged a statute designed to bring about the end of discrimination in voting.'"
As Oregon effectively forces voter registration on voters through Motor Voter -- and now Welfare Voter and Medicaid Voter -- the number of ballots in the hands of low-interest voters is higher than ever and a clever ballot harvesting scheme can easily tip the election in favor of those who aren't inclined by their own will to actually cast a ballot.
A D V E R T I S E M E N T
A D V E R T I S E M E N T
Many observers agree that banning ballot harvesting is a far cry from a "catastrophic outcome" and that ballot harvesting is as much an influence on elections as poll taxes or literacy tests. Though this ruling doesn't directly impact Oregon -- ballot harvesting will still be legal -- it shows that the court is inclined to consider such practices as shady and worthy of banning and a tactic that one can't help but think that Secretary Fagan may be hoping to use in a future run for Governor.
--Mike Nearman
| | |
| --- | --- |
| Post Date: 2021-07-01 10:34:02 | Last Update: 2021-07-06 19:51:20 |
The temperature plummeted 50 degrees Fahrenheit in a matter of hours
The state broke heat records on three consecutive days with a high of 118 in The Dalles and Pendleton on Tuesday. Monday hit 117 in Salem and 116 in Portland. East of the Cascades reached 108, though he record high temperature for the entire Northwest region is officially listed as 119 F in Pendleton, Oregon on the 10th of August, more than 125 years ago.
The extraordinary cool-down we experienced on the hottest day showed what really happened. We were cutoff for a few days from our natural air conditioner, the Pacific Ocean. When it switched back on, our temperature plummeted 50 degrees Fahrenheit in a matter of hours, demonstrating that the heat was due to the direction of the wind.
The Oregon State Medical Examiner's Office has received reports of 63 deaths. Many of the deaths were senior who lived alone with no air conditioning or fans. Multnomah County death are reported to be between the ages of 44 to 97 and many are reported to have underlying health conditions. County Medical Examiner offices report an increase in calls and increase in investigative house calls. The Oregon Health Authority reported that heat-related visits to emergency rooms across Oregon also spiked during the heat wave.
While Governor Brown's office expressed her profound regret and praised county employees and volunteers for distributing water and fans to vulnerable people, it could be the consequences from her emergency guidelines for shutdown. The pandemic has produced an isolation mentality for fear of getting infected with COVID-19. This is more evident in seniors living alone that lost outside contact due to the fear of the pandemic. That may be the real tragedy. Now that we are set free, we all need to take stock of our surroundings and reconnect with our neighbors.
--Donna Bleiler and Gordon Fulks
| | |
| --- | --- |
| Post Date: 2021-07-01 09:48:46 | |
The simplest explanation may be the most accurate explanation
In the year plus of going around the merry-go-round about masks with this, that, and the other experts weighing in, some conclude Occam's Razor applies appropriately to the mask question. The simplest explanation may be the most accurate explanation. Mask boxes and packages made in Communist Party China warn consumers masks are not for viruses. Some directly read "...not for coronaviruses..."
Are any more words necessary? For those needing a a fuller explanation
listen to OSHA experts
.
How does the state of Oregon know an emergency is in play? An emergency according to the dictionary is "...a serious, unexpected, and often dangerous situation requiring immediate action." Governor Kate Brown in all her Executive Orders made no mention of the following section of the Oregon
emergency law ORS 401.165(5)
:
"(5) Any proclamation of a state of emergency must specify the geographical area covered by the proclamation. Such area shall be no larger than necessary to effectively respond to the emergency."
A shall and a must are imperative in law. Subsection (5) of the emergency law advised and directed the governor and her administrative entities that every square inch of Oregon including the Pacific Ocean could not be shutdown. There are counties in Oregon with no deaths attributed to COVID-19.
The Oregonian in March 2020 per Oregon Sciences and Health University in an article declared the homeless the most vulnerable because of their chronic health issues and they would die. Not one COVID-19 death in the homeless community in Portland, Oregon.
Recently a study by OHSU testing a portion of the Portland homeless produced all negative test results for COVID-19. As well in Portland no child has died from COVID-19. The most compelling issue thus for parents and other professionals working with children is why the governor gave an illegal order to mask children up then in each succeeding order made the age of masking children up younger and younger?
The Constitution of the United States of America and the Oregon Constitution are foundational documents that must be adhered to by the Oregon legislature, by the governor and by the courts in conducting the business of we the people in Oregon.
In the Oregon legislature we have citizen legislators elected by we the people. New legislators can be at a disadvantage by when and how they learn the ropes of writing and passing legislation as well as navigating seemingly entrenched bureaucratic agencies. Getting back to Occam's Razor this section of the Oregon Constitution might be most helpful to the duties of the legislature, the governor, secretary of state and we the people:
"Section 21, Acts to be plainly worded. Every act, and joint resolution shall be plainly worded, avoiding as far as practicable the use of technical terms."
If it can't pass the "...plainly worded..." test such laws are in violation of the Oregon Constitution.
Of concern to many citizens is the locking down of the state Capitol building in Salem, Oregon. Did the locking down and locking out of the citizens of Oregon make the legislative session just ended null and void?
The shutdown of the state of Oregon, its people, its children, its businesses have most citizens looking at the very structure of Oregon state leadership, and these citizens wonder why Communist Party China was the one to tell all citizens masks do not work for viruses. Yet the governor of Oregon went on television repeatedly with her words to Oregonians to "mask up". Masks from the beginning were not and are not for viruses.
--Margo Logan
| | |
| --- | --- |
| Post Date: 2021-07-01 09:43:19 | Last Update: 2021-07-01 09:48:46 |
Preliminary investigation suggests was from recent heatwave
As of June 30, 2021 the State Medical Examiner's Office has received reports of 63 deaths that preliminary investigations are suggesting likely to be associated with the Pacific Northwest heatwave.
This number may change in either direction as more information or reports are received from each County Medical Examiner's Office.
Again, these are preliminary numbers as some investigations are still in progress and final causes of death have not yet been determined.
The following is the current breakdown by county of heat related deaths.
Multnomah – 45
Marion – 9
Washington – 5
Clackamas – 2
Columbia – 1
Umatilla -1
--Bruce Armstrong
| | |
| --- | --- |
| Post Date: 2021-06-30 16:34:13 | Last Update: 2021-06-30 16:59:01 |
Read More Articles